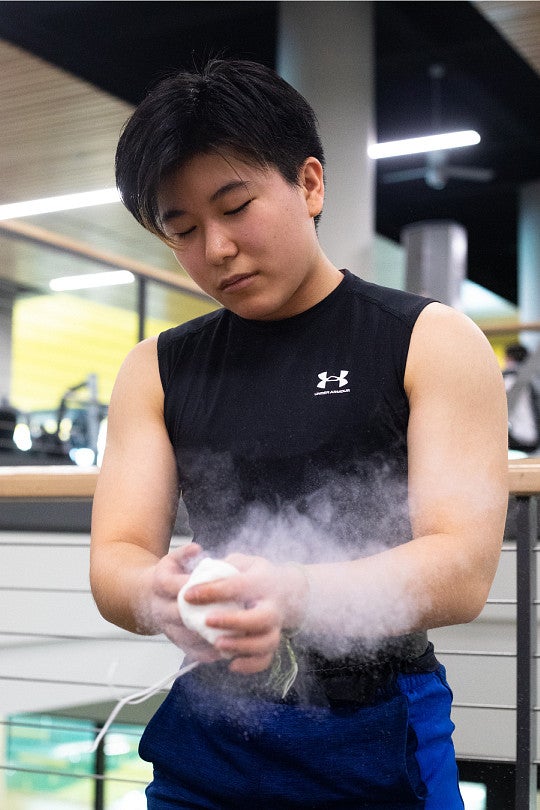 Year in CHC: Freshman
Hometown: Beaverton, Ore.
Majors: Cinema Studies, Global Studies
Sweet or Salty: Salty
Favorite movie: "Eternal Sunshine of the Spotless Mind"
Favorite CHC Class: "Religion after Atheism"
Don't underestimate this CHC student's strength when it comes to powerlifting. Her experience in another sport — judo — helped shape her.
As a high school student, Midori Mori walked up to the bar at the national powerlifting championships, and with her eyes set on a world title she took a deep breath and deadlifted 270 pounds.
At 18 and weighing 105 pounds, Mori – now a Clark Honors College freshman – has established records for her weight class in the bench press, deadlift, squat and total power for 14–19-year-old women.
Today, she downplays her achievements. She humbly suggests that she has a competitive advantage; there are very few women her age and weight who powerlift. But every time she has competed recently, she has taken top honors.
While she continues to establish herself in the world of powerlifting, Mori's competitive approach comes from a decade of practicing judo, the Japanese martial art that focuses on defense and using your opponent's momentum against them.
Raised in Beaverton, Ore., Mori took Kung Fu lessons as a small child. At 8, she began taking judo.
"I wasn't fantastic at first, but I was really ambitious," Mori says. Just a few months after beginning her judo journey, she competed for the first time. She went into the competition with confidence, aiming for a bronze or silver medal. Instead, she got tossed around, and on her opponent's final throw, Mori got a concussion.
She was forced to sit out of practice to recover and her coach figured that she wouldn't return to the sport. Mori remembers her father telling the coach that she'd return when healthy. She was back soon afterward.
The club had roughly 30 pupils and she was the only girl there. She used her perseverance and size to succeed in practices, consistently proving her strength while sparring against the boys in her club.
Once, while sparring with one of the senior boys in her club who was bigger and stronger than her, she threw him flat onto the ground and the whole studio went quiet. "That was the day I realized there was more I could get out of it than just exercise," she says.
In Japanese, the word "judoka" is what is used to describe someone who lives the lifestyle of judo. Mori says her sensei and coach told her early on that "there's going to be a lot of judo fighters out there, but if your heart isn't in the right place, you're just an evil person."
Mori took that to heart, telling herself that it doesn't matter how many medals you take home. She had to be a judoka first. As she continued to go to competitions from the local level to nationals and world championships, Mori always kept her sensei's words in the front of her mind.
When Mori was 13, she cut her hair short and came out as queer, not knowing how her judo community would react. People from all walks of life came together at the studio to practice and support each other, so she had no clue what people would say or do. At class that day, the sensei set up an obstacle course for the students. Mori began the course and a mom who was nearby watching said: "Oh, look at Midori zipping by. That haircut is doing her good on that speed."
Relieved, Mori realized that her sensei had fostered a community in which people came together not just to train, but to support each other.
Despite the acceptance she saw at judo, her high school experience posed a different reality. She found herself usually being one of only a few Asian-American students in her math class. Some white students called her racial nicknames about being good at math and it weighed on her.
In some ways, it felt like she had to check a box on her identity because her peers treated her like a stereotype. That pushed up against the academic expectations of her family. "I was teetering on the line of not pleasing anybody," she says.
Mori remembers taking the time to think about her identity and what she cared about. She learned to embrace the things that made her different from the stereotypes that some people placed on her.
Doing judo for so long taught her that although not everything was in her control, she had to take control of her own destiny and not focus on what others thought about her. In her subsequent classes in high school, Mori used her voice and power to not only find her love for writing, but also to teach others the importance of seeing people for more than what they look like.
When it became time to apply to college, she decided to take a step back and look at her academic career and her future in judo. Judo was still a large part of her life, though, and she continued to practice and even taught young kids how to do it.
But she knew she made the right decision about judo when she realized that she wasn't excited about the prospect of competing in nationals.
Mori chose her academic future over the possibility of pursuing judo and picked up powerlifting to feed her competitive side. She already had experience weightlifting, but honed her skills and began to compete at championships from the state to international level.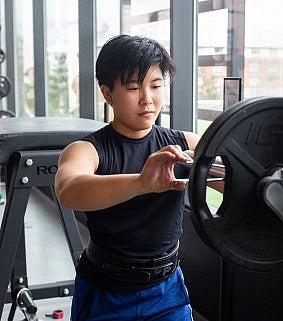 As a smaller, teenage woman, Mori began crushing the competition from the start. The pressure to compete was different in powerlifting because you are competing against yourself. "After doing judo, nothing compares to standing across from someone and knowing that either they will beat you or you will beat them," she says. "Someone is going to go home with their back to the floor."
She says she has noticed that many powerlifting competitions are filled with strong — and mostly queer — women. It has been a liberating experience for her to be in such a tightly knit sport where the people she was competing against were also supportive of her.
They all get it, she says. "We're all black sheep somewhere at home, but here we're not," Mori says. "Here, we're together and we're strong."
Last December, she competed in the adult bracket for powerlifting for the first time, and her competition was against stronger and more experienced powerlifters. With that in mind, she says her goal can't be to set new records every time she competes.
Instead, she's focusing on just competing as herself and learning more, something being a judoka has taught her. Today, the judoka mindset that she learned more than a decade ago stays with her as she balances her academic, social and competitive lives as a CHC student and powerlifter.
She heads home on some weekends to train at her old judo studio and give back to the community that helped raise her. She is pursuing a Global Studies degree because she's considering going into international politics. She is also considering going to law school, but says she trusts fate and that a different path may become clearer as time passes.
Her wins and losses, she says, will never define her. "I am who I am because of who I choose to be when I fall down," Mori says. "And when I fall down, I always get back up."
- Story by Sofia Rodriguez Banquero, Clark Honors College Communications
- Photos by Ilka Sankari, Clark Honors College Communications