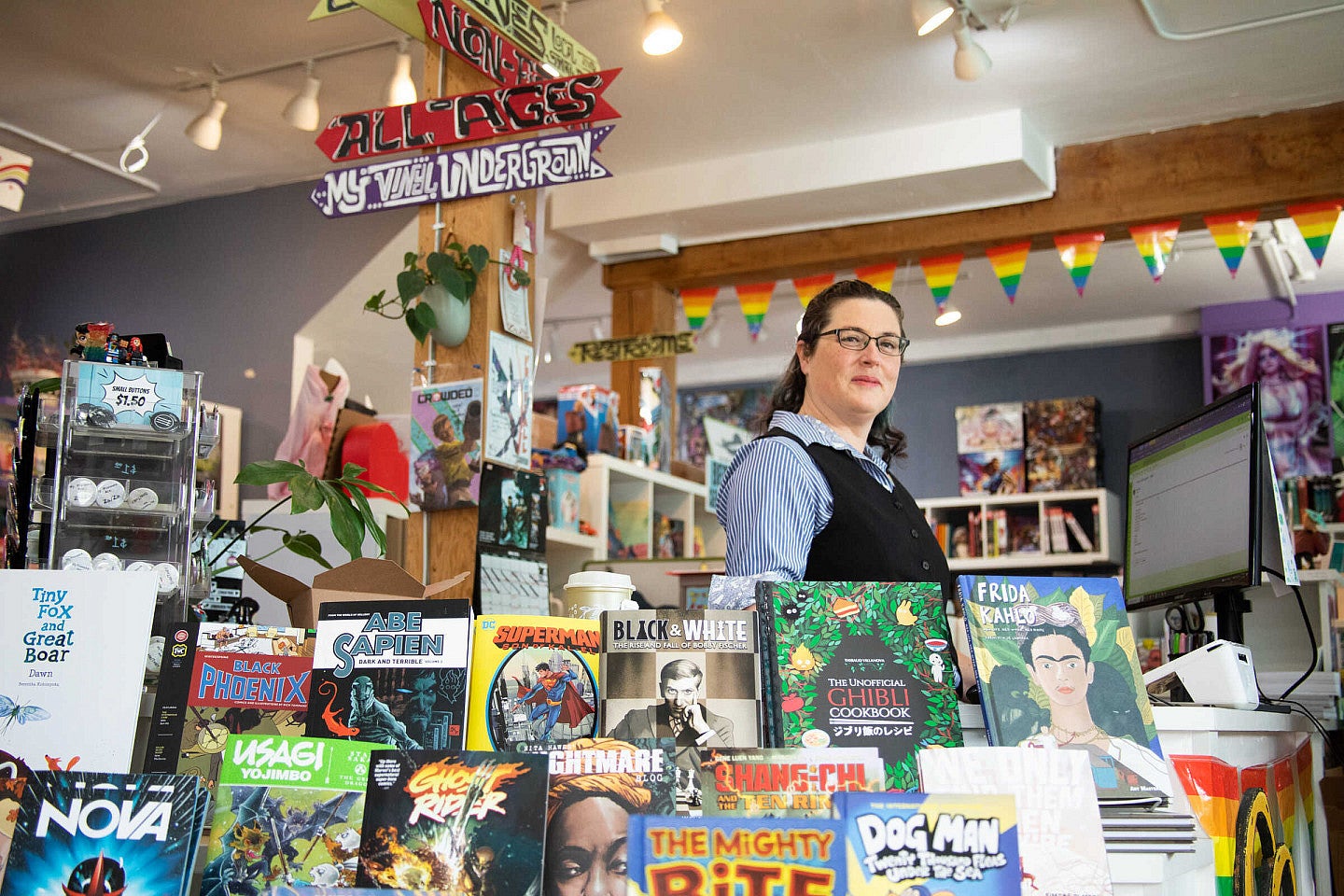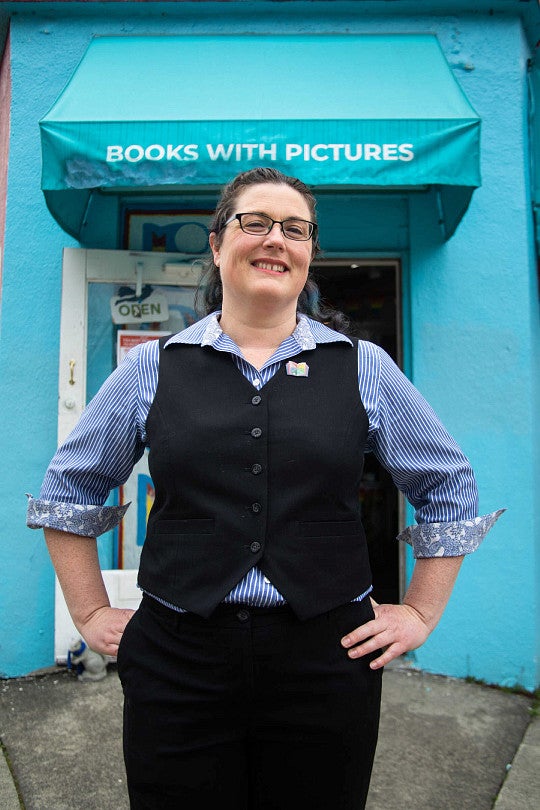 Year graduated from CHC: 2004
Major: History
Lives in: Portland
What are you reading? I Am the Law by Michael Molcher and Danger and Other Unknown Risks by Squirrel Girl co-creators Ryan North and Erica Henderson
What comic character do you most identify with? I have pretty strong feelings about Kitty Pride, a member of the X-Men. She is the earnest, Jewish, bisexual teen who grows into leadership while growing a tougher exterior. Her superpower is phasing through walls. I also adore The Unbeatable Squirrel Girl, the squirrel-themed superhero who "eats nuts and kicks butts" but usually solves supervillain problems through empathy and non-violent problem-solving.
Coffee or tea? Coffee in the morning, herbal tea in the afternoon.
How did the CHC make a difference in your life? The CHC taught me that there was no age limit or degree requirement for thoughtful conversations. It created an environment where I could have real discourse with faculty members and learn how to walk into any room and hold my own.
The CHC alum struggled to connect with the comics crowd during college. Today, she has blossomed into one of the world's most inclusive comic booksellers in the world.
When Katie Pryde met Douglas Wolk, the Portland-based comics writer and critic, he asked her if she was also into comics.
She answered with a handful of reasons she felt like she couldn't say yes. She was only reading bound versions, she explained, not reading them weekly, and she'd fallen behind on a few releases.
"And I remember very clearly, him looking at me and being like, 'Well, it sounds like you're a comics fan,'" Pryde recalls years later as she ponders her now-nationally acclaimed comic bookstore in Portland. She describes the encounter as a "lights on moment."
"How many people feel exactly like that?" she recalls wondering to herself. "And specifically, how many people from historically marginalized communities?"
Pryde, a 2004 Clark Honors College graduate who majored in history, opened Books with Pictures seven years ago, especially for those individuals – to give them a space where no one needs permission to like what they like.
In 2022, those efforts won the store the Spirit of Comics Retailer Award at San Diego Comic Con. The award granted the store the title of "best comic bookstore in the world" for that year. "I'm really, really proud of what we've built," says Pryde.
When people step into her store, she wants them to understand the space is for them. Physically, that means that rainbow flags decorate the walls and the books on display feature all sorts of faces. But Pryde and her staff also have an implicit understanding with their community that "there is no version of fandom that isn't enough."
Growing up in the 1990s, Pryde spent her childhood reading science fiction novels and playing Dungeons and Dragons. She fell in love with comics while working at a bookstore in high school, but as a woman in nerd spaces, she often found herself subjected to questioning.
"You would get quizzed," she explains. "'You want to buy a Batman comic? Name all of the Robins.'"
You had to pass to deserve to be there, she says. It made her self-conscious about her interests, and worried her passion wouldn't qualify. By the time she went to college, she found herself moving away from comics.
At the same time, the comics community at the University of Oregon, she says, "was mostly straight white dudes in a way that I was not."
Still, the separation was short-lived. She attended graduate school at Cornell University, where her academic advisor introduced her to comics once more. He integrated them into his curriculum–with a focus on superhero comics, in particular. Then, when she moved to Portland, she fell into a circle made up of comic fans and professionals. "I could subscribe to comics in a way I hadn't before," she says.
Pryde was a partner at a tech consultancy after she left Cornell. But when she and her business partner decided to wind down their company, she knew she didn't want to work for someone else in the tech sector.
"I sort of brainstormed all my favorite jobs I'd ever had," she says. The result was Books with Pictures – a comic bookstore that was created to be feminist, queer and inclusive.
Since opening the store, Pryde has found that support in the community goes both ways. Following her divorce, she was left trying to care for two young children alone. Her finances and mental health were suffering, and she had lost a major source of support in her life.
It's never easy to ask for help, Pryde says. She characterizes herself as an independent person. But when she called on her community in a difficult time, she "found it in spades." From childcare to business structure, there was always someone eager to lend a hand.
The community came through once again during the pandemic. Books with Pictures had closed its doors early in 2020. She and her staff needed time to figure out what was happening, says Pryde. At the time, people didn't know how the virus was spreading or what could help prevent it.
"I've spent nearly half of my small business career dealing with pandemic stuff," she says now. To keep paychecks going out on time to her team, she needed a way to keep selling books. People could no longer come to the store and distribution of new comics came to a halt.
So, Pryde launched a personal shopping program, where customers filled out a form about what sort of books they liked, and she put together a stack for them. It allowed her to keep sales going while also pulling from inventory she already had in the store.
"Personal shopping meant that I could do the thing that I do with people in person," says Pryde. "'Oh, you like this very popular thing? Let me show you this thing from the back of the shelf that you've never looked at and (is) like that.'"
Although she'd found a way to continue selling, the pandemic left Pryde exhausted. At the start, she spent her days at the store so customers could pick up orders and her evenings doing hours of deliveries. Some days, concentration felt like an impossible task as she switched back and forth between sending invoices and helping her kids with school online.
"I bought a book on burnout and then didn't have time to read it," she remembers. But even in the chaos, she felt the trust and compassion of the community. When she asked customers to switch to virtual orders, they did so without complaint. And when she dashed up to their doorsteps to leave stacks of books, they greeted her through the windows.
Many of her customers had babies, she says. When she dropped off deliveries, they would hold them up to the window so she could see.
"It was like, 'your baby's bigger than last month!'" she recalls. It was touching to see that, in a time of so much fear in isolation, they welcomed her at their homes.
Birthday deliveries were also a frequent occurrence during the lockdown. Parents would leave notes saying that birthday comics were one of the few happy things in their children's lives. So, the store developed a special sticker for those orders: a squirrel sitting next to a cake and a stack of books.
"The pandemic experience: it is you and your birthday cake for one, and your books," she says. Being able to provide kids with a source of happiness in a tough time was a source of joy for Pryde.
The store gives people a place to gather, whether it be in shared joy or grief. Books with Pictures hosted weddings before the pandemic and funerals amid it, she says. It's also become a popular location for queer first dates.
Over the years, Pryde has seen the world of comics make progress. For Books with Pictures' booth on the waterfront during Portland Pride, she and her team used to bring every book with a queer character or by a queer author with them. Now, there are more books than they can fit in the booth.
Pryde has also watched the field launch initiatives that help marginalized individuals break into the industry. There's still a lack of women in the field, she says. While they seemed to be on the rise before, they stagnated during the pandemic. It's frustrating, she says, but her time in comics has helped her look at how she makes an impact.
"There are problems that are older than me and are going to continue after I'm done – but I can help," she says.
Pryde is always experiencing reminders of why she opened the store, she says, but a book called "Chaotic Good" by Whitney Gardner has been particularly evident for her mission.
"We're the climax of her novel," says Pryde. The book's protagonist is a young girl who feels out of place in the nerd community – until, at the end of the story, she stumbles upon Books with Pictures.
Books with Pictures is meant to create "joy and more sense of belonging," Pryde says, "which I think we all need."
- Story by Elizabeth Yost, Clark Honors College Communications
- Photos by Ilka Sankari, Clark Honors College Communications