Taj Ali: Finding his voice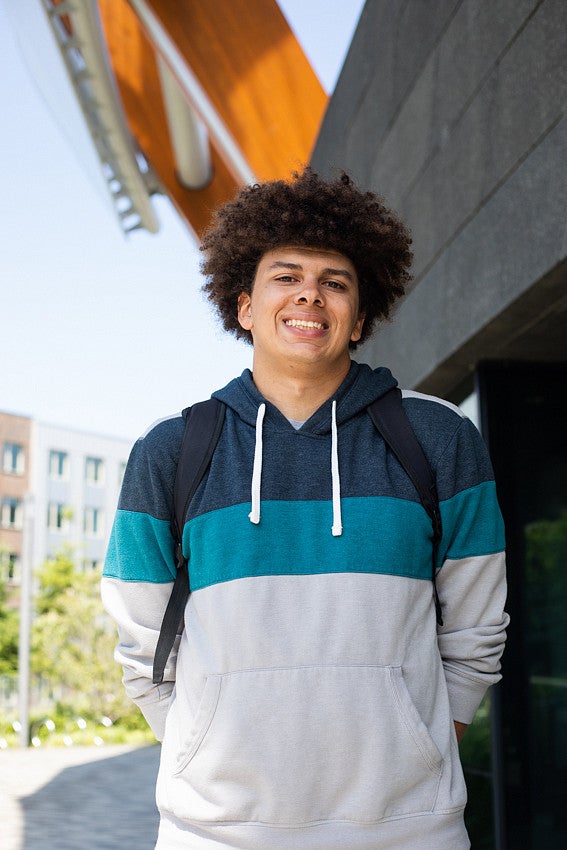 Hometown: Portland
Favorite CHC class: "Physics of Sport" with Ben McMorran
Favorite study spot: Floor 3 or 4 of the Knight Library
Graduation Walk-up Song: "Money Trees" by Kendrick Lamar
Biggest supporter: My parents
Advice for CHC students: Use the opportunity to take a lot of those cool and interesting classes… learn something really fascinating and unique.
As Clark Honors College senior Taj Ali stood at his thesis defense, before his committee, parents, and other professionals in his field, he fought off nerves. He couldn't help but worry: "How do I tell this story?"
It took a moment to find his footing, he says, but as he got further into his presentation, he found himself more comfortable than he'd expected. Ali has spent the last year researching case studies about stadiums built for major sporting events, and his hard work paid off. He was well prepared, and the words came naturally.
Ali's CHC thesis representative, Daphne Gallagher, has seen first-hand how far he's come over the last four years. She met him during his first term at the University of Oregon, when Ali took her class on "Unearthing Medieval West Africa."
"Taj is still pretty quiet, but when he was a freshman, he was really quiet," she explains. In her class, he wasn't the type of student who was first to raise his hand. Instead, he listened carefully – and when he did speak up, it was always with something incredible. As time went by, though, she got to see him put himself out in front more.
"It's been really awesome to watch him grow into his expertise," she says.
Ali will graduate with a degree in Planning, Public Policy, and Management and a minor in environmental studies. His path through college hasn't always felt certain, but his willingness to push himself and a healthy dose of sports have helped him come out on top.
Ali grew up playing football on a quiet Portland street with his dad and two younger brothers. Sports, he says, have been a part of his life for as long as he can remember.
His family is tightly knit. Each day his dad, a stay-at-home parent, would drive him and his brothers to and from school. At home, they'd have snacks and chat about their days as sports broadcasts played in the background. Later, when his mom got home from her work as a high school teacher, they'd eat a home-cooked dinner together.
"(My parents) really wanted to create something together," says Ali. "Their support in anything and everything that myself or my brothers have wanted to do has meant the world."
Ali recalled when the stress of senior year started hitting him back in high school. For much of his life, basketball had been rooted in competition – so much so that he nearly gave it up after failing to get on his school team. But that year, it became his stress relief.
Each night, he'd go to his old elementary school and shoot hoops on the playground. It was a way to clear his head. And, if he stayed out long enough, his dad would show up unannounced.
"He wasn't trying to initiate one v. one," says Ali. "He would just show up, and we talked for a bit, and he rebounded every ball that I had shot."
As someone who already puts plenty of pressure on himself, he appreciated that his parents never tried to push him in a certain direction. They've always been happy to support him in whatever his passion might be.
In high school, Ali was part of an engineering pathway and intended to further pursue the career in college. When college acceptance letters came in, however, Ali was forced to reconsider. He applied to a number of schools, but the financial aid that came with his acceptances was underwhelming.
"My family is pretty working class, so we didn't have a lot of money," he says. "I was really worried about the cost of college and how I would be able to afford stuff."
The University of Oregon offered him a spot as a PathwayOregon scholar, which would cover his tuition, and an opportunity to branch out beyond the only city he'd ever known. What it didn't have was an engineering program.
So, Ali began his first year at the University of Oregon undecided. It felt strange to deviate from the path he'd followed all through high school, he explains. But reflecting on it now, he appreciates that he had the opportunity to explore his options in the Honors College.
As he took all sorts of courses that piqued his interest, he stumbled across a few Planning, Public Policy, and Management classes. One course on city planning, taught by Marc Schlossberg, stuck with him.
He was particularly drawn in by how solution-oriented PPPM was. There are a lot of moving parts, he explains. Analyzing a problem meant considering funding, equity, and efficiency. The PPPM major brings all these concerns together to come up with a way forward.
As he ironed out his academic pursuits, Ali also faced another challenge. When he chose a high school to attend, Ali followed his friend group. But many of those friends wound up at Portland State University. Suddenly, he found himself separated from the ties he'd relied on since elementary school.
"I was kind of on my own for a while," says Ali. He's always been an introverted person, he explains. He eventually found another person from his high school who was also trying to find their place at UO and the two began spending more time together. Then, his first spring break turned into indefinite quarantine.
"I feel like I was really starting to get comfortable, and then the COVID-19 pandemic hit," he says. "That kind of put a halt to a lot of the social and academic progress I was making freshman year."
Remote classes and silent break-out rooms left him exhausted as his college career was eaten away by the pandemic. "In some senses, it feels like I've gotten like a year and a half of actual college," he says.
Coming back to campus after the pandemic felt a bit like starting over. The connections he'd made freshman year had faded, and he was no longer living on campus with constant access to other students. But he slowly acclimated to his new life as an undergraduate during his junior year and built a college experience for himself that he's enjoyed.
"I feel like I've improved significantly in terms of putting myself into new experiences," says Ali.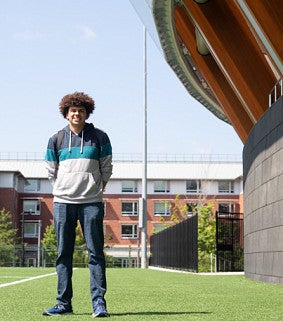 Sports remain a major way that Ali connects with others. Having rediscovered his love for basketball, he tries to get his friends together to play when he has the time. They also attend football games together. Ali recalled freezing out in the stands during one game.
"It was fun sharing that experience with my friends," he says. "Looking back on it now, it was less miserable than I thought it was at the time."
He also pursued an internship over the summer of 2022 with the Transportation Research and Education Center at PSU. There, he learned the programming language "R" without any prior programming experience. It wasn't easy, he says, but he enjoyed struggling alongside his peers.
As he looks toward graduation, Ali plans to attend graduate school, but not before taking some time to reconnect with old friends. He's decided to take a gap year to consider where he wants to go – and enjoy a bit of time outside of academia. He says it will give him an opportunity to focus on his own growth.
"Something I want to do is just relax and further explore who I am, and who I want to be," he says.
- Story by Elizabeth Yost, Clark Honors College Communications
- Photos by Ilka Sankari, Clark Honors College Communications