When freshman Erin Morrison found out she had successfully become a Stamps Scholar, she was in her living room with her parents, trying not to cry and remembering how to breathe. The moment was extra special for Morrison who was diagnosed with cancer her freshman year of high school.
"This moment was like wow, all that hard work and going through my health issues, it's for this moment," Morrison said. "It was just crazy to think this is the next stage of my life."
Morrison is a journalism major and triple minoring in science communications, physics and earth sciences. She said her goal is to go into space science communication, which she fell in love with after a solar system project she researched in fifth grade.
"I want to help the public understand all the really cool stuff that's going on and help build educational materials and do a lot of outreach," Morrison said. "I learned that I really love helping people, specifically girls, understand all the cool stuff."
As part of the Stamps Scholarship, Morrison is a part of the CHC and said that she appreciates the style of small discussion group courses, a sentiment that freshman Stamps Scholar Fox Melo echoed.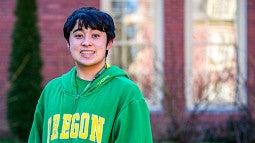 "I initially came in thinking the classes would be a lot of work, but it's more of being able to think deeply about certain topics and give a break from the normal course load," Melo said.
Melo is a marine biology major, who is particularly interested in penguins and has worked with them at the Aquarium of the Pacific in Long Beach, CA. 
"Having that opportunity greatly interested me in this field and I hope to figure out some of the problems that we have been having with the oceans," Melo said. "Being able to fix those and have a better future so that the ocean can always be a source of inspiration for the next generation."
Melo said that he chose to go the UO because of the Oregon Institute of Marine Biology program on the coast, the athletics and the different opportunities that UO gives him.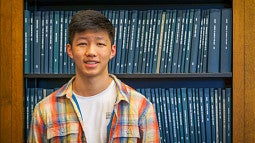 Freshman and Stamps Scholar Erik Liang said that athletics were also a big attraction for him, as well as UO's proximity to his family who live in Tigard, Oregon. Liang decided to apply for the Stamps Scholarship after meeting Hao Tan, a Stamps pre-med graduate of 2018, and Ed Szczepanski, a Stamps Computer Science graduate from 2018.
"After learning about the Stamps Scholarship from both of them and learning how they utilized the stipend and how successful they were now, I felt it was a great and unique opportunity if selected," Liang said.
Liang recently joined the Oregon Hazards Lab and received an internship in Chicago at the Argonne National Lab.
"As a software engineer intern, I'll be modeling data from OHAZ's environmental sensors to help predict the spread of wildfires," Liang said. "It'll be my first time working with deep learning frameworks like PyTorch so I'm excited."
Outside of school, Liang said he likes to spend time at the Rec and the EMU is his go to spot so he can get Chipotle and play the grand piano. Melo said that he likes to play volleyball with his friends and really enjoyed going to football games in the fall. For Morrison, she likes to set up hammocks on the GSH lawn to study with her friends when she's not rowing for the crew club team.
All three Stamps Scholars expressed how much receiving this scholarship meant to them and Liang said that it's an opportunity everyone should try and apply for.
"Apply for the scholarship even if you feel like there's no chance you'll get it," Liang said. "I certainly felt that way at first. Don't self-reject."
Story by Ella Norton, CHC Communications
Photos by Jasper Zhou, CHC Communications