Medical Research Internship at OHSU
Each year Oregon Health & Science University Department of Cell, Developmental & Cancer Biology (OHSU/CDCB) offers a Summer Research Internship Program. Through an ongoing partnership between OHSU and the Clark Honors College, two internship positions are reserved specifically for CHC students.
The goal of the program is to engage scientific curiosity in the next generation of scientists by challenging qualified college undergraduates to consider basic science research-related careers and providing them with initial experiences required to be competitive for science-related continued education and careers in the future.
2018 Program Application Opens in January
Eligibility:  Clark Honors College students who have a strong interest in a career in research and have taken introductory science course(s). Minority students are encouraged to apply. We are unable to accept applications from international students without the proper Visa. Preference will be given to current second and third year students.
Housing: Housing is not included in the Internship. Interns are required to find and pay for their own living arrangements for the duration of the program.
Location of Work: Work is typically performed in the Cell, Developmental & Cancer Biology laboratories on the Oregon Health and Science University Marquam Hill campus in Portland, Oregon. Work is carried out under the supervision of CDCB faculty and senior staff. Awardees must use mass transportation or bicycle to work (no on-campus parking is available).
---
The Robert D. Clark Honors College and Oregon Health & Science University have awarded Maria Marin a prestigious OHSU summer internship.
Marin recently graduated from the UO and Clark Honors College with the Class of 2017. She will work in Portland alongside expert researchers and practitioners at one of the nation's top-ranked academic health centers.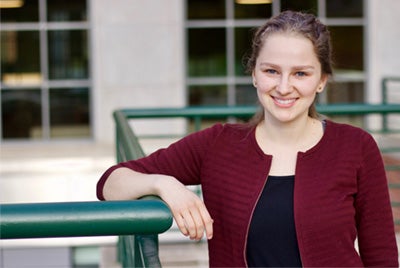 ---
Earning an internship at Oregon Health and Science University is competitive, to say the least.
But for the second year in a row, OHSU has partnered up with the UO's Clark Honors College to help ensure that two of the university's brightest student scientists are guaranteed an internship.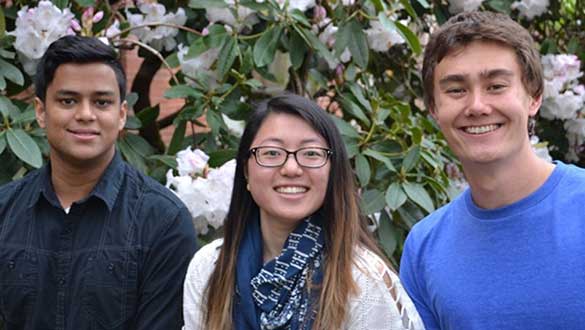 ---
Program Benefits: 
Gain direct, hands-on experience in running basic lab techniques
Introduction to experimental design and critical thinking
Participation in a guided project facilitated by a departmental researcher
Attendance at weekly lunch education sessions covering topics from career development to ethics in science and cutting-edge new technology
Develop oral and written communication skills and various networking opportunities with a community of scientists
Program Requirements: Summer Research Fellows work full-time (40 hours a week) for 9 weeks beginning in June, and may not combine their research with other significant daytime work or class commitments. Students must commit to the whole internship and will not be granted leave during the core academic program (This means no vacations or breaks during the program period).
Upon acceptance into the program, each intern must commit to the following requirements:
Completion of online training prior to arrival for hazardous waste management, laboratory safety and HIPAA (as well as any additional required training that is specific to the project).
Return all program paperwork to the administrative contact two weeks prior to start date.
Attend program orientation to cover program requirements, training, stipends, etc.
Attend weekly lectures and events. Interns must be present for the duration of the program.
Write a CDCB Summer Internship Hypothesis and Objectives Report (2-3 pages, double-spaced) describing the aims of the research project, as well as the background and methods to be used to achieve stated aims. The report is due within 10 days of student's start date and should be written with the help of the student's chosen mentor.
Participate in a poster session in August to present results from the internship. Interns should demonstrate their understanding of the background, methods used, hypothesis tested, and what conclusions can be drawn from the data. Posters will be evaluated by a committee and an award given to the top poster. In the event that the intern cannot attend the poster session, a five-page report will be required instead, due at the end of the internship.
PLEASE NOTE: CHC students have the opportunity to apply for this internship twice!
Through the CHC application process outlined above for one of the two spots reserved for the CHC by OHSU. These two intern positions will be chosen through the smaller CHC preference application pool of only CHC students.
You can also apply to OHSU/CDCB directly through the general recruitment process. CHC is not involved in any application decisions made by OHSU through general recruitment. Learn more online.
If you wish to be considered through both application pools then you MUST COMPLETE BOTH APPLICATION PROCESSES. The same materials can be used for both recruitments.
Questions can be directed to the Clark Honors College Dean's Office.