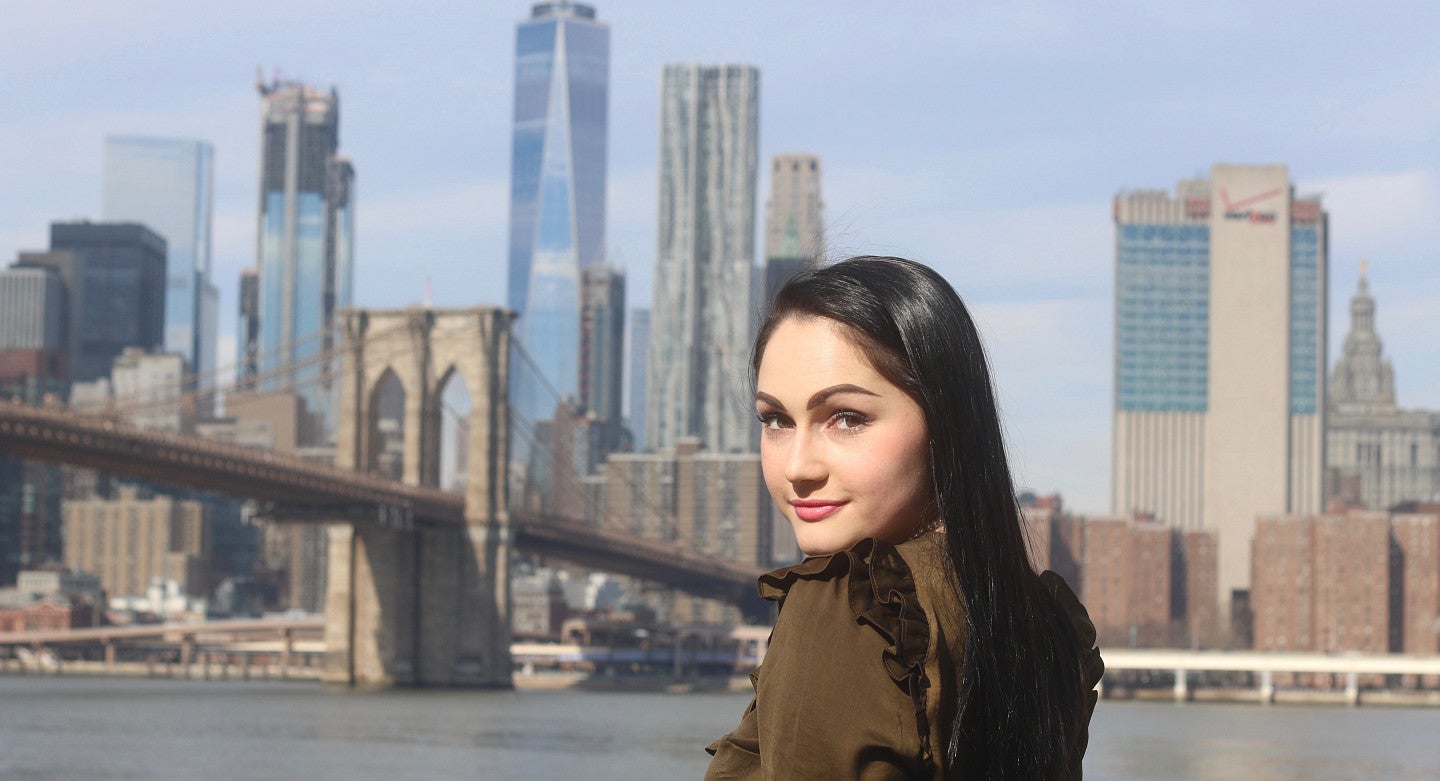 Hard-Won Success
Persistence, and Deep Self-Reflection, Pave the Road to the United Nations
Alyssa Goessler '16 has many achievements that she could name as her proudest accomplishment while attending the Clark Honors College; passing her thesis with distinction, winning multiple academic awards, receiving generous scholarships from multiple parties, and more. While she is proud of her academic successes, Goessler says her single greatest accomplishment was learning how to cope and live with mental health challenges while being a full-time student.
Goessler had experienced bouts of depression and anxiety throughout high school, but it wasn't until her freshman year at the UO that she felt things were too serious to ignore.
"During my first term at the U of O, I experienced some traumatic things in my personal life that really exacerbated these issues," Goessler said. Because of her financial situation, Goessler was only able to attend college because she received the UO Presidential Scholarship and the Ford Family Foundation Scholarship.
"Even during my worst bouts of anxiety and depression, I knew I didn't want to lose this opportunity that I had worked so hard to earn," she said.
Goessler, now feeling that her financial support for school was in jeopardy due to her mental health, sought out help.
"I started seeing a therapist and a psychiatrist at the UO Health Center, and would even show up unannounced sometimes to speak with a crisis counselor if I really needed the extra support," she said. "This was hard for me—I am a really stubborn, independent person and I had difficulty resisting that pervasive mentality that asking for help with mental health issues is a sign of weakness."
Through seeking professional help, Goessler was able to learn how to best manage her anxiety and depression, first with medication and now with consistent and regimented exercise.
"It was a long process and I still have to work to become a stronger version of myself every day," she said. "But I am so proud of myself for making that call to the Health Center five years ago and learning to be an unashamed advocate for my own well-being."
Goessler believes that mental health should be a larger part of academic discussion. 
"I think especially in circles of hard-working students, such as those found in the Honors College, we aren't honest enough with each other about these very prevalent issues," she said.
Academic anxiety plays a large role in many students' lives, especially high achieving students who expect a certain level of performance from themselves.
" I learned to immerse myself in that feeling of being overwhelmed and allowed it to motivate me instead. "
Goessler felt a lot of this anxiety during her thesis process. She was unaware that students are recommended to take the thesis orientation during their freshman or sophomore year and missed a lot of information that would've helped her plan and prepare for the process. 
"I also missed the first deadline for submitting a thesis proposal so that I could register for the Thesis Prospectus course and then proceeded to flounder and struggle throughout that course as well," Goessler said.
She ended up taking the thesis prospectus course during fall term of her senior year and changing her thesis topic four times during the course. After giving an unsatisfactory in-class presentation of her thesis work, Goessler thought that she wasn't going to graduate from the honors college at all.
"After my terrible presentation, I started meeting with my advisor more consistently, finished getting my committee together, and finally found a topic I could move forward with," she said. "I worked incredibly hard and spent many weekends listening to the music bumping at Taylor's from the depressing comfort of the library."
Goessler was continuously tested throughout her thesis process, but in the end she passed with distinction and even won an International Thesis Award.
"There's this weird problem where every thesis student thinks they are behind everyone else, which is of course, impossible, but that mentality can be really harmful to both the outcome of your thesis process and your state of well-being," Goessler said. "So my advice is focus on your own work and don't concern yourself too much with the status of everyone else's project—it's going to work out, you're going to be okay, and, in fact, you'll probably kill it."
" The education I received at the honors college provided me with an invaluable foundation for work in the real world. "
Goessler currently works as an Administrative Assistant to the Deputy Permanent Representative of the Permanent Mission of the Hashemite Kingdom of Jordan to the United Nations.
"I assist with many different tasks throughout the office, but my primary duty is logging and tracking the election documents which circulate throughout the UN Missions," she said.
In addition to working with election documents, Goessler process much of the paperwork associated with diplomatic benefits as well as assisting with large event planning for various meetings and conferences.
"The office is insanely busy—as is the case with every office in Manhattan, everything that needs to be done today needed to be done yesterday," Goessler said. She attributes the rigor of the honors college to helping her prepare for such a demanding position.
"I remember quite frequently reading the syllabus on the first day of my Honors Courses and thinking "there's no way", but I learned to immerse myself in that feeling of being overwhelmed and allowing it to motivate me instead," she said. During her time in the CHC, Goessler learned that she works best in long, uninterrupted sessions and thrives in the one to two hours before an assignment or presentation is due.
"Sometimes, the diplomats won't have a lot of spare time to explain a task to me, so I'll get a somewhat broad assignments that necessitates very specific results," she said. "This could easily—and sometimes does—overwhelm me, but I take a breath, break down the assignment, put a structure in place, and remember that if my thesis process didn't kill me, nothing can."
---
 Duck Syndrome:
Mental Health and Wellbeing Among High-Achieving Students
There are more than 5 million college students struggling with mental health, according to The National Alliance on Mental Illness, or NAMI. Many mental health professionals are calling the current situation "a crisis of mental health on college campuses" (Heck, 2015). Increasingly, these struggles involve anxiety and depression. Often mental illness begins to manifest in high school. For high-achieving students, with awards, accomplishments, and often funding from prestigious scholarships, the stress of going off to college can greatly exacerbate their existing depression and anxiety to the point that the formerly tolerable expression of the symptoms in high school becomes debilitating and intolerable.
Stress, one of the key factors in the manifestation and intensification of mental illness, can be extreme for accomplished students. Students with a history of awards and achievements often keenly feel the expectation from teachers, parents, and peers to maintain their performance level. In addition, the personality traits which allow high-performing students to succeed, such as their strength, confidence, and independence, can cause shame and inhibit their willingness to reach out for help.
To aid in the understanding of the often immense pressure successful students put on themselves to create and maintain the duality of their carefully crafted outer appearance of success despite their inner unraveling, mental health professionals and researchers at Stanford have coined the term "duck syndrome" (Heck, 2015). The analogy goes as follows: imagine a duck gliding on top of a pond or lake. On the surface, the movement appears effortless and graceful. But underneath the water the duck's webbed feet are fraught and full of effort as they paddle furiously. This "under the water" activity represents the immense inner pressure experienced by gifted college students. The analogous term at The University of Pennsylvania is "Penn Face," or "Facebook in real life" (Wilson, 2015).
Alyssa reached out to mental health professionals at the University of Oregon's Counseling Center, who worked with her to find the right combination of medication and routine to help alleviate stress and improve her mood. Another student may be offered a combination of talk therapy, in which she or he may learn distress tolerance and relaxation techniques. Mental health professionals are trained to accommodate each student's unique needs. Alyssa's decision to reach out for help played a significant role in her ability to complete her studies and graduate from the Clark Honors College. There are so many students who are suffering like Alyssa was. Hopefully her story can offer inspiration to other highly gifted students to bypass the stigma, reach out for help, and succeed.
References: Heck, L., (2015, Nov. 19). A Generation on the Edge. Vox Magazine, (11). Retrieved from www.voxmagazine.com
Kwai, I., (2016, Oct. 19). The Most Popular Office on Campus. The Altantic, (10). Retrieved from www.theatlantic.com
Wilson, R., (2015, Aug. 31). An Epidemic of Anguish: A College Wish List for My Son. The Chronicle of Higher Education, (8), 15-16. Retrieved from www.chronicle.com
---
Author Bio:
Dawn Ring '93 received a BS in chemistry and biology, and a BA in music. For her honors college thesis Dawn traveled to India to study North Indian classical vocal music. She later received her PhD in ocean science from Johns Hopkins University. Dawn taught for several years at a small technical college in Boston. She has since returned to Eugene to be with family, and currently works at the Lane County chapter of NAMI, the National Alliance for Mental Illness, where she does book reviews and interviews. Dawn has an insider's view into what it's like to struggle with mental illness.