CHC first-generation students succeed despite the barriers they face in higher education
Some first-generation college students grew up without means. Some are students of color and struggle to find role models who look like them on campus. Still others are children of immigrants who came to the United States to improve their lives but face hidden barriers. And there are many others at Clark Honors College, the UO and beyond whose parents didn't go to college – the textbook definition of what it means to be "first-gen." 
Regardless, first-gen students share a common thread: They face myriad challenges when they arrive that many of their peers don't have to contend with as they pursue college degrees. 
Identifying supportive faculty members, staying on track with coursework, getting advice about the right classes, and pushing away feelings of not belonging are part of their every-day struggle. From the time they start thinking about college to the time they graduate, first-gen students navigate university life through a combination of savviness, luck, fear, intelligence and instinct. 
These stories are about some of the first-gen students who call Clark Honors College home. 
—By David Austin, Clark Honors College Communications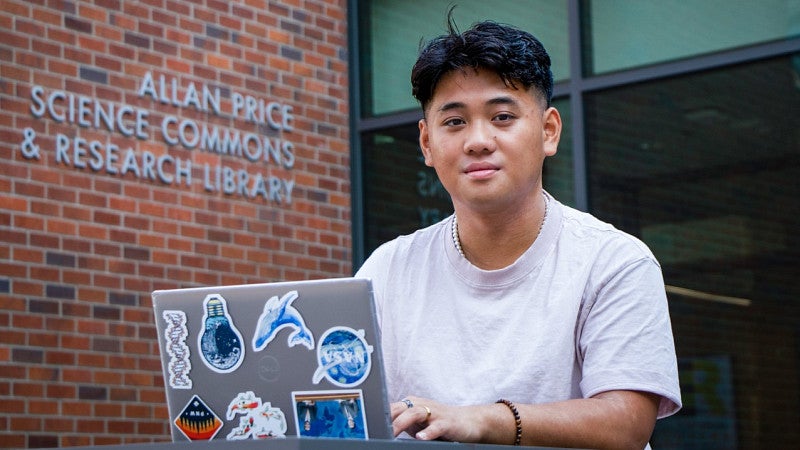 Year in school: Sophomore
Major: Human Physiology
Goal: To become a pediatrician who helps marginalized communities bridge the gaps of healthcare inequities.
As a child, Danny Nguyen remembers having to translate everything for his non-English speaking parents – Vietnamese immigrants who came to the United States in their 20s. 
He taught himself English by watching TV shows and reading. He made sure that when bills came to the house, his parents understood how much to pay. And he had to navigate his own way through his education. 
"When there were parent-teacher conferences, I remember I was at the table with the teachers representing myself," recalls Nguyen, who is in his second year at the Clark Honors College, majoring in human physiology on a pre-med track. "My parents didn't have an education past sixth grade. I had to learn everything about the education system to move forward in school." 
Nguyen's mother supported the family working as a hairdresser. His father, who lost a portion of his leg in Vietnam as a child when a bomb exploded in his village, stayed at home. And they have encouraged Nguyen and his older brother to do well in school. 
He says his parents have always wanted him to be a doctor, an engineer, or a lawyer. "Anything else would be considered a failure," he says now. 
"My parents had very high expectations," Nguyen says. "Going to college was never a discussion. It was a point-blank fact for us. My brother and I have had to deal with the added pressure and stress of getting A's, while also trying to maintain our lives as young people." 
He attended LaSalle Catholic College Prep High School in Milwaukie, Ore., on a scholarship and remembers the stress he felt measuring up to his peers. 
"If you're poor or a person of color, you understand what it means to have people way ahead of you," he says. "As a first-generation student, I had to learn how to be a person in this situation. I had to understand that certain customs and traditions are important when it comes to education. I had to adapt to certain rules." 
He recalls how many of his high school friends had parents who were college educated and had advanced degrees. They were professionals – like doctors or lawyers – who had advantages over his parents because they could provide insight into how to approach the college search. 
"If those kids needed help, they knew where to go," he recalls. "Their parents gave them good advice or read over their essays. When you are a first-gen student, those things aren't always available to you. You have to learn yourself how to conduct things academically." 
He relied on friends and their families to set a path that would get him past high school. Nguyen realized early on that doing well in his courses wasn't enough. He volunteered, joined clubs, and participated in a variety of activities to bolster his resumé. He also learned how to ask for help. 
"One of the hardest things for me, personally, was finding out where to start," he says. "You have to get comfortable asking for help." 
At UO, Nguyen has more than hit his stride. He shuns the suggestion that he has accomplished a lot on his own. Instead, he credits the people in his life who have been helpful. That includes many of his professors in the Honors College. 
"I feel lucky to have professors who understand where I came from," he says. "They have seen something in me and have helped me to excel. I am forever grateful for the connections I have had in my life." 
His experience as a child of immigrants allowed him to reach this point, he acknowledges, helping him learn to thrive despite the adversity. "It's because I had to answer the door and shoo away telemarketers, knowing at the same time that I was practicing my English," he says. "I had to show up for myself. And I had to show up for my parents, translating for them at doctors' appointments and other places. 
"There was a purpose to it all and it has helped me to grow. It has all come back to me and helped me get to where I am today. I won't forget that. It's a part of who I am." 
—By David Austin, Clark Honors College Communications
—Photo by Alex Rodriguez, Clark Honors College Communications
See more stories about first-gen students connected to Clark Honors College.