CHC first-generation students succeed despite the barriers they face in higher education
Some first-generation college students grew up without means. Some are students of color and struggle to find role models who look like them on campus. Still others are children of immigrants who came to the United States to improve their lives but face hidden barriers. And there are many others at Clark Honors College, the UO and beyond whose parents didn't go to college – the textbook definition of what it means to be "first-gen." 
Regardless, first-gen students share a common thread: They face myriad challenges when they arrive that many of their peers don't have to contend with as they pursue college degrees. 
Identifying supportive faculty members, staying on track with coursework, getting advice about the right classes, and pushing away feelings of not belonging are part of their every-day struggle. From the time they start thinking about college to the time they graduate, first-gen students navigate university life through a combination of savviness, luck, fear, intelligence and instinct. 
These stories are about some of the first-gen students who call Clark Honors College home. 
—By David Austin, Clark Honors College Communications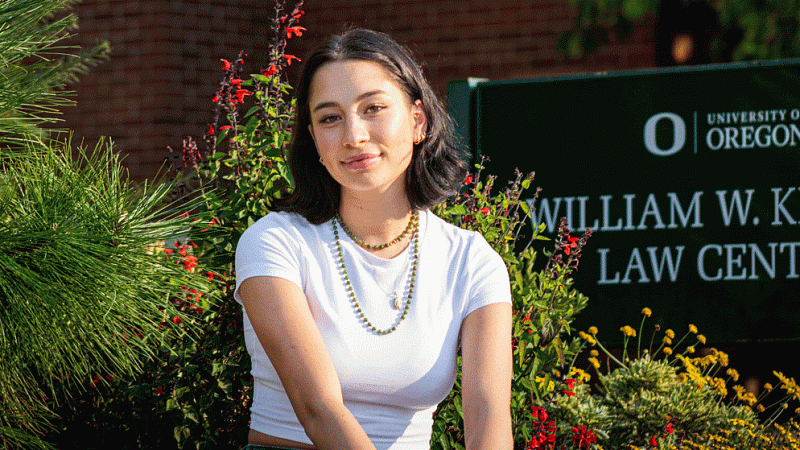 Year in school: Junior
Major: Political Science
Goal: Go to law school and become a lawyer who uses mediation and problem-solving skills to help people through difficult times.
 
Becoming a lawyer has been the ultimate dream for Kali de Saint Phalle. Since she was six years old, the UO Clark Honors College student from Ashland, Ore., has imagined herself working in the legal arena helping others. As a political science major, she is well on her way. 
Raised by a single father who didn't go to college, de Saint Phalle has managed to clear a variety of hurdles to stay on track as a first-generation student. 
"Our big plan has been trying to figure out how to get me through with no debt and have the support systems there so we could survive," she says. "The idea of paying for college and funding the expenses definitely put stress on both of us. I'm much more aware of the finances, certainly compared to other students I know. You have to be." 
Since her high school days, de Saint Phalle is always on the lookout for scholarships and other sources of financial aid to help pay the bills. As a PathwayOregon student, UO covers her tuition – something she describes as a huge boost for her and her dad, who works as a carpenter and independent contractor. 
"As a single parent who doesn't have a college degree, I know it was scary for him," she says. "But I wasn't going to let him or myself down. When you don't have the access that others have, there's always an awareness in me that if I make a misstep it can all go away. I won't let that happen." 
De Saint Phalle figured out on her own how to keep a detailed financial budget. She pours her time and energy into her coursework, knowing that top grades give her an edge when competing for scholarships. She jokes that she's a self-taught whiz at filling out financial aid forms like the FAFSA. 
"It used to be: 'How will I get to go to college without debt?'" she recalls. "Now it's: 'How will I get into law school?' There's always a challenge. And I have this parent who goes through so much to help me get where he was never able to go. My dad has done so much to help achieve my dreams. I can't let him down." 
She says one of the biggest obstacles for first-gen students is accepting that despite all the effort, they do belong here. "You made it here," she says. "Allow yourself to appreciate that moment and all the work you have done. It's a big achievement. Remember the triumph. Remembering how fortunate we are to be here is important." 
Last year, a senior in the CHC started an informal club – the First-Gen Student Leadership Group – to help navigate some of the barriers faced by students. De Saint Phalle liked the idea of bonding with others who came from similar backgrounds and got involved. The organizer graduated in June and handed the reins over to de Saint Phalle. 
She spent the summer working to make improvements, including doing outreach to other first-gen students. She says she's planning to hold regular meetings and possibly open the club to all first-gen students across campus. 
She hopes to have invited guests from the UO administration as speakers who can offer tips about getting enough financial aid, how to apply for scholarships, and understanding the legal rights of students. And she wants students to know the importance of developing relationships with faculty, staff, and other mentors who can help determine a career path after college. 
"I know when I first got here, I really didn't understand how college worked," she says. "I didn't know who to talk to or where to go for stuff that ends up being pretty important. I see this club helping students get the important information they need to survive and do well." 
De Saint Phalle says her classes in mediation and conflict resolution have piqued her interest in potentially becoming a divorce lawyer. She wants to be involved in cases where the conflict might make it seem like there is no hope. "There's something amazing about facilitating something that could end up so horribly and making it work out for everyone," she says. 
She remains grateful for her experience at the Honors College and UO because she says it has made her more appreciative of her opportunities. 
"As a first-gen student, there's a tremendous amount of work that you have to put in," she acknowledges. "It gives you a deeper appreciation for education and the position that you are in. I feel lucky that I am at a major university and I get to pursue higher education because it's something that wasn't a guarantee for me." 
—By David Austin, Clark Honors College Communications
—Photo by Alex Rodriguez, Clark Honors College Communications
See more stories about first-gen students connected to Clark Honors College.