2019 Scholarship and Thesis Research Grant Recipients
Mingle Thesis Research Grant: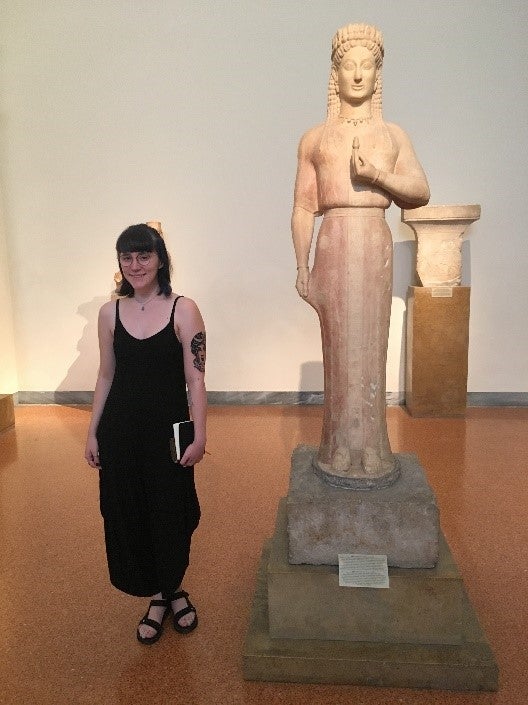 Allison Schukis (also received the CHC Service Award)
Allison Grace Schukis, a senior, double majors in Art and Art History in the Clark Honors College. Allison is pursuing the ability to read Ancient Greek in addition to these degrees. She is the proud creator of the "Know Thy Selfie" CHIP, and a longstanding tour guide for the honors college.  In addition to the Mingle thesis grant, Allison has been fortunate enough to be supported by the Presidential Scholarship for her first four years, and was also a recipient of a Vice President for the Office of Research and Innovation fellowship to research in Athens in 2018.
Daphne Walwyn Endowment: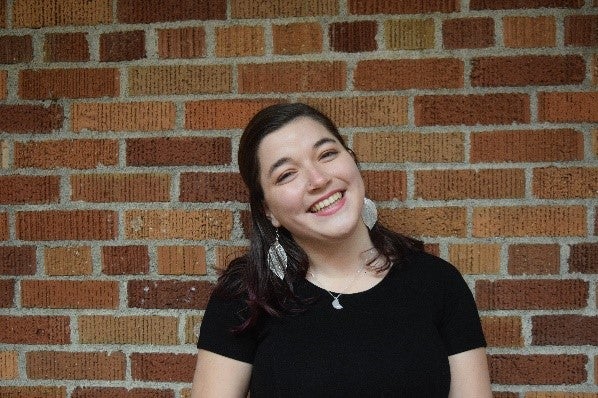 Gracia Dodds
Gracia is a second year student from Ashland, Oregon. She is both a recipient of the Daphne Walwyn scholarship and UO's Presidential scholarship. While Gracia studied abroad last summer in Oviedo, Spain, she is taking this summer to work for her family's wildland firefighting business. She is a Sociology and WGSS double major, and is also planning to minor in nonprofit administration.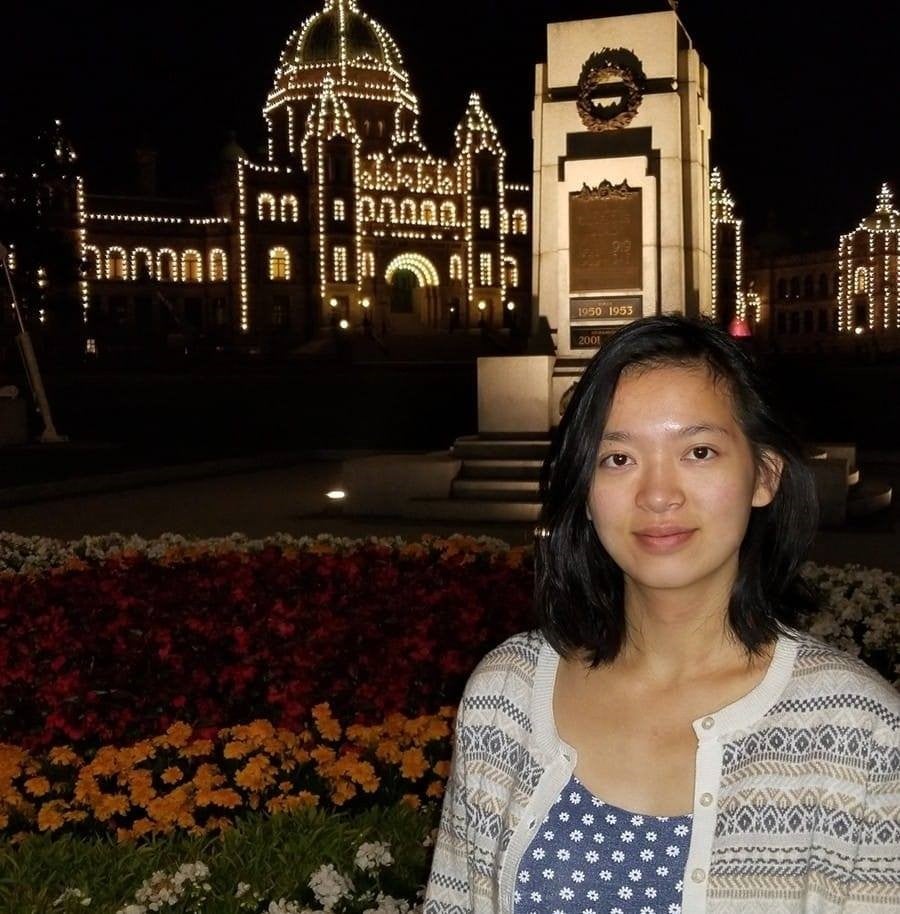 Emily Ma
Emily Ma, a sophomore, originally from Portland, Oregon. She is currently majoring in biology and minoring in chemistry. As a part of the Chinese Flagship Program, she hopes to be able to study abroad in Nanjing, China in order to learn more about herbal medicine and acupuncture in order to get an interdisciplinary education in biology. She holds a leadership position in Asklepiads (the premed society) and Chinese Flagship Banzhang Student Leadership Board. She works as the Programs Administrator for ASUO and researches in the Guillemin Lab. Her goal is to be able to transform the medical field with a combination of political reforms and inclusion of a multifaceted prescription strategy combining medicinal treatments across all cultures.
Andrea Gellaty Memorial Scholarship: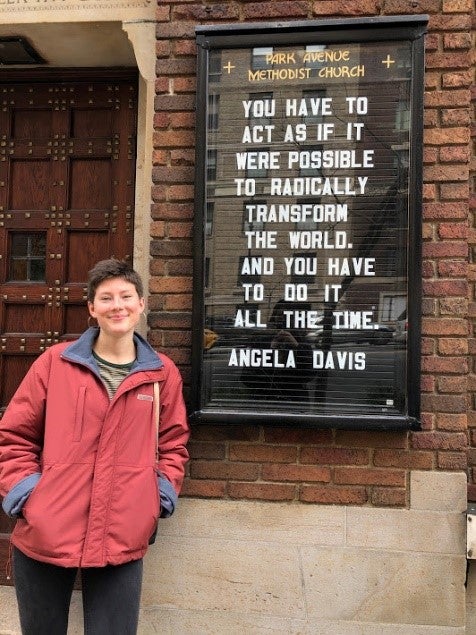 Anna-Magdalena (Momo) Crowe
Momo Wilms-Crowe is a constantly curious rising senior majoring in Political Science with minors in Ethnic Studies and International Studies. She was born in Tucson, Arizona, where she still feels most at home, but has lived in New Mexico, Oregon, Taiwan, and Germany. Driven by radical hope for the world, she is passionate about working for social change at all levels - from grassroots activism to federal policy change. As an activist-scholar, she is especially interested in exploring identity, power, and social change, and orients herself most towards narratives of resistance to oppression and marginalization.
Always dedicated to the connection of theory to praxis, especially when it comes to justice and human rights, Momo stays active in the Eugene and UO community through a variety of platforms. She is a dedicated member to the activist community, organizing regularly around refugee and immigrant justice, reproductive justice, environmental justice, and racial justice. She also interns with the UO Prison Education/Inside-Out Program, dedicated to providing quality educational opportunities for incarcerated students. In her free time, Momo loves to bake for her friends (including the CHC community as your Cookie Queen), garden in the sunshine, do yoga, write poetry, and pet any and all dogs she sees.
Wilma Wittemyer Scholarship: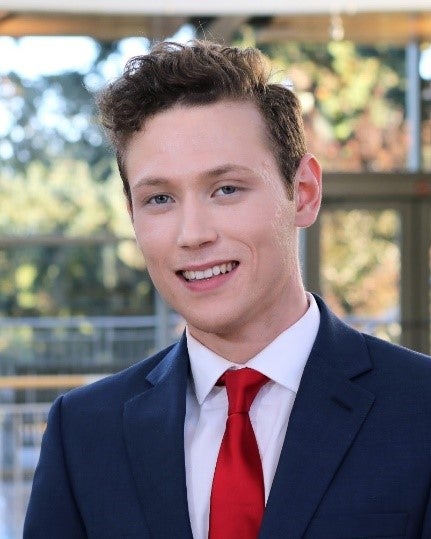 Anton Khokhryakov
Anton Khokhryakov, a senior, came to the United States at the age of 10 and is fluent in three languages. In addition to receiving the Willma Wittemyer Memorial Scholastic Achievement Prize, Anton is also a UO Presidential Scholar. Majoring in Accounting with a minor in Mathematics, Anton serves as the Director of Investments at the University of Oregon Investment Group, which manages over $1.5 million among its portfolios. In his thesis, he hopes to analyze the recent boom in the technology IPO market and its implications on the future of capital markets. Anton studied abroad on Easter Island with Dr. Terry Hunt, former Dean of the Robert D. Clark Honors College, and hopes to pursue a full-time career in technology investment banking following his summer internship in NYC with KeyBanc Capital Markets.
Wilma Wittemyer Scholarship: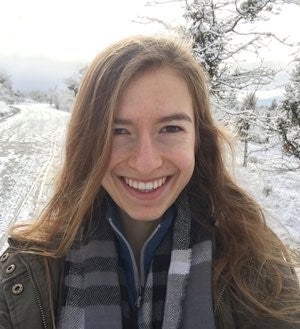 Madelyn Scott
Maddie is an Oregon native with an indefatigable enthusiasm for chemistry. At the University of Oregon, she is pursuing Bachelor of Science Degrees in Chemistry and Physics through the Robert D. Clark Honors College. The complexity of the natural world captives her. With the development of her academic capabilities, she is excited to use scientific theories and models (filled with all sorts of mathematical entertainment) as vehicles to explain everyday phenomena. In her free time, she enjoys running long distances in Oregon's moody weather, biking parallel to the Willamette River, strumming the guitar (with mediocre skill), and indulging in a science-related nonfiction book.
Edward Sargent III Scholarship: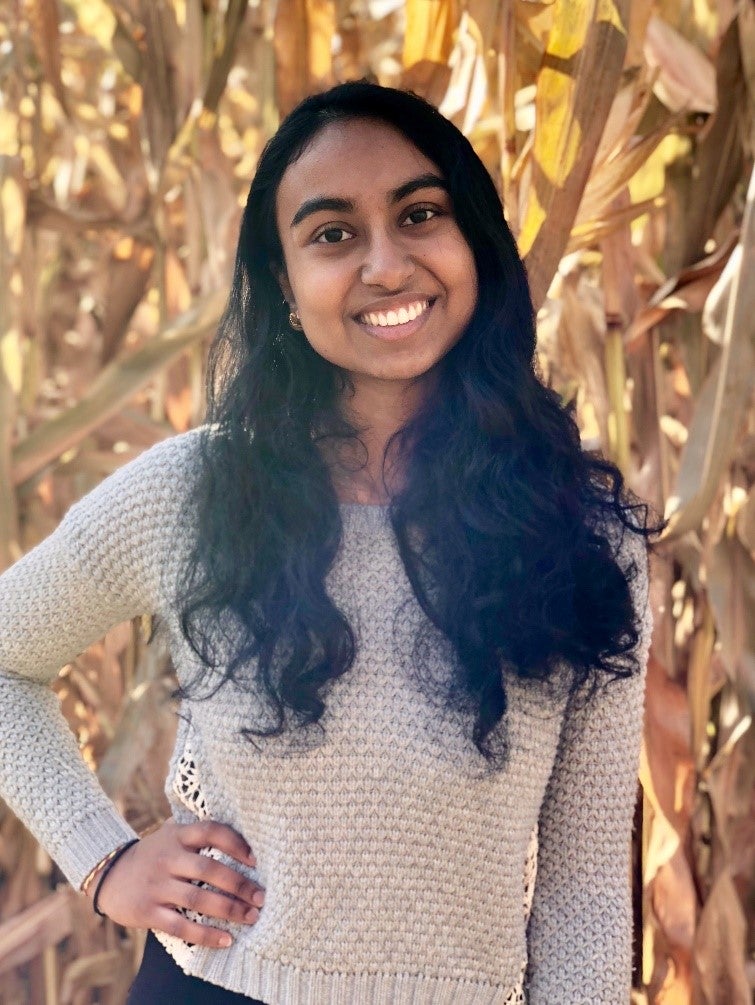 Sahana Krishna Kumaran
Sahana Krishna, a sophomore, is a human physiology major from Portland, Oregon. She is also a biochemistry and Spanish minor, and hopes to learn even more languages to talk people around the world. She currently works as a tutor for the Teaching & Learning Center and volunteers at the Oregon Food Bank. She hopes one day to be a physician and to have the chance to fight food insecurity in her community.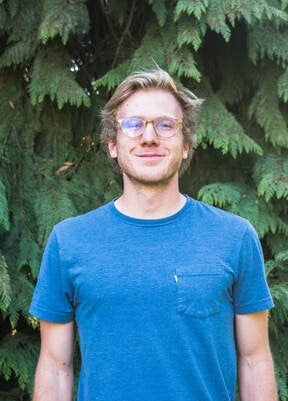 Mackenzie Myers
New Grid ItemMackenzie Myers, a sophomore, calls Colorado, Florida, Tennessee, and Oregon home. He believes home is a fluid concept and, after moving around many times growing up, fell in love with exploring the myriad environments he found himself in. Mackenzie continues to explore local Oregon environments through his major, Environmental Studies, as well as intellectual environments through his minor in Ethics. Involved in the Environmental Leadership Program and the Outdoor Pursuits Program on campus, Mackenzie enjoys education, community collaboration, and spending time with others in beautiful places. During his freshman year Mackenzie started working as a research assistant for Professor Mark Carey and, alongside several graduate students as part of Carey's Glacier Lab,  Mackenzie seeks to research the societal aspects and human dimensions of glaciers worldwide. Looking towards the future, Mackenzie aspires to connect others to the environments around them, to act as a community builder and collaborator, and to spend as much time as he can outside.
Jean Wittemyer Memorial Scholarship Award: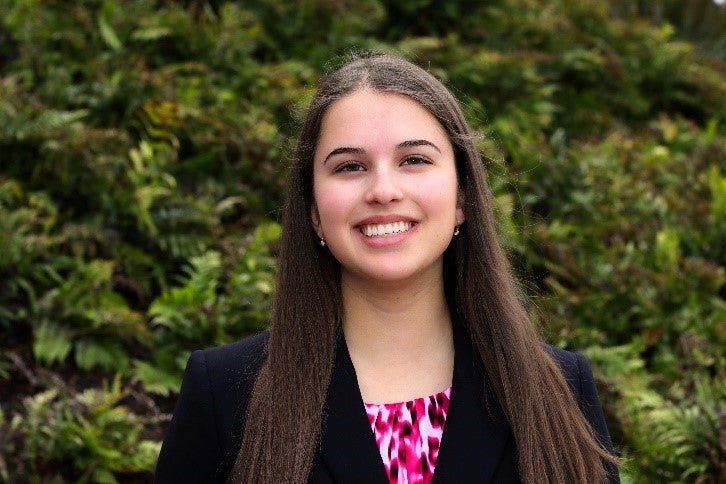 Alina Salagean
Alina Salagean, a sophomore and biology major, is originally from Portland, Oregon and a first-generation American that comes from a family of Romanian immigrants. Her passion for healthcare developed in high school and during her senior year, Alina began working at a nonprofit mother's milk bank, which pasteurized donor breast milk for hospitals and local infants. Upon entering college, she became increasingly passionate about maternal and child health and is currently a member of the Libuda lab, which conducts research on DNA damage and the replication of sex cells. In addition, Alina is a member of the Rural Health club on campus, which explores the healthcare inequalities faced by rural and underserved areas. In the future, Alina hopes to attend medical school to pursue a career in obstetrics and gynecology.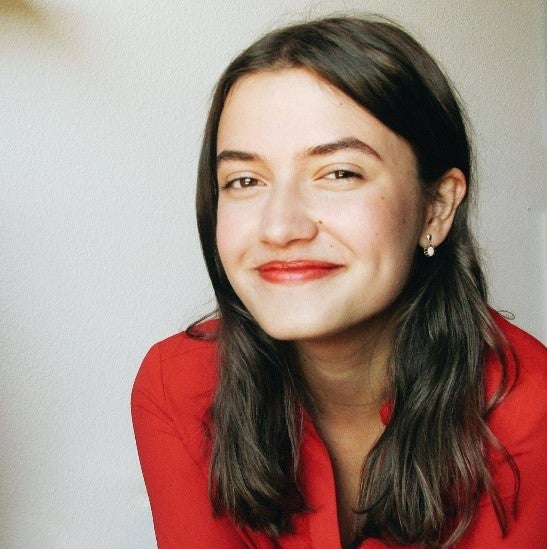 Julia Mueller
Julia Mueller, a junior, lived in Honolulu and Washington, DC, before settling in Portland. She is a Presidential Scholar with the Clark Honors College, majoring in Journalism with minors in French and English. Julia is passionate about writing and communication. She works as a coach at the SOJC's Writing Central and serves as President of the University's Mock Trial program. She spent a year with the Kidd Creative Writing Program and spends time writing both fiction and nonfiction pieces. Her work has been published with The Library of Congress, Writer's Digest Magazine, the Eugene Register-Guard and the Clark Honors College journal Ephemera. She spent a term abroad with the Clark Honors College at Oxford.
Joy Poust Scholarship: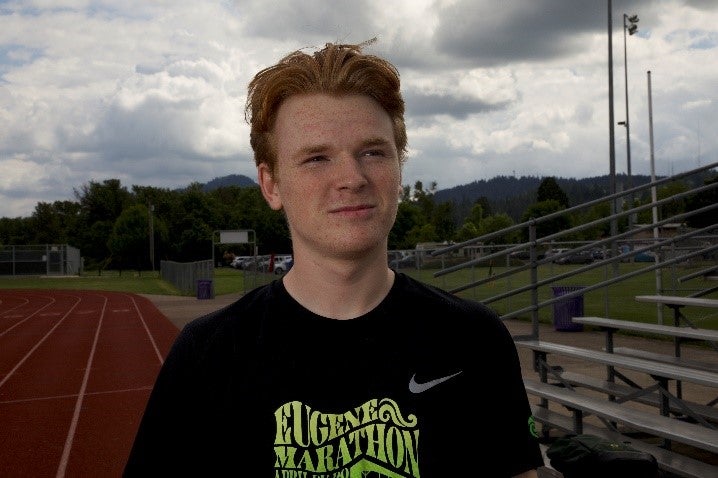 Jake Bromham
Jake Bromham, a sophomore, originally comes from the tiny valley of Hood River, Oregon. He is a Political Science and French Major. He has spent the past year continuing to study international relations, working with the University of Oregon Foreign Policy Forum, and running on occasion. He hopes to study abroad and work in foreign policy in the future.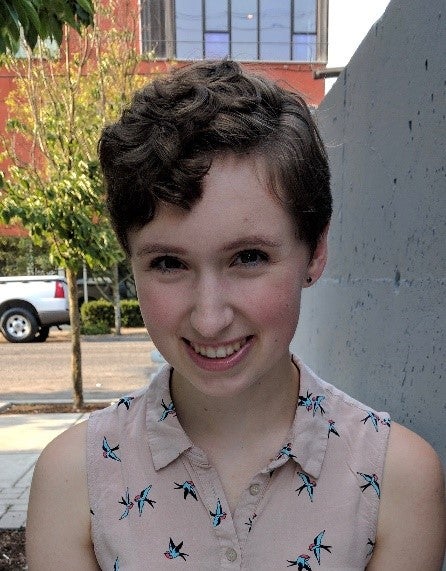 Kayla Davis
Kayla Davis, a junior, grew up in Canby, Oregon.  An aspiring future speech pathologist, she is majoring in Communication Disorders and Sciences and minoring in Special Education.  In addition to school, Kayla works as a personal support worker and recently became an editor of the Oregon Undergraduate Research Journal.  She has been involved in research since her freshman year and currently works as a research assistant in the Optimizing Swallowing and Eating for the Elderly Lab on campus.  Her thesis focuses on sources of agreement and disagreement in perceptions of mealtime and relationship quality in caregivers and patients experiencing swallowing problems as a result of stroke.  After graduation, she plans to attend graduate school for an M.S. in speech-language pathology.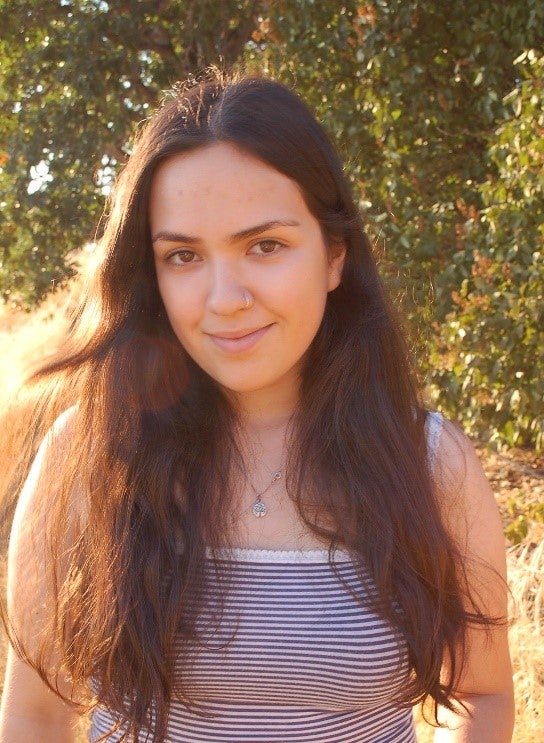 Adrianna Vaca-Navarro
Adrianna Vaca is a sophomore economics major from Hood River, Oregon. This year, she has served as the Diversity Advocate for Clark Honors College Student Association. Since the beginning of her first year of college, she has been an active member of UO's Mock Trial program, where she was recently elected Vice President of Communications. Adrianna is a first-generation college student pursuing a career in immigration law; after graduating from UO, she hopes to attend law school.
Shephard Family Study Abroad: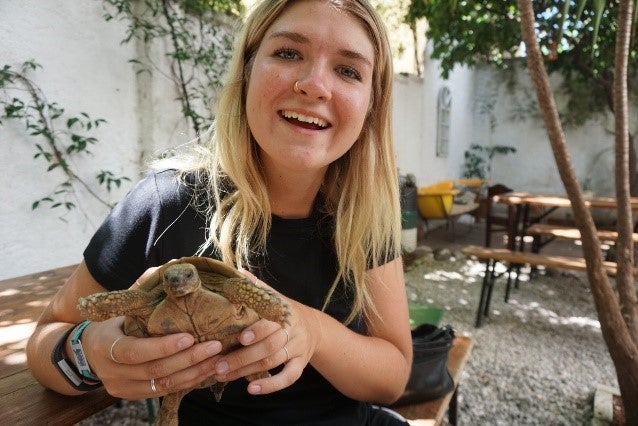 Sophia Prince
Sophia Prince is a sophomore in the Clark Honors college. She is originally from Portland Oregon. Before attending the University of Oregon, she took a gap year, where she was a Spanish teacher in England and an English teacher in Colombia. Prince is currently a double major in International studies and Journalism. Fall term, she will be attending university in Morocco to improve her French and Arabic skills and learn more about North African culture.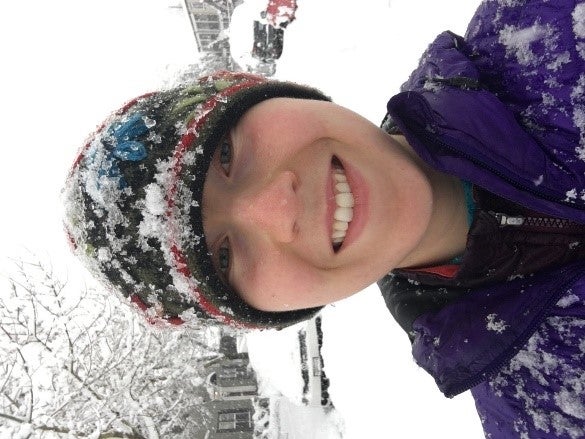 Miriam Thielman
Miriam Thielman is a junior from Portland, Oregon double-majoring in Spanish and Religious Studies. She works as a writing tutor at the Tutoring and Academic Engagement Center and currently volunteers at Centro Latino Americano, a nonprofit that provides social services to the Latinx community in Eugene, Oregon. She's also beginning research on her thesis, which is about the conception of immigrants in the Hebrew Bible, and is totally geeking out about it. After graduation, Miriam would like to serve in the Peace Corps and hopes to be placed in a Spanish-speaking country. She is considering a long-term career teaching religious studies or else working with undocumented immigrants as a social worker. 
Shephard Family International Students:
Will be chosen later in the summer.
Roger & Ginny Reich Scholarship: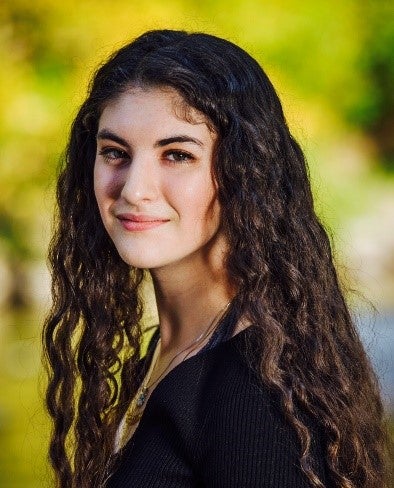 Dimitra Fellman
Dimitra Fellman is a sophomore who grew up in Westchester, NY before moving to Portland, OR at the age of 14. Growing up, she was always interested in science, but discovered her passion for infectious diseases and global health in high school. She is now working towards a B.S. in biology as well as a minor in global health. She is a member of the Global Health Research Group, led by professor Graboyes, a teaching assistant for undergraduate biology courses, and currently conducting research on host-microbial interactions and evolution in Matthew Barber's lab. She is passionate about biology, but also fascinated by the social determinants of health and how biology and society function together in disease distribution and dissemination. She hopes to pursue a career in the field of global health, specifically studying disease etiology and developing solutions towards better health for all.
Madden McGrath:
Will be chosen later in the summer.
Ira & Eleanor Wong: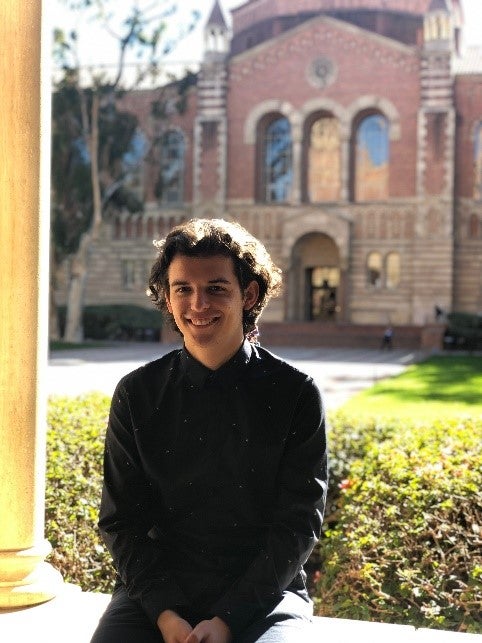 Aidan Haigh
Aidan Haigh is a sophomore majoring in Political Science and minoring in Legal Studies. Despite calling Portland, OR, home, Aidan has lived in many countries across the globe, including Australia, New Zealand, and the Netherlands. Outside of his studies at the Clark Honors College, Aidan is an award-winning witness for the UO Mock Trial team, which travels around the country competing against other schools. He is also a Wayne Morse Scholar, and works as a UO Ambassador. After graduation, Aidan hopes to attend law school or pursue a postgraduate education, inspired by his experience at the CHC and the UO as a whole.
Owens Writing Award: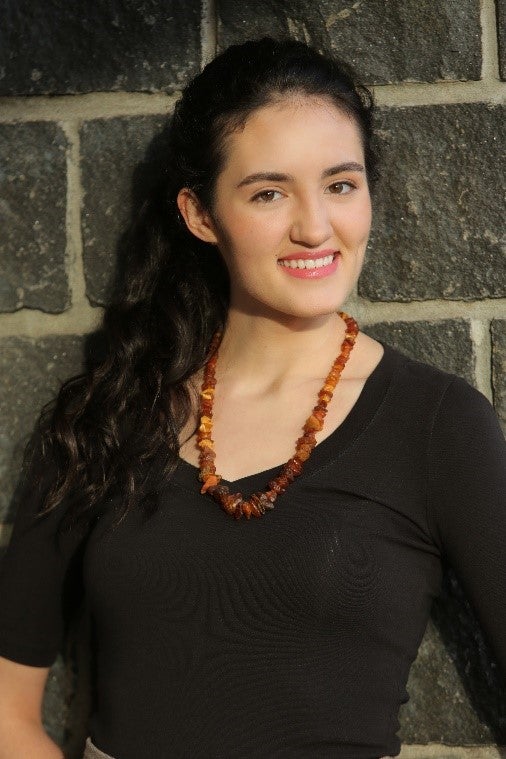 Ania Grudzien
Ania Grudzien, a junior, is originally from Portland, Oregon. Her love of writing and fluency in the Polish language inspired her to write her research paper about Nobel Prize Winner Czesław Miłosz's American Experience. Ania is a psychology major with a minor in chemistry, and hopes to meet her goal of becoming a medical doctor. Employed as a Class Encore Leader in biology by the Tutoring and Academic Engagement Center, Ania is an avid lover of learning and delights in accompanying others on their journey in learning the sciences. In her spare time, Ania volunteers for the Red Cross First Aid Service Team and works in the Kuhl Lab studying cognitive neuroscience. She looks forward to writing her thesis on the topic of memory and human cognition. Although she is heavily involved in the field of science, she values the importance of obtaining a well-rounded education rich in the humanities, in the hopes of developing greater empathy for others.
Jonathan Gall Scholarship:
David O'Kelley Scholarship: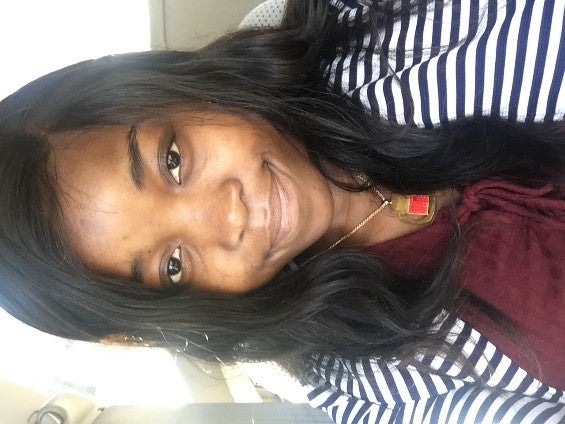 Nelly Nouboussi
Nelly Nouboussi is a third-year biology major, with minors in Chemistry and Global health. Originally from Cameroon, central Africa, she moved to the United stated when she was 13 to continue her education. She plans to graduate from college and attend medical school to become a neurosurgeon. She volunteers at at the Riverbend Hospital, is the co-director of the African Student Association and conducts research in a research lab at the Institute of Neuroscience on campus, which led to her being able to present her research at the University's annual undergraduate symposium. She has participated in a global health-related internship in Accra, Ghana during which she learned more about the healthcare system in the country. She is also a pathway mentor for 1st-year students and a biology tutor. Her long-term goals include returning to Cameroon to contribute to the development of a better healthcare system.  
Alex Bates Scholarship: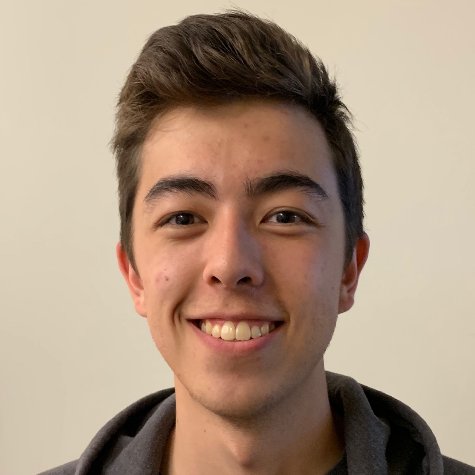 Patrick Breslin
Patrick Breslin is a junior from Portland, Oregon. He studies math, Spanish, and computer information science at the University of Oregon. Additionally, Patrick is a Presidential Scholar and has worked for two years in Student Orientation Programs, currently holding a leadership role as a Senior Ambassador. His thesis will explore mathematical concepts in the field of number theory. In the future, Patrick hopes to work in a field with technology, where he can mentor others, or in Spanish-speaking communities.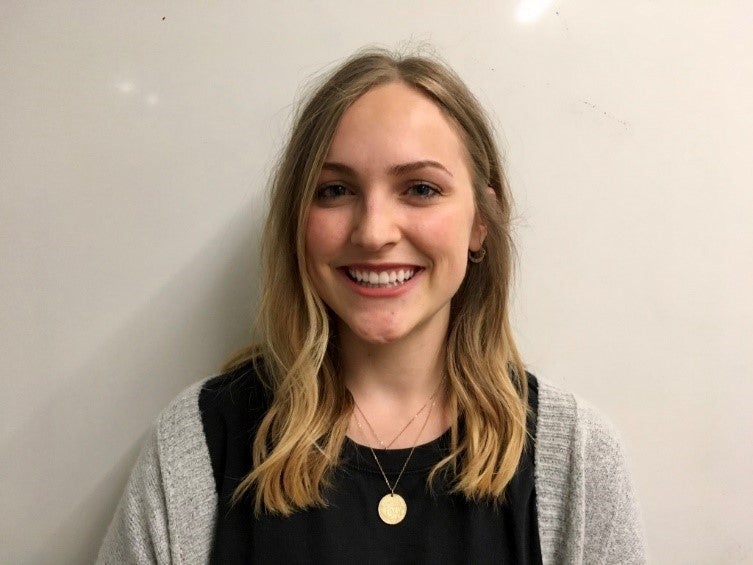 Emily Carlson
Emily Carlson, a third year General Science major in the honors college, was born and raised on a lavender farm in Scholls, OR where she was always surrounded by beautiful flowers and loving farm animals. After graduating from UO, Emily plans to pursue a career in optometry and hopes to attend optometry school in the fall of 2021. In fact, Emily helped to bring back the UO Pre-Optometry club this year. Additionally, Emily is also the Recruitment Coordinator of the student-led environmental group, Climate Justice League. This summer, Emily will study abroad in Accra, Ghana where she will partake in a global health program.