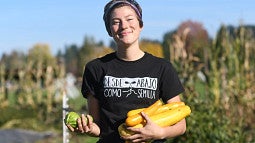 by Kaitlyn Jimenez, CHC Communications
Photos courtesy of Momo Wilms-Crowe
Waking up at 5 a.m. to milk goats every day and spending Saturdays working at the farmer's market was a normal part of Momo Wilms-Crowe upbringing. Food has always been an important part of her life and a substantial part of her childhood was spent living and working on a farm in New Mexico with her mother—along with goats, chickens, bees, and dogs. Meals were always home-cooked with vegetables they grew, bread they baked, and meat they slaughtered. Having high-quality food was not only important to them, but a means of survival for the family of two.
"My mom at the time was laid off/unemployed so in order to eat, we had to farm," Wilms-Crowe explains.  "Only later in life did I realize people farmed for fun. It was always a grind for me."
It wasn't until attending the University of Oregon that Wilms-Crowe realized her accessibility to fresh food wasn't considered "normal" compared to that of her peers.
During her junior year, Wilms-Crowe took an honors college class about social philosophy and The Hunger Games. In the class she wrote a paper about food justice and bio-politics and used the famous dystopian novel as an example of "the state using food as a tool of control." It was a formative moment when she realized food could be central to her academic work and could be combined with her passion for activism.
Which led her Puerto Rico.
"I was thinking about contemporary parallels to The Hunger Games while I was reading a lot about Puerto Rico in the context of Hurricane Maria and disaster response, and also just longer histories of colonialism via food," says Wilms-Crowe. "I was super inspired to explore this further."
At a conference in New York City, Wilms-Crowe was talking to a friend about the paper she had written for class, who then connected her with a friend who was involved in the food sovereignty movement in Puerto Rico. The friend in New York, who is Puerto Rican, invited her to visit and conduct research. It became an organic process of connections for Wilms-Crowe which led to spending four weeks in Puerto Rico during the summer of 2019, studying grassroots food sovereignty activism. The project ended up being a culmination of her interests in food, politics, critical theory, and colonial work.
"It definitely evolved pretty spontaneously. I was originally going to write my thesis on something entirely different," Wilms-Crowe says. "But then this project just kind of fell into my lap and felt too important to not explore. So I followed it and turned out incredible."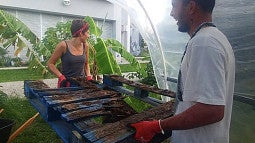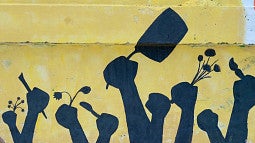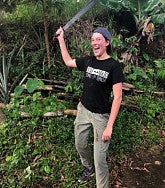 Her first experience with research was during freshman year in a Clark Honors College research seminar. Up until that point, research was something she didn't expect undergraduates to do and didn't know what to expect. She imagined the process as "a scientist in a lab coat." But during the research seminar course she found that all research looks different. During that class she worked on a historical project based on archival work and found important sources in Black feminist alternative press, pamphlets, and data bases.
"That was my first introduction to research and it got me hooked," says Wilms-Crowe. "It showed me that I could do it and that it's super fun."
Wilms-Crowe describes herself as a "ceaselessly curious person" and "always chasing answers." Through learning how to research she has been able to dig into those questions and personalize her academic experience in the CHC.
In Puerto Rico, Wilms-Crowe visited farmers markets, attended talks and work parties, and volunteered with farms for her research. While gathering information, she was able to practice Spanish and learn more about participatory ethnographic fieldwork, information management, data collection.
When she returned to campus the following fall, Wilms-Crowe led a First-Year Interest Group, "Edible Activism," which she designed out of her interest in food justice. The FIG was focused on the politics of food with a focus on social justice issues within the system such as labor, health, and gender equity, and aimed to encourage students to take an active role as agents of social change. Wilms-Crowe was involved with the FIG program all four years at UO, in addition to FIG assistantship  for two years and working as a student coordinator. Last year, she also got involved with the Food Security Task Force on campus which runs a diversity of programs to support students who face food insecurity.
Wilms-Crowe's thesis project, titled "Desde Abajo, Como Semilla": Puerto Rican Food Sovereignty as Embodied Decolonial Resistance, explains how Puerto Ricans are "cultivating a radical transformation" of agency and community through food sovereignty. In May, she presented her research at the 2020 Undergraduate Research Symposium and was the first-place winner of the Food Studies Award, and went on to also win the UO Center for Environmental Futures Undergraduate Thesis Prize. She is donating her prize money to the farms she volunteered with in Puerto Rico to support their ongoing work.
Wilms-Crowe's mother had always told her to follow
"the thing that's going to make ourselves
feel good and help the world." 
Wilms-Crowe, who has been awarded more than 20 scholarships, grants and fellowships in her time at UO, will be one of the commencement speakers at the virtual CHC graduation on July 20. After graduation, she plans to take a break from school and continue working on farms abroad, while working on translating her thesis into Spanish and working on a food and politics podcast. One of her long-term goals is to attend graduate school for public health, law, or another discipline. During her break from academia she is looking to find her "golden path" which her mom had always told her is "the thing that's going to make ourselves feel good and help the world."
"I still need to figure out what exactly mine is," Wilms-Crowe says. "But luckily, I've gotten little glimpses of it. I love mentoring students, I love food and politics and social justice issues, and connecting with people. I have gotten tastes of what feels right and I trust my intuition enough to know that the rest will come."