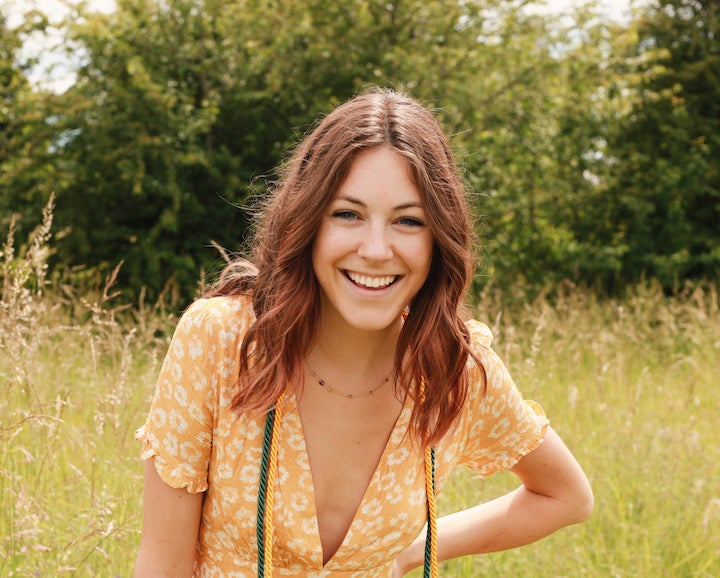 Alex Boxberger
by Kaitlyn Jimenez, CHC Communications
In her junior year, Alex Boxberger did a dangerous thing: she changed her academic focus after joining a lab and abandoning her goal of becoming a doctor.
She had always been interested in the biological aspects of psychopathology, which is how she got involved with the START Lab (Science and Treatment of Affect Regulation Team) at UO her second year. But she couldn't have expected how joining the lab and changing her focus junior year would lead to bigger opportunities.
For her first three years at the University of Oregon, Boxberger was a psychology major on the pre-medical track with the goal of becoming a doctor. It wasn't until taking a class with Professor Melissa Graboyes, who helped her realize that becoming a doctor isn't the only way to reach her goal, that she decided to fully focus on psychology and research.
"There are other ways to think about medicine than just being a doctor," Boxberger says. "I could have a medical view on things without specifically going to medical school and being a doctor."
Through the START Lab, Boxberger realized how much she enjoyed being a part of research. The lab focuses on parents with mental health challenges, specifically borderline personality disorder, and how that can affect their child. Their goal is to develop treatments to improve the mental health and emotional regulation of the parent and child and reduce the suffering within such families.
"Obviously I could still do research if I'm a doctor, but I thought that maybe going forward that going down the research track would be a better way for me to get to where I wanted to be," she says.
The START Lab mostly focuses on how psychopathology can be transmitted from parent to child. This inspired Boxberger's senior thesis project — do mothers with borderline personality disorder influence the development of externalizing problems in their children? She looked at the levels or warmth and stress in a mother and whether that affects the relationship with her child or causes behavioral problems in them. She found that elevated symptoms of borderline personality disorder are associated with higher levels of stress in the mother and with higher levels of behavioral problems in the child. However, the symptoms were not associated with the level of warmth the mother shows towards her child. While disappointed at first that her hypothesis came back incorrect, she chose to look at her findings with a different lens.
"Thinking about it in the bigger picture approach, that's actually a good thing because they're still being good moms, they're still showing warmth towards their kids," Boxberger adds.
Following the psychology path took Boxberger further than she imagined: Dunedin, New Zealand.
In New Zealand, Boxberger spent almost five months as a direct exchange student, taking psychology classes and learning about the native culture of New Zealand. She describes their culture as similar to that of her hometown of Portland, Oregon, "laid back, relaxed, West Coast feel." This experience taught Boxberger how to get outside of her comfort zone."I've never been someone who's great at taking risks, so agreeing to live across the world away from my friends and family for that long of a time was kind of scary for me," says Boxberger. "But I knew that it was going to be a great experience and I thought that it would really help me grow as a person to be able to make that jump and take that risk."
After graduation, Boxberger is pushing her comfort zone again by moving to New Haven, Connecticut and working as a research assistant at the Chawarska Lab at Yale University. The lab focuses on children with Autism Spectrum Disorder and other disabilities, topics that drew Boxberger in. Originally she applied for a fellowship opportunity, but after the interview Boxberger was offered a full-time and paid position as research assistant, opposed to the training position she initially sought. For the next four years, Boxberger is committed to working with participants, scheduling, data entry, and will have the opportunity to work on her own projects that could be presented on at conferences. She hopes that this job will lead to also attending graduate school at Yale as she wants to continue her education for psychology, neuroscience, or a combination of the two.
"It's going to be a pretty big change but I'm excited about it," said Boxberger, who has only been to Connecticut once, when she interviewed for the job.
Her future goal is to combine research and working directly with people while looking at the neurological basis behind psychological disorders. She hopes to do this with either adults or kids, but finds researching with children to be more productive because of the ability to catch things early on.
"I want to actually make an impact on people's lives and not just be doing the research behind the scenes," she adds.