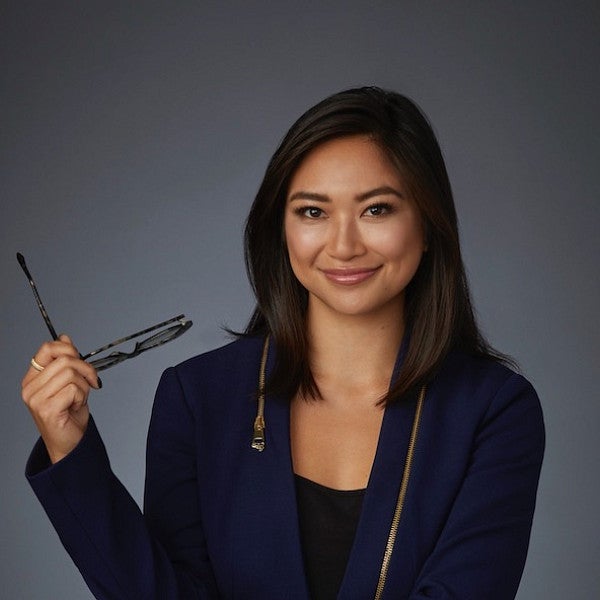 CHC alumna Lorie Acio, now VP of Communications for MSNBC.
By Lauren Church, CHC Communications
Photos courtesey of Lorie Acio 
Immediately after graduating from the University of Oregon and Clark Honors College ten years ago, Lorie Acio headed to New York to take a position as an unpaid intern at CBS, working at the prime-time news show "48 Hours." 
Today, Acio is the VP of Communications for MSNBC in New York City, managing the company's communication strategies and advising top executives and on-air talent.
 "I am where I am because of the Clark Honors College," Acio said with humility.
The 2011 UO graduate joined MSNBC's team as a senior publicist, steadily working her way up the company ladder. Acio had to learn to walk before she could run, and she attributes much of her gumption to her time at CHC.
 "My experience there shaped me as a person, gave me the tools to succeed, and helped me build self-confidence to speak in any meeting," she adds.
Acio will return to the UO campus and the CHC for a presentation on Friday, Oct. 29 at 10 a.m. in the Shephard Family Library on the third floor in Chapman Hall to discuss her experiences with current CHC students and how CHC influenced her path. All CHC students are welcome, and can RSVP here. 
Acio graduated with an electronic media degree from the UO School of Journalism and Communication. "My entire college career really paved the way for me in the industry," she said. In college, Acio thought she was meant for broadcast journalism as a producer or news reporter.
"I was involved in pretty much everything," Acio recounted of her time at UO. She worked with both written and on-air journalism on campus, building her skills behind and in front of the camera. As a junior, Acio interned at the KATU ABC 2 channel in Portland an experience that opened her eyes to the bustle and excitement of professional news.
"I developed and honed my editorial and production skills there," she said. "I was following the news reporters and anchors, and they really took me under their wings in terms of exposing me to the world of TV news." 
A CBS News recruiter came to the UO campus during Acio's senior year, and one of her professors recommended they meet.
"I was fortunate enough to get an internship at CBS News," Acio remembered. "I moved straight to New York, became a full-time intern—unpaid. I was there five days a week, working on '48 Hours.'" Soon enough, Acio's internship turned into a job as a news associate for CBS This Morning where she spent four months working early hours welcoming on-air guests until she was promoted to the PR department.  
"The head of communications at CBS News was looking for a junior publicist, and I had no idea what PR was," Acio said. "She talked to me about her role; I became fascinated with it… Now I've been in communications ever since." 
But Acio said none of her success would have been possible without CHC.  
"I was born in the Philippines; I'm an immigrant and English is my second language," Acio said. She moved to Hawaii at seven. The prospect of moving to the "mainland," she remembered, felt incredibly daunting, but her excitement about the honors college and UO pushed her to move to Eugene.  
"It was really a no-brainer for me to go to CHC," Acio said. "The honors college was so generous. They gave me a really amazing financial package… I was able to get through college and pursue a career in journalism because of that opportunity. Because the honors college saw something in me as a senior in high school and gave me the chance to leave Hawaii." 
Having left familiarity behind, Acio said she was surprised by how much she fit in at UO; "I didn't have any friends or family in Oregon, but I always felt at home at CHC," she said. "My peers were so smart and worldly that I never felt out of place."
Acio said because she chose to live in the international student campus housing her freshman year, she met students who had come from all corners of the globe to call UO home.
"At CHC, I was able to celebrate my multicultural identity while learning and exploring other cultures and identities beyond me," Acio said. "My experience really helped shape me and kind of helped me find my passion which is, obviously, diversity, equity, and inclusion."  
In her professional life, Acio has followed this passion, encouraging diversity at NBC. "I was involved with sharing and promoting our diversity coverage," she said of her early years at the company when Acio was unofficially a part of the initiative. Now, she has taken on a leadership role, overseeing communications for NBCUniversal News Group's Diversity, Equity, and Inclusion in addition to overseeing MSNBC's press strategy.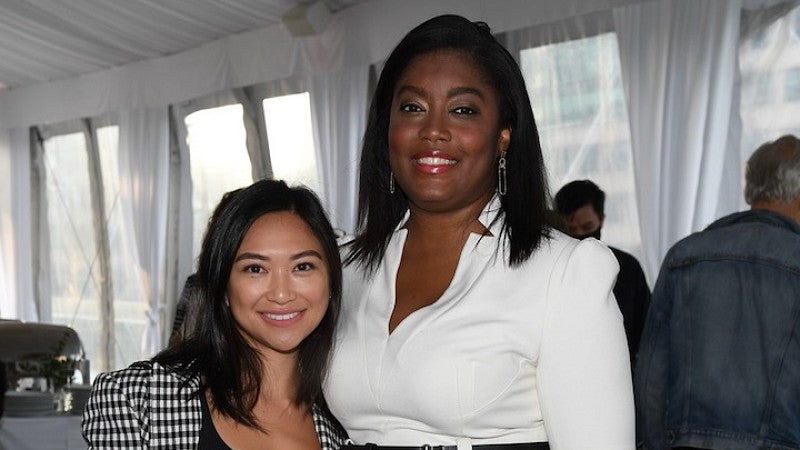 Acio and Rashida Jones, president of MSNBC. 
"In the seven years that I've been here, I've been a part of a handful of development programs," she said. One of Acio's favorite NBC initiatives is called "Shine," a year-long program devoted to cultivating diverse company leadership. "Shine was a way to bring us together and to provide us with the skills to develop and introduce us to other Asian American Pacific Islander rising leaders." Acio said NBC offers similar programs for Black and Latino employees, among others. 
"We have a lot more work to be done," Acio said. "I am working closely with many people who have made history on the D.E.I. front, including MSNBC President Rashida Jones who became the first Black executive to lead a major TV news network… I want to continue working with them and helping shape the messaging surrounding our successes to really try to pave the way for other networks and other organizations." 
NBCUniversal News Group Chairman Cesar Conde, the first Latino or person of color to lead a major English-language television news organization, established the "50% Challenge" initiative that aspires to diversify the newsroom by making its staff half people of color and women. It is spearheaded by Yvette Miley, SVP of DEI for NBCU News Group, a longtime mentor of Acio's. "I am really proud to work at NBC, so proud to work for a company that celebrates diversity and inclusion and promotes from within," Acio said. "I would love to continue trying to get other networks, other organizations in the industry, to follow NBCU News Group's lead." 
From her late nights at Chapman Hall in Eugene to her early mornings at Rockefeller Plaza in New York, Acio has taken advantage of her opportunities to make an impact. Now a member of the CHC Advisory Council, Acio brings her expertise back to the University of Oregon. "It's really come full circle, I think, because as someone who is diverse, there aren't a lot of people who look like me in my field. But I'm able to celebrate that and use that to my advantage in terms of helping and trying to make that difference," Acio said. "I hope there are others who can look at me and see my experience and think that anything is possible."