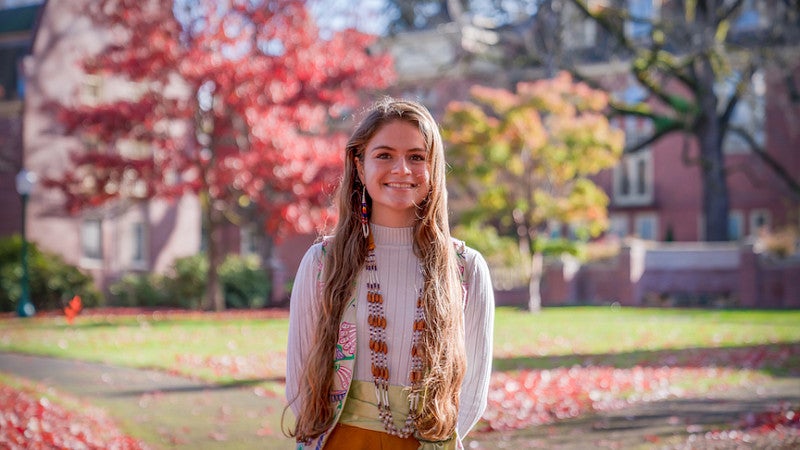 2018 Stamps Scholar and two-time Udall Scholar Temerity Bauer
By Claire Warner, CHC Communications
Additional reporting by Addie George, CHC Communications
Photo by Jasper Zhou, CHC Communications
Two-time winner of the prestigious Udall Scholarship and 2018 Stamps Scholar Temerity Bauer didn't always feel at home at the University of Oregon. One of few Native students pursuing a biology degree at UO and in the Clark Honors College, she said she felt lonely during her first few weeks of her freshman year — until she attended a potluck with the Native American Student Union.
"Once I went once, I never stopped going," Bauer said.
Now a senior, Bauer still participates in as many NASU events as possible. She recently took a basket weaving class and raised tribal flags in the fishbowl for the annual Indigenous Peoples' Day Celebration. She enjoys playing intramural basketball with her friends from NASU and reflected fondly on her sophomore year when their team, "Native Ballers," won the 3 v 3 championships.
"I really like to be connected to my community because it makes me feel more at home at the University of Oregon," Bauer said. "I love being able to learn about different tribes' cultures and traditions and finding ways in which we are similar."
Bauer has worked hard to foster a Native community in academic and research settings as well, mentoring students through the University of Wisconsin's STEP-UP program, which provides short-term research experiences to underrepresented students. Through the program, she taught students how to write abstracts, read scientific papers, conduct scientific research, and present their findings.
"I have seen how these programs have benefitted me personally, and I wanted to give back and help other students accomplish the same things I have and more," Bauer said. "It helps them see that in science there are people like them!"
Bauer reflected on the impact of having her first Native American mentor last summer; Dr. Brendan Lehnert (Waabishki Gidagaa Migizi in Ojibwe) from the Sault Ste. Marie Tribe of Chippewa Indians, whose academic path tracked similarly with Bauer's goals. Not only did she and Lehnert conduct neuroscience research on mice through the Harvard Medical School Four Directions Program, but they also bonded over their experiences and cultures.
"We shared our struggles about being a Native American in the STEM fields, shared our Native American languages by naming the mice we were using in our languages, used traditional (Native) medicine in the Harvard Med courtyard, and so much more," Bauer said. "This was the most supported and understood I have ever felt in the STEM field, which further proved to me why more Native Americans need to be in these positions."
During the school year, Bauer conducts neuroscience research in Professor Santiago Jaramillo's lab where she studies how the brain discriminates between various sounds like crashing waves and crunching leaves. She has also volunteered at the UO Health Center and participated in the Mayo Clinic Native American Pathways Program, working to address disparities in health care for Native communities.
Much of her work is inspired by the health problems facing her nation, the Round Valley Indian Reservation in Covelo, CA. She explained that her nation is a "cancer cluster," as many people have been diagnosed with the disease, including her uncle who died at the age of 22. Bauer believes a nearby factory, the Louisiana Pacific Lumber Mill, had been allegedly leaking waste products into the environment, making people sick. She stressed that these issues are not unique to the Round Valley Indian Reservation; reservations across the country face similar problems due to the exploitation of Native land by large corporations and have difficulty accessing adequate health care and medical attention.
To tackle these problems, Bauer plans to pursue an MD-PhD, studying how pollution and stressful environments can lead to diseases like cancer or neurodegenerative disorders. She intends to use this knowledge as a physician-scientist "to develop methods to diagnose patients early and also provide specialty care to my people," she said, making health care more accessible to people living on reservations.
Beyond science and medicine, Bauer also asserted the importance of other disciplines to any academic pursuit, including health care.
"Growing up in a household of historians, I understood it is crucial to see the whole picture of the world, and often in science we only see one aspect of a certain problem," explained Bauer, whose parents are both professors at the University of Nevada, Las Vegas. "In order to be a leader in my community, I had to be educated in various topics related to history, art, literature, and more in order to fully understand why specific health problems are happening to different communities."
Through her CHC courses, she has researched numerous topics related to Native people, including the forced sterilization of Native American women, technologies used by Indigenous groups, and how lithium mines developed in northern Nevada threaten local Native American communities.
Her extensive work and desire to assist Native populations led her to become the first two-time winner of the Udall Scholarship, which recognizes students for their service to Native American communities or their environmental stewardship. She said she first learned about the Udall Scholarship from History and Environmental Studies Professor Mark Carey who encouraged her to apply.
"Without his email of encouragement and hours of help, I would not be a two-time Udall Scholarship winner," she added.
Carey taught Bauer's first class in CHC, which focused on technologies developed by Indigenous communities before Columbus as well as many other explorers who disrupted those communities. The class was a special experience for her, and she appreciated Carey for offering the course.
"This was the first time I had taken a course where I did not have to be the one in the classroom being the voice and carrying the emotional burden of educating others for and about Indigenous communities," Bauer said. "Dr. Carey created a safe space for students like me, and he became a main mentor that I have gone to time and time again for help, letters of recommendation, and more."
With less than a year before graduation, Bauer is determined to leave her mark on UO.
Working closely with students, professors, and Provost Patrick Phillips, she regards her efforts to get more Native American students into STEM programs as her most rewarding project during her time as an undergrad. She is now developing the American Indian Science and Engineering Society to create a long-standing, supportive community for Indigenous students as they pursue STEM fields at UO.
"I want to make a lasting impact on the university so that more and more Native American students receive support to pursue STEM," she said. She encourages any Native students interested in science to contact her about the organization and is excited to connect them with internships and opportunities that she has found during her time at UO.
"I want more people like me in STEM," Bauer said. "We need more Native Americans in sciences because if not, we've seen all the issues that occur with malpractice. We are capable of putting things on the table, we just need to get in the room."