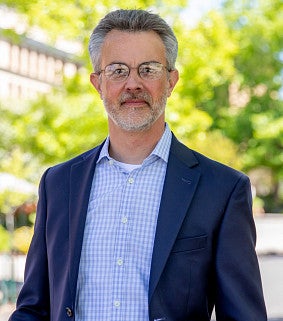 Story by Kayla Nguyen, CHC Communications
Photo by Maddie Knight, CHC Communications
Professor Ian McNeely compares being a new faculty member at Clark Honors College to "just like being a kid in a candy store."
"UO students are game for everything," McNeely said. "And honors college students, in particular, will take whatever you throw at them and find interest in it." For McNeely, analyzing socialism and political cultures in Europe is an exciting opportunity to share his passion with students every week.
"When I started college in 1988, I knew I wanted to be a scientist of some kind," he said. "It was either going to be computer science or medicine. I naturally wanted to round out my liberal arts background, and I figured I should pick up some humanities beforehand. SoSo, I stumbled into a couple of culture and history courses and really never turned back."
This fall, McNeely led his students on a tour of Western European democracies of welfare states like Britain, France, Scandinavia, and Germany in "HC 434H: What is Socialism Anyway? A European View."
"It basically speaks to a lot of young people's interest in Bernie Sanders, AOC and progressive politics," he said. "The amazing thing is how closely the class has tracked politics in Washington DC. For example, they'll be debating a child care tax benefit the same week we'll be studying it and how it works in France."
McNeely's enthusiasm for global welfare and extensive background in university administration set him apart as a faculty member at Clark Honors College. He makes it a point to go beyond the intellectual level and create emotional connections with his students—especially during the pandemic.
"During the first quarter of the pandemic, we were all undergoing a certain amount of stress," he said. "I just felt like it was my job to take on some of that stress and make it easier for the students."
When not teaching a course on European socialism, McNeely is in the process of writing a series of essays about higher education history over the past 50 years. The essays the expansion of scientific knowledge and how universities have diversified by race, gender, and class.
McNeely's newest administrative project involves helping to build UO's new School of Global Studies and Languages (GSL). The school aims to blend multiple academic disciplines together in hope of giving students a unique intercultural experience.
"It's really a matter of making what we already do so well more accessible, more visible, more navigable to students," said McNeely. "We want to have a very intentional curriculum that looks less like a cafeteria and more like something that's been thoughtfully designed, and that kind of speaks to global or interdisciplinary interests."
He is excited to keep searching for opportunities to connect different areas of study within the CHC.
"Maybe I'll keep developing the same ones in different iterations. Maybe I'll have a completely different idea," he said. "I love the flexibility, and it's a lot different from other parts of the university."