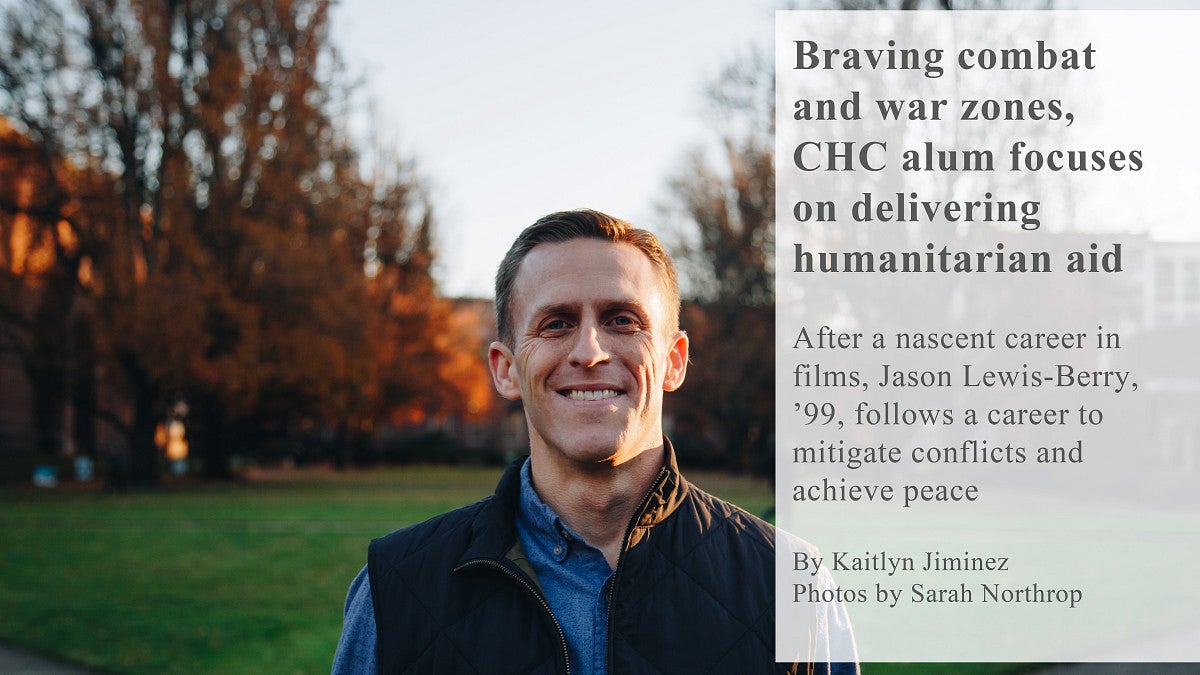 When Jason Lewis-Berry graduated from Clark Honors College, he thought he'd probably have an interesting but relatively normal life in Los Angeles making movies, and he dedicated his first year after graduation to working abroad to get international travel "out of his system" before embarking on his film career. 
He never could have predicted that, four years later, he would switch to a globe-trotting career working to mitigate conflicts and achieve peace. Or that the minor in French that he got for fun would open so many doors in his career. 
Although Lewis-Berry always was interested in international affairs—his CHC senior thesis was a documentary following six international students during their first year at the University of Oregon—he considered it merely a hobby. 
Then 9/11 happened. In the months that followed the terrorist attacks, Lewis-Berry looked at what was happening in the world and reflected on his future.
 "I had explored this film and TV world and it was fun," he said, "but I made myself think about whether it was really what I wanted to do." 
 He realized he wanted to turn his international affairs "hobby" into a career. 
At first, he expected he could leave the movie set straight for the U.S. Department of State or United Nations and work his way up the ladder, as he had started to do in L.A. But Lewis-Berry soon learned that transitioning from film to diplomacy required graduate school. He enrolled in Georgetown University's Master of Foreign Service program in 2003, where he also worked as a teaching assistant for former Secretary of State Madeleine Albright. Over those two years, he was able to refine what he wanted to do: help determine how the United States can prevent and respond to conflict, and serve on the ground in conflict countries. 
After earning his master's degree from Georgetown, Lewis-Berry worked for a national security consulting firm in Washington, D.C., then took another risk when he left to get practical experience in a conflict country, accepting a lower-paying job with Solidarites, a French nongovernmental organization in the Congo. The organization focused on giving emergency lifesaving relief—food, water, and tents—to displaced refugees living in camps because of  conflict that dated back to the Rwandan genocide in 1994. Lewis-Berry was their representative working with the Congolese government and its European and American donors. Moving to an unfamiliar country racked by warfare and social injustices probably would be a difficult adjustment for most, but Lewis-Berry adapted fairly quickly.
 "I'm not easily shocked," he said, "I just kind of bloom where I am planted." 
That knack proved quite useful when he joined the Department of State in 2008, where he spent nine years, first as a civil servant and later as an Obama administration political appointee. For much of that time, he was part of a unit that agreed to deploy anywhere in the world—with as little as 48 hours' notice—and be prepared to stay for up to a year. 
During his career with State, Lewis-Berry was sent on missions in more countries than he can keep track of, although two places stand out—Central Africa and Afghanistan. 
Lewis-Berry served two tours in Afghanistan in 2009 and 2010, primarily in Kandahar province, which at the time was the "hottest part of the war." He worked alongside civilian and military colleagues from the U.S. and elsewhere to help the government in Kabul deliver services to the Afghan people. Every time team members left their base, they wore body armor and Kevlar helmets and were protected by soldiers. Although Kandahar was decidedly dangerous, he said, the most important things were the Afghan people and the camaraderie that developed among colleagues.
 "There's a common sense of purpose when you're in an environment like that," he said. "The stakes are very high, people are dying around you, but you feel like you are there trying to do something good and having some success, although in the big picture it's not in your control." 
Although bullets occasionally whizzed overhead and improvised explosive devices exploded close enough that he could feel the concussion in his chest, Lewis-Berry never felt his life was in danger; he describes it as "an average experience in southern Afghanistan." His second tour was finished by 2011, but he didn't feel it was complete until his teammates had safely finished their own. Unfortunately, some of his local colleagues did not survive. 
            "There were a couple of Afghan government officials who I worked very closely with who were assassinated within the year or two after I left. That stuff gets you," he said. One survivor was the governor of Kandahar. Lewis-Berry got to see him a couple of months ago, and "it was nice to have a reunion." 
In Central Africa, Lewis-Berry worked in 2011 and 2012 with U.S. Special Forces as the Department of State's field representative on issues involving the Lord's Resistance Army (LRA), a rebel group operating in northern Uganda, South Sudan, the Central African Republic, and the Democratic Republic of the Congo. It gained a good deal of attention from the news media and celebrities after the short documentary Kony 2012, about rebel leader Joseph Kony, went viral. This mission stands out to Lewis-Berry because of the tangible results that came from it. 
"When we were out in the field and you see women and children who have escaped from the LRA because of our strategy and the hard work of local partners," he said, "being able to get them out and get them home and reintegrate in their communities. Those moments stick with you." 
But all of this would hardly have been possible without French classes at UO. During the summer of 1997, Lewis-Berry studied abroad in Angers, France, and upon returning figured, "I've done this much, I might as well get a minor in French." 
With graduation approaching and the minor in hand, he thought that if he didn't keep practicing, he would lose his French skills. After graduating in '99,  he moved to France to teach high school English.
 "All of those things were done with no professional intent," he said, "but it turned out that it was a really critical skill set." 
Without fluency in a second language, Lewis-Berry would not have been accepted into Georgetown for graduate school, been selected for a summer internship at the U.S. Embassy in Morocco (where French is an official national language), or been hired by Solidarites, the French humanitarian organization in Congo. 
"I've had to work in it and live in it," he said of French. "It proved to be very useful."  
His time in Clark Honors College also prepared him for his diplomatic career, although he didn't realize it at the time.
 "The intellectual and analytical rigor that was required, to read the material, write the essays on it, et cetera, turned out to be pretty useful later on." 
It combined nicely with his major in journalism, especially when he was deployed to a foreign country and trying to understand why it was engulfed in conflict. One professor who stood out the most to him was now-Professor Emeritus Joseph Fracchia, whose enthusiasm for history, philosophy, and faraway places brought course material to life. 
After deciding it was time to be closer to family, Lewis-Berry left the Department of State in early 2017. He wasn't sure exactly what a foreign policy guy was supposed to do in Oregon, but after years of helping abroad, he thought it was time to try public service closer to home. In February 2017, he started as Gov. Kate Brown's economic adviser and director of Regional Solutions, an economic and community development program with offices statewide.
After two years with Brown's administration, Lewis-Berry felt it finally was time to take time off to focus on spending time with family and volunteering for causes he cared about, something he had wanted to do for years. But the break still meant living out of a suitcase. After international vacations with each of his parents, he settled into a rhythm splitting time between Oregon and elsewhere. He and his mother volunteered for two weeks with an organization called Al Otro Lado, which helps asylum seekers in Tijuana, Mexico, and he recently spent three weeks in Wisconsin helping the Democratic Party organize a statewide voter outreach effort. 
Lewis-Berry is about ready to get back to work full-time, and the 2020 election is likely where he'll focus his efforts over the coming year. 
Consistent with his career to date, things are far from boring. 
"There's still a lot of room for surprise," he said. "I literally don't know where I'll be a month from now."