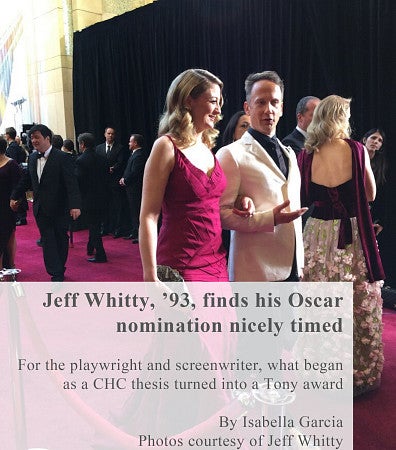 Tony-winner and Oscar-nominated Jeff Whitty walks with Tony-nominated and also UO alum Heidi Schreck down the red carpet at the Academy Awards, 2019. 
The recent success of Clark Honors College alum Jeff Whitty's first screenplay couldn't have come at a better time.
Can You Ever Forgive Me? follows author Lee Israel (played by Melissa McCarthy) as she forges letters from famous writers to make a living. The 2018 film was a hit with audiences and was nominated for three Academy Awards, including best adapted screenplay.
Whitty—widely known for his hit Avenue Q, the Tony Award-winning Broadway musical—has had great success with strong writing and relevant themes, which is why many of his works continue to run long after he has moved to new projects. Avenue Q and other long-running shows have kept the creative integrity Whitty gave them, but other works, he feels, have distorted that integrity. In one instance, that led to a legal battle that changed his work, even though the project still bears his name.
 "It's like the nightmare won't end," Whitty said. "I'm OK talking about it now because I'm looking at the ashes of everything and realizing I meant well all along and it just happened. Everything that happens in your life is just material to work in later."
Which is why the Oscar nomination was very nicely timed.
"I've worked very hard my whole career and it's nice when that gets rewarded now and then," Whitty said. "You plant so many seeds and pray that some of them will grow, and this one grew at this time with these fine actors. I'm so privileged to be among them."
Whitty has chased his curiosity coast-to-coast, from growing up in Coos Bay to taking a Green Tortoise bus to New York City after graduating from Clark Honors College in 1993. After his acceptance into the graduate acting program at New York University, he combined his English degree with a love of theater and focused on writing screenplays.
He approached writing as improv in front of a keyboard, a process that led him to write the libretto for Avenue Q and launch him into the world of musicals.

CEO of BitBull Capital Joe Dipasquale, Jeff Whitty, and Melissa McCarthy after the Bafta awards, 2019.
Photo courtesy of Jeff Whitty.
Reflecting on his time in the honors college, Whitty cites Professor Louise Bishop as a motivator for one of his works.
"My version of  Head Over Heels is thanks to her," Whitty said.
In one of her literature courses, Bishop assigned Sir Philip Sidney's The Countess of Pembroke's Arcadia, a 16th century story Shakespeare pulled from for King Lear. Whitty was shocked to learn Arcadia had never been adapted for the stage, so he wrote the off-Broadway version of Head Over Heels.
"It was a quiver in my arsenal," Whitty said. "I discovered a poetic side of myself I didn't know was there. The whole thing ended up being in iambic pentameter because I discovered why Shakespeare did it—it flows beautifully out of the mouth. That was all from the honors college."
In a serendipitous turn of events, Avenue Q returned to the University of Oregon campus last fall,  just as the New York cast announced its final season of the musical, ending its 15-year run. The turn of events prompted Whitty to reflect on the Q's life cycle.
"I am a ruthless reviser of my own work; there are so many changes I would like to make in the show," Whitty said, considering the promiscuous character Lucy the Slut's evolution into a Kardashian-style celebrity and the transition of the song 'Mixtape' into a Spotify playlist. 
"At a certain point, you can keep changing and trying to adapt with the times, but the times change so quickly, so in a way I'm OK with it being a bit of a period piece in the way that any of the great musicals are set in a specific era: Sweeney Todd, Annie. To have Avenue Q locked in that period, it's OK."
The strong setting in Avenue Q also remains because Whitty's tendency toward serial revision means he has tried it all before a show hits the stage. 
"There is a real arithmetic to my comedy and it has to be played with full sincerity," he said. "You can't ever mug, meaning winking at the audience like 'This isn't really real.' That's what actors have to do when the writing isn't really good."
Looking forward, Whitty hopes to keep exploring new forms, from writing a TV series about a drug-dealing, middle-aged prostitute who combats the portrayal of gay people in television to entering the world of software-app development.
Whitty's dream has been tested time and again, and each time he has come out stronger on the other side.
"Ten years it took me to make a living out of an art for —I did every job to keep myself together," Whitty said. "You will just go through so much rejection, and what I learned through being on the other side of the audition table is that it's not you, it's not who you fundamentally are."
Ultimately, Whitty always falls back on following his curiosity—a path he recommends to everyone.
"Follow that thing in life where time goes by and you don't notice it or you can't believe four hours just went by," Whitty advised. "Keep curious your whole life and good things will result."