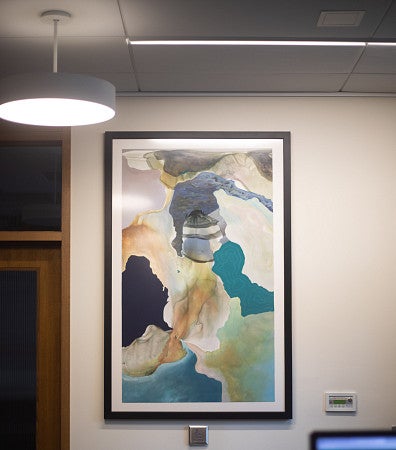 Upon entering through the main doors, visitors of Chapman Hall may notice a pop of color that replaced an old portrait of Robert D. Clark, the namesake of the Honors College. Now hanging in that spot is a watercolor painting of blues, browns, and greens – called Reservoir, by artist Susan Murrell.
Murrell's work is one of the 17 newly installed art pieces that now call the Clark Honors College's base home. They were installed and unveiled at Chapman in late 2022 as part of the state of Oregon's Percent for Art program.
When Chapman underwent its recent renovation, Oregon law required that one percent of the construction budget be set aside for art. The 17 pieces were chosen from a selection of more than 130 works of art by a committee consisting of Clark Honors College faculty, students, the University of Oregon Department of Art Faculty and the renovation project's managers. All the pieces, with the exception of Barry Johnson's Untitled 185, come from the Percent for Art program. To read more about the artwork and the artists, visit the Clark Honors College website.
Carol Stabile, acting dean of CHC, hopes the Percent for Art program's impact will be felt for generations. The installation of the new art "has allowed us to incorporate incredible art by diverse artists into the built environment of the CHC's beautiful historic home," Stabile says. "Each day these works remind us to stop and reflect on the transformative potential of art and art's centrality to the wide-ranging educational experience offered in the CHC."
The committee chose works that align with principles the Honors College vows to uphold – excellence, diversity, inclusion, inspiration and collaboration. The pieces were created by 13 different artists from a range of backgrounds who all bring unique perspectives to CHC by means of oil, acrylic, watercolor, and print.
Stabile believes the pieces will allow students to understand why art is an essential part of academic institutions and specialized communities like the Honors College.
To read more about the artists and their works, please visit the CHC Percent for Art web page.
—Story by Julia Boboc, Clark Honors College Communications
—Photo by Ilka Sankari, Clark Honors College Communications