CHC Percent for Art in Chapman Hall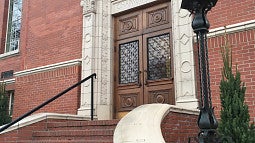 The recent renovation of Chapman Hall could not have been accomplished without the financial support of our wonderful alumni community. The 1939 WPA building is now LEED certified, with state-of-the-art passive ventilation; chilled beams; reused, repurposed and reclaimed materials and lumber; and borrowed lighting. Spaces for faculty-student interaction were prioritized in the renovation, as well as classrooms that support the intimate, interactive style of CHC learning. Part of the renovation funding included setting aside one percent of the construction budget for art. This fall, a committee of CHC faculty, staff, and students, along with UO Department of Art faculty and the renovation project managers, selected 17 pieces of art to grace the walls of this historic building. The works selected represent a diverse range of artists, styles, and mediums, completely in line with the CHC's mission of promoting excellence, diversity, inclusion, inspiration, and collaboration.
To read more about the artists and their work, please visit the CHC Percent for Art web page. And the next time you find yourself on the UO campus, please stop by Chapman Hall to see the exhibit in person!
Thank you for your continuing support of the Clark Honors College. Your generosity is making a difference in all of our lives.
Best wishes,
Carol Stabile
Acting Dean