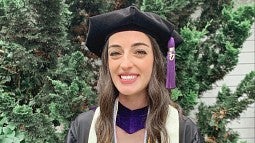 by Abbey McDonald, CHC Communications
Getting a law degree is already a huge accomplishment, but Nicole Meyer is celebrating another milestone too as she joins the class of 2020: she is the first-ever graduate of the CHC's 3+3: Six Years to a Law Degree program.
The 3+3 program enables Clark Honors College students to complete both their bachelor's degree and Juris Doctor at the University of Oregon in six years instead of the usual seven. By finishing both degrees a whole year early, students save time and tuition dollars, and they can also use many of their undergraduate scholarships during their first year of law school while also remaining eligible for law school financial aid and scholarships.
Meyer said she got word of the program during her junior year before 3+3 was officially announced.
"I only had a few days to decide if the 3+3 program made sense for me before applying, but the opportunities the program presented made the decision easy," Meyer said.
Dr. Elizabeth Raisanen, who designed the program and acts as its lead advisor in the honors college, said that she was excited —and surprised— to see Meyer get involved so early.
"When the program launched in Fall 2016, I never expected there would be a CHC junior who would be ready to enter law school at the end of the academic year, but Nicole had the drive and determination to do the careful academic planning to make that happen,"  Raisanen said. "She is now ready to start the next phase of her life and career—a whole year earlier than she expected when she was a freshman—and I can't wait to hear what she accomplishes next!"
3+3 students save time by entering law school during what would have been their senior year of undergraduate study. Although they have finished all major and CHC coursework by the time they enter law school, they are concurrently enrolled as undergraduate and law students until they complete the CHC thesis, which also satisfies the law school's writing requirement. Another perk is guaranteed admission to the law school for students who meet LSAT score and GPA requirements. Students with qualifying ACT or SAT scores can skip the LSAT entirely.
"For me, it was also important to still have a 'senior year,' even though I was a first-year law student," Meyer said. "I continued living with my undergraduate friends, still participated in my sorority, and was able to be a part of all of the senior year festivities I was looking forward to. While challenging at times, the act of balancing my senior year and first year of law school made for a smooth transition into being a graduate student."
Because the CHC thesis satisfies the law school's writing requirement, students in the program have additional time to complete their thesis. Meyer, who was a psychology major, wrote hers on eyewitness testimony and said that working with law school professor Dr. Erik Girvan provided her with essential insight.
Meyer thanked her other mentors too, including Dr. Raisanen, Assistant Dean of Advising and Strategic Partnerships in the Clark Honors College, who was a "constant source of guidance" for her, and Dr. Robert Mauro, Associate Professor of Psychology, who served as her primary thesis advisor. She also thanked faculty and staff members in the Law School, including Professor Megan McAlpin for constantly checking in on her progress with the program, Professor Tom Lininger for his guidance, and Law School Registrar Elaine Seyman for her work navigating the new program.
"Overall, I am lucky to have had so many amazing professors and mentors in both the CHC and the Law School," Meyer said. "Their commitment to helping me navigate both my undergrad and graduate degrees enabled me to make the most of the amazingly rewarding 3+3 program."
In the future, Dr. Raisanen hopes to continue growing the 3+3 program, which typically enrolls 1 or 2 students per year, as well as to launch additional concurrent degree programs in other fields.
"The CHC plans to use the 3+3 program's dual degree model to design a suite of concurrent degree programs that will enable honors college students to complete a number of UO Master's programs—such as those in the College of Education, the College of Business, the School of Journalism and Communication, the College of Design, and the Knight Campus for Accelerating Scientific Impact—on an accelerated timeline," Raisanen said.
Meyer joined this expanding program at the very beginning and ended her six years of study at the University of Oregon's Portland campus, where she externed at the Clark County Prosecuting Attorney's Office. She now joins the graduating class of 2020 and plans to take the bar exam in July. She hopes to pursue a career in public interest law.
"Now that I have graduated, I am extremely excited to take the next steps in pursuing a career in the legal field," Meyer said.