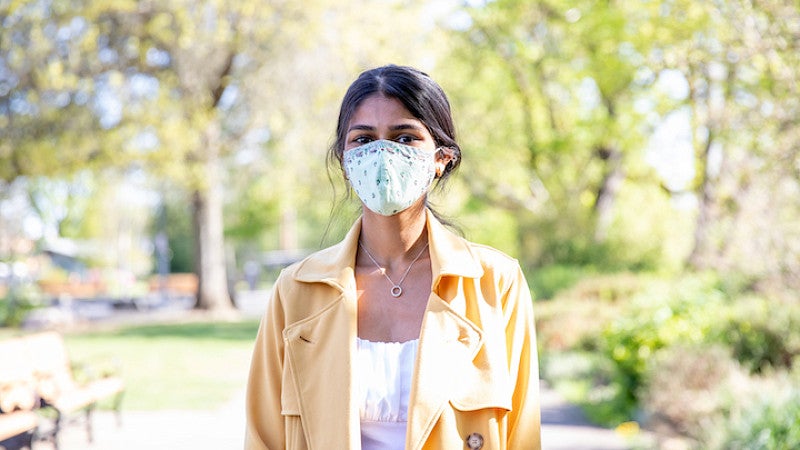 Nisha Sridhar will be presenting her research—which began as her CHC thesis— to Congress in Posters on the Hill.
Story by Abbey McDonald
Photo by Maddie Knight
April 26, 2021
University of Oregon graduate student Nisha Sridhar has always known she wanted to use her work in healthcare to be an advocate for children. This week, she'll be advocating in front of members of the United States Congress.
Sridhar, a Clark Honors College alumna, is one of 60 students chosen from hundreds of applications across the country for the annual Posters on the Hill event, taking place virtually this year from April 27-28. The event aims to demonstrate the importance of undergraduate research to the federal government.
"I was just super honored and surprised, and I think it's going to be a really cool opportunity to network with legislators and advocate for my research," Sridhar said.
She will be presenting her research on how pediatric residents are taught to understand the impact of adversity, such as abuse, on a child's developing brain. She said by knowing the associated health impacts of trauma, pediatricians can better understand and support their young patients.
The UO grad's work in childhood brain development began her freshman year, when she joined the Stress Neurobiology and Prevention Lab, or SNAP, which studies the lasting effects of stressful experiences during infancy and childhood. The lab also researches intervention methods for parents and childcare workers.
Knowing she wanted to pursue pediatrics after graduation, Sridhar wondered how the study of childhood adversity could be applied in clinical settings.
"I found that there isn't much literature on how student pediatricians are being educated on adverse childhood events, so I was interested in reaching out to programs and investigating this question more," Sridhar said. "Because you need pediatricians to be educated before they're able to support their patients who are affected by trauma."
By interviewing faculty, program directors and chief residents in several states, she found there was no standard approach to educating future pediatricians.
"I found some programs were spending a whole week on it, and then others were only spending an hour which isn't really sufficient to cover a topic like this," Sridhar said. "There are promising early efforts, but more work needs to be done."
Sridhar graduated from the University of Oregon last March, and used the project for her CHC thesis. As an undergraduate, she received the Stamps Leadership Scholarship, and was also a Wayne Morse Scholar.
But Posters on the Hill won't be her first experience applying her work in child healthcare advocacy.
She previously worked with the YRG Center for AIDS Research and Education in Chennai, India before her freshman year, and presented a research project on HIV disclosure rates in Southern India at the Undergraduate Research Symposium and then at the Western Regional Global Health Conference. Sridhar also founded Teens Care Teens Share, which advocates for legislation to educate high schoolers about organ donation, and volunteers at the free health clinic Albany InReach in her free time.
She thanked the SNAP lab, Professor Dan Tichenor, Dr. Tyson Barker, and CHC Professor Nicole Dudukovich for their guidance throughout her undergraduate studies.
She first heard of the Posters on the Hill program around her sophomore year, and thought it could be a great place to exercise her interests at the national level.
"I've been involved with advocacy since high school, and as a pediatrician I want to advocate for pediatric health issues in Congress, so I thought this would be a cool opportunity to get experience and exposure on how to effectively communicate science to legislators to affect change," Sridhar said.
Now a graduate student at UO, she is continuing the project through the Center for Translational Neuroscience, and expanding the survey to more states.
"I hope that I can kind of get a better sense of what the current practices are, and what barriers pediatric residency programs are facing so I can help them get a sense of what the next steps are, in terms of how they can best educate their pediatric residents in a way that fits their program's needs the best," Sridhar said.
After taking a gap year, she will go on to medical school to prepare for a career where she will continue to work on behalf of children in need.