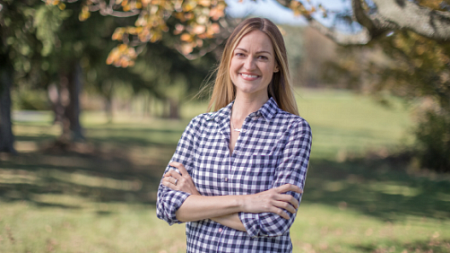 CHC alum and Scranton PA Mayor Paige Gebhardt Cognetti
by Ashley Lorraine Wiesner, CHC Communications
"Make sure you tell her it's Gebhardt Cognetti, not just Cognetti," a voice belonging to a mother says from across the room.
"I will, Mom," Paige Gebhardt Cognetti says with a laugh as she brings the phone to her ear.
With a seven-week-old baby in her arms and her mom listening in the background, she introduces herself as Paige Gebhardt Cognetti, Mayor of Scranton, Pennsylvania. The baby gurgles as Gebhardt Cognetti explains that Gebhardt Cognetti is her complete name but local news outlets often refer to her as Cognetti—her married name.
Gebhardt Cognetti met her husband in the mid 2000's while working on a congressional campaign. She walked into a restaurant called Caravia, his family's business, and ordered a Tuscan chicken sandwich from him. That sandwich that changed the course of her life.
Becoming the mayor of Scranton was never part of her plan, but after she married and settled down in Scranton, she was inspired. She was inspired by the community of Scranton, while realizing her leadership skills could bring about change and equality in the city.
This community-minded approach to leadership was instilled in Gebhardt Cognetti during her time at Clark Honors College. She credits her time at CHC to making her a well-rounded person with a solution focused mind. More importantly, she credits her time at CHC and the culture in Eugene for shaping her approach to politics, as the mayor and beyond.
"The honors college trains you to think about others, the world around you and the future in a really positive way," she says. "We're used to thinking about other people."
The importance of thinking about others is the reason Gebhardt Cognetti ran for mayor in the first place. At the time of her campaign, the city's political landscape was plagued by the personal interest of local party leaders. Previously aligned with the Democratic party, she changed her affiliation to independent and campaigned as an independent candidate for Mayor.
"I am truly progressive in a lot of ways," she explains. "But I take a pragmatic approach to the problems we have in places like Scranton."
This pragmatic but progressive approach to politics won over the people of Scranton. Her platform focused on the "non-sexy" aspects of politics like structural reform, economic equity and justice, and ensuring the city's political leaders reflected the diversity of the city.
"It's time to break the cycle of nepotism, break the cycle of cronyism, break the cycle of corruption," CHC alum Gebhardt Cognetti declares.
Her previous political and business experience has contributed to Gebhardt Cognetti's dedication to tackling "non-sexy" aspects of local government. Prior to becoming mayor, she served on Scranton's school board, where she worked with the rest of the board to diversify the district's professional service contracts. She said this was important for the district because it created a competitive market that can make the best of use public dollars and create a prosperous local economy.
"It's about a passion for public service," she says in regards to her commitment to Scranton.
Though her passion lies with Scranton, much of her political experience happened on a national scale. In 2007 and 2008, she worked on the Obama campaign in Pennsylvania recruiting volunteers and honing in on her leadership and campaign skills. Following the election, she transitioned to the Treasury Department as the Senior Advisor to the Under Secretary for International Affairs and as the Managing Director for China Operations. She attributes her time at the Treasury Department for her current values and success.
"[I learned] what it means to be in a leadership role, what it means to be a woman and what it means to put substance first," Gebhardt Cognetti says about her time working with Under Secretary Lael Brainard. "To make sure people are working with you and respecting you because of your accomplishments and not just because of your gender."
Her business-minded approach also made her a unique candidate for mayor. With an MBA from Harvard and investment experience at Goldman Sachs, Gebhardt Cognetti is able to tackle local issues not just through policy, but also through a business lens. These economic decisions are crucial to local government and can create or dismantle economic equity in Scranton she explains.
This diverse background is what made her a welcome change for Scranton—a town ready to diversify and grow. Her plans for Scranton includes what she refers to as a "a lot of not-so-exciting stuff." The city hall is currently working on structural changes in regards to communication, city mapping, technology and departments leadership to build a more equitable Scranton.
"[We're] trying to get a better, stronger foundation based on communication, data and technology," she says.
Gebhardt Cognetti won't be satisfied with just reform and community equity. She says once the "nitty gritty" work is accomplished she wants to market Scranton as a great place to live. She explains there is no reason Scranton shouldn't be the ideal place to live—the cost of living is low, it is close to New York City and it is diverse and welcoming community.
Gebhardt Cognetti knows that Scranton has a lot of work to do before they can become the ideal town to live in, and she is ready to put in that work. She plans on re-running for mayor in the 2021 election and wants to remain focused on Scranton for at least the next six years. She is committed to breaking down barriers that exist within the community in order to create an equitable community.
"It's time to break the cycle of nepotism, break the cycle of cronyism, break the cycle of corruption," she declares.
Her dedication to Scranton is undeniable. A city that was supposed to be a pitstop in her life became the backdrop for her legacy. Minutes away from market where she got the infamous Tuscan chicken sandwich she now sits in city hall. A baby is cradled in her arms as she takes phone calls and talks budgets. A pack-and-play sits in the corner of the office, a reminder that maternity leave was never an option because local government can't wait.
"Local government is where the real stuff happens," she says with a sigh.