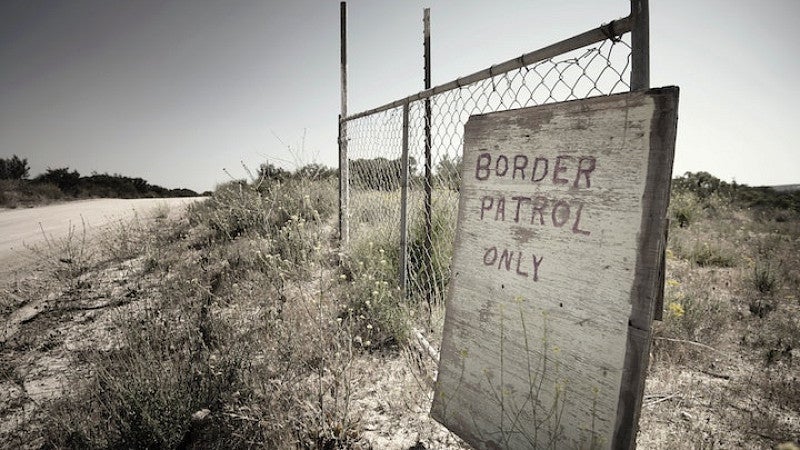 Photo by Greg Bulla, Unsplash
 
Story by Lauren Church, CHC Comunications
After seeing the effects of deportation from America firsthand during his research below the Mexican-American border, Professor Tobin Hansen had a critical realization: Americans have a lot to learn about the devastating realities of U.S. deportation history and practices.
"Even basic questions about who gets deported, why, and how often seem murky to people," Hansen said. His CHC course, Deportation from the United States, focuses on political and social contexts over time that have influenced ideas of who socially and legally 'belongs' in America.
From colonial North America through contemporary American society, race, gender, class, nationality, language and ability are some of the social differences Hansen says have impacted people's perceived belonging. According to him, "genocide and systematic removal of Indigenous peoples, exclusions of 'vagabonds' and 'lunatics' from colonial townships and fugitive slave laws" are a few ways such biases have made North America a dangerous place for some groups while others have been socially accepted.
Hansen's course is divided into four sections. First, Hansen says students will study how non-citizens' admission into America is regulated and why their presence may be justified. Next, the course explores contexts from the 17th century through today, focusing on how they have shaped who the U.S. government accepts and rejects with deportation normalization.
From there, students examine how America's criminalization of certain groups has escalated and increased deportations over the past few decades. Lastly, the course focuses on effects of deportation on individuals including economic turmoil, disorientation, social isolation and family separation.
Hansen's course reflects his professional passions. Hansen earned a doctorate degree in cultural anthropology from the University of Oregon, and his research centers around migration, deportation, race and ethnicity.
He hopes students leave his course with new skills for how to think about what determines social membership and how it's perpetuated. Students will walk away with an understanding of how racism has influenced U.S. deportation protocols despite its 'race-neutral' camouflage.
"I want students to rethink belonging to local families and communities as well as the nation," Hansen said.