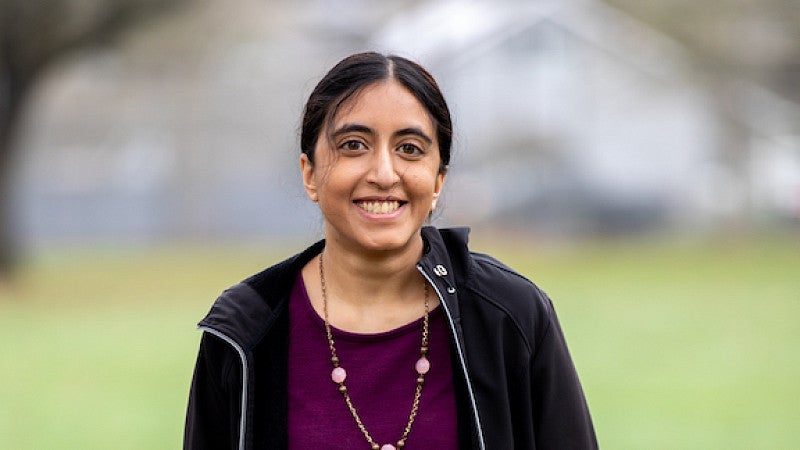 Sravya Tadepalli, Truman Scholar and CHC alumna
Story by Leah Pratley, CHC Comunications
Photo by Maddie Knight, CHC Communications
The first three times Clark Honors College student Sravya Tadepalli received an email from Associate Dean of Advising Elizabeth Raisanen to apply to the Truman Scholarship in 2018, she ignored it.
At the time, Tadepalli was focused on the Boren Scholarship, which is granted to students who plan on studying abroad, but Professor Elizabeth Raisanen kept pushing for the Truman.
"I generally don't think further into the future more than like five months so I didn't even know if I wanted to go to grad school, but Professor Raisanen told me I should apply," Tadepalli says. "I was already applying for the Boren, so I thought okay I'll just apply for Truman as well, and I can probably copy some stuff from one application to the other."
The highly competitive Truman Scholarship, which is the leading graduate fellowship in the United States for undergraduates pursuing careers as public service leaders, receives hundreds of applications every year. Tadepalli finally gave in and became one of them. Shortly after, she was notified that she was one of 200 finalists. Shortly after, Tadepalli became a Truman Scholar, one of only nine University of Oregon students to win in the last 40 years. The prior Truman recipient from UO to win, Andrew Lubash in 2014, was also a CHC student.  
When it came to the application process, Tadepalli decided not to overthink it. "I didn't think I was going to get it," she adds. "I learned that you should try things because they might actually work out really well for you." 
Once she learned she was a finalist, it was time for the interview for one of the most prestigious scholarships in the country. Most people would be a little on edge, but Tadepalli was determined to be levelheaded. "I told myself I was a finalist and that was an award in itself," she says. "I think I was a little bit nervous, but largely I thought, 'I'm never going to get this so I'm just going to go in and have a conversation and it's going to be fine.'"
It was better than fine. Tadepalli was named one of 59 students who had won the Truman Scholarship, providing access to incredible opportunities that have launched her already successful career. Her first job out of the University of Oregon was through the Truman-Albright Fellowship Program, which allows graduates to work in the federal government for 3 years through non-competitive hiring. 
"The Truman Scholarship has helped me a ton," Tadepalli says. "Sometimes I forget that it's a scholarship because there are so many other advantages that you get from it, like you're in a cohort with a bunch of other students from around the country who are also interested in public service and you can become friends with them."
During her time as an undergrad, Tadepalli has gone to Kansas City for a week-long trip with other Truman Scholars and received advice on careers and graduate school. She spent another summer as part of an exclusive, fully paid for internship program. 
"The job avenues, the networking opportunities it gives you, and just the fact that I can like email the head of the Truman Foundation and be like 'Please help me!' is unlike anything else," Tadepalli says.
"It was crazy, the first year out of college I worked for the US Department of Health and Human and Services. I was only 22 and doing policy work for the federal government," Tadepalli says. "I never would've gotten to do it if I hadn't been a Truman Scholar." 
This Friday, Tadepalli hopes to offer undergraduates the opportunity to ask questions about national scholarships and be a resource to students. She doesn't want students to feel like they need to be super "driven" to be a Truman Scholar because she certainly didn't see herself that way as a junior, she points out.
"I want students to know not to be intimidated by the process, but to see what it looks like, what the advantages are, reasons that you should and shouldn't apply and the value of going through the process," Tadepalli says. "I want students to know what it's about because I wouldn't have known anything about these scholarships without doing research or talking to my advisor." 
DETAILS: 
Prepping for Distinguished Scholarships: A Conversation with CHC Alum Sravya Tadepalli
Join CHC alum Sravya Tadepalli ('19, Political Science and Journalism) to learn about her experiences as a Truman Scholar and a Rhodes Finalist, as well as how applying for these prestigious awards is preparing her for graduate school applications.
Date: Friday, Jan. 29
Time: 1:00 – 2:00 pm
Place: Zoom (Meeting ID: 933 6635 3618   Passcode: 045172)