Brian McWhorter brings his talent, passion for music and love of teaching to CHC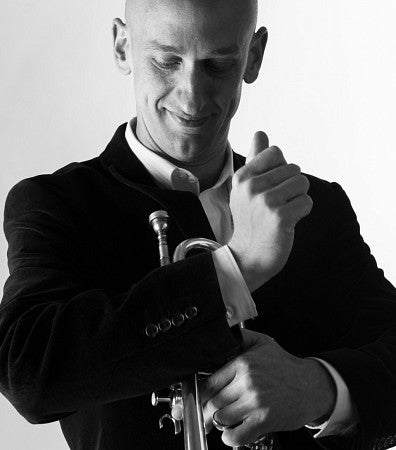 Story by Keely Miller, CHC Communications
Video by Chris Nelson, CHC Communications
Brian McWhorter was in a recording session when he felt an unexpected snap in his throat. He was playing better than ever, and had built an international reputation as a trumpet player, performing with such groups as Beta Collide, Meridian Arts Ensemble and the Eugene Symphony. The trumpet had been a large part of his life since he was nine.
After consulting with numerous doctors, it was unanimous that the best solution was for McWhorter to stop playing trumpet.
Although he was no longer making his living solely by playing trumpet, having moved on to teaching and conducting, the loss affected him deeply. Every night for two years, McWhorter dreamt vividly about playing again. Each dream served as a painful reminder of what he'd lost.
"It's not hyperbole to say that it really changed my identity," he reflects.
McWhorter grew up in Portland, Oregon in a large evangelical family, and began singing at church when he was five. He was bussed around from church to church to perform. His parents would often perform during service as well, his dad playing guitar and his mom singing.
He was in the fourth grade when he started playing trumpet in his school's band. It was one of the few places he felt totally comfortable. The instrument came easy to him right away, and it was not until his throat injury that he stopped playing.
It was the beginning of a life dedicated to the performing arts, and his goals became apparent to him early.  By the seventh grade, he knew where he wanted to study music: The Juilliard School in New York City. He only wanted to become a great musician. He chose Juilliard because, as he now admits, it was the only music school he knew existed.
After earning his bachelor's in music at the University of Oregon, he set out to New York to earn his master's degree, at none other than the only music school that he knew of as a child, Juilliard.
Within several years, McWhorter had achieved his dream of living in New York City and was making a living as a musician.
While performing on tour with a music group, McWhorter made a stop in Baton Rouge, Louisiana to play a show at Louisiana State University (LSU). He was surprised when after the performance, he was approached by an LSU faculty member who asked him to interview for a position there. A few weeks later, he accepted the job.  
 "I love working in a space where the idea is that
professors go in with what they're interested in."
He had teaching experience already, offering classes at Princeton University for several years. He liked teaching, which may have made his decision to move to Baton Rouge so spontaneous. Plus,  the offer couldn't have come at a better time, he added.
"I wasn't super happy in New York at the time," McWhorter says. He had made it as a professional player, but he couldn't see what he calls a "ladder"— a place to grow — in front of him. "It felt like I was flatlining."
Teaching, he thought, would serve as a good outlet for him, and be a needed change.
McWhorter spent two years teaching at LSU, and he loved it there, but when a position opened up at his undergraduate alma mater, it was hard to resist. He relocated back to Eugene and UO where he's been ever since.
McWhorter is devoted to his work, but it is clear that he is most devoted to his family, which he calls the best part of his life. The way he talks about them makes his love evident.
Tears fill his eyes, and his voice breaks each time he speaks about his two children. He enjoys taking them camping and packing their lunches, and he especially cherishes walking his daughter to school.
It was his children that led McWhorter to the next chapter in his musical life. He got them tickets to see Eugene Ballet's production of The Nutcracker, but he was surprised to learn that the performance would not have a live orchestra.
Despite his lack of conducting experience, he offered to assemble an orchestra to accompany the ballet. McWhorter told no one that he had never conducted before.
"If I was smart — or smarter — there's no way I would have done this," he reflects humorously. Lucky for him, that show went well, and the experience led to the conception of Orchestra Next.
The organization, which McWhorter co-founded, brings aspiring musicians together with professional musicians to give them the performance experience they need, and  still acts as Eugene Ballet's live orchestra.
Over the past holiday season, McWhorter did The Nutcracker once again; he estimates that he's done that show as a conductor over 60 times. McWhorter feels fulfilled by his role at Orchestra Next saying, "I really do feel like conducting is the most satisfying musical experience for me right now." It also helped fill the gap when he was forced to stop playing trumpet.
With the numerous professional roles he assumes, McWhorter is a consummate juggler. He doesn't claim to balance these responsibilities though; he insists he simply "manages" them, and does this through daily self-reflection and mindfulness practices in which he reminds himself of his values.
At UO, for instance, McWhorter values the culture that expects faculty to share their interests with students.
 "I love working in a space where the idea is that professors go in with what they're interested in," McWhorter says. "I love that my values kind of converge with the university's values."
Although McWhorter has been instructing at UO since 2006, Winter 2020 was his first term teaching outside of the School of Music and Dance.
McWhorter recently became Clark Honors College (CHC) faculty. He has found that his values align with those of CHC even more than he anticipated, but his new appointment has also stirred a slight shift in values as he now has the opportunity to extend his impact beyond the walls of the music school. Now, his ultimate goal is to expose everyone he possibly can to the performing arts.
He began working toward this goal in his last class, (HC222, The Velocity of Gesture, or Intro to Air Guitar). McWhorter and his students are exploring the relationship between gesture and music, as well as the nature of body language and physical expression by engaging in unique activities like lip-syncing and performing air guitar solos.
He says that only a few of the students in his class have any background in performing arts, yet they are all surpassing his expectations. McWhorter's experience in his first CHC class confirmed his belief that the performing arts are for everyone. For the next eight years, McWhorter will attempt to convince CHC students from all different backgrounds that they are performing artists, too.
 "We are all performing artists, as far as I'm concerned," he says as he smiles.