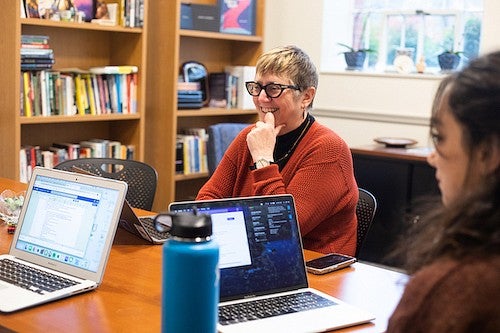 Acting Dean Carol Stabile 
Professor Carol Stabile is a scholar of Women's, Gender, and Sexuality Studies; English; and Journalism. 
She has a deep understanding of media history, especially in the areas of feminist media, media and communication, and digital publishing. Her research focuses on gender, race, and class issues, along with how women and others were persecuted during the Cold War. 
She graduated from Mt. Holyoke College and holds both a Master's and a PhD from Brown in English. She has taught at the University of Illinois, Urbana-Champaign; the University of Pittsburgh; the University of Wisconsin-Milwaukee; and the University of Maryland. 
At the UO, she has served as director of the Center for the Study of Women in Society, worked in the Dean's Office of the College of Arts and Sciences, and taught coursework in Journalism and Women's, Gender, and Sexuality Studies, along with classes at the Honors College. 
Carol was a first-generation student who grew up in an amusement park in New Jersey, and she is currently writing a book about her life experience. She is the award-winning author of three books: Feminism and the Technological Fix; White Victims, Black Villains: Gender, Race, and Crime News in U.S. Culture; and The Broadcast 41: Women and the Anti-Communist Blacklist. She is co-founder and managing editor of the Fembot Collective; co-editor of Ada: A Journal of Gender, New Media, and Technology; she edits the Feminist Media Studies book series for University of Illinois Press; and she is currently working on a new project called Reanimate with Roopika Risam that focuses on recovering the work of women working in media and engaged in activism in media industries from the 1930s to 1950s. 
She lives in Eugene, Oregon, with her spouse and a pack of well-loved dogs. 
Contact the Dean's Office at chcdeansoffice@uoregon.edu