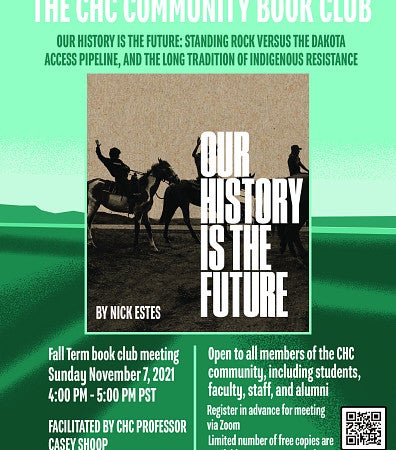 Story by Claire Warner, CHC Communications
Illustration by Kei Kort, CHC Communications
Clark Honors College Acting Dean Carol Stabile was looking to bring together members of the CHC community to talk about an issue that was very much on the minds of students, faculty, staff, and alumni.
She wanted to encourage a dialogue about race in America.
"As educators, we have a duty to foster understanding and analysis of the forms of discrimination Black Americans have confronted and to rededicate ourselves to ending them," Stabile explained.
The CHC's increased facility with Zoom made it possible to bring community members from around the country together to learn and reflect on histories that have too easily been overlooked in higher education.
In line with CHC's commitment to diversity, equity, and inclusion, Stabile and Alumni & Parent Outreach Program Manager Elin England organized an online book club last winter to learn about and discuss anti-Black racism. The first book selected was Caste: The Origins of Our Discontents by Isabel Wilkerson.
"(Caste) seemed to be a particularly timely book, since international protests against police violence toward Black people were occurring at that same time," England said.
Initially, the book club was separated into two groups — one for faculty, staff, and students and another for alumni. England said she was energized by the alumni's enthusiasm and desire to connect with undergraduate students.
"We decided to merge the two clubs into one, and thus the CHC Community Book Club was born," England said.
The book club prompted many questions and an insightful discussion that left its participants hungry for more. One participating alum, Donald McConnell, a retired surgeon, said he enjoyed Caste because it was unlike many books he had read.
"I really went over the book with a fine-tooth comb and I had written notes because I was afraid I would forget and wouldn't be able to say anything," McConnell said. "They chose a book that I wouldn't ordinarily choose to read, and I found it to be very informative."
Dylan Darling, another CHC alum who worked as an environmental journalist for many years, found the discussions "lively and thought-provoking. It was fantastic to hear from such a variety of CHC alums, who offered so many different perspectives. There were different ages, backgrounds, and life situations in each Zoom box."
Given the participants' enthusiasm, Stabile and England decided to continue the book club and began searching for a new selection for spring term, with feedback from the community. Senior Instructor of English Tina Boscha facilitated a discussion of Men We Reaped, a memoir by Jesmyn Ward reflecting on the deaths of five Black men that she personally knew.
"The books were both good fits for the times and helped give me context for conversations I was having among friends, family, and colleagues," Darling said. "Conversations like those in the CHC book club will help bring the change this country needs."
The CHC Community Book Club will continue facilitating important conversations through its upcoming selections. CHC Instructor of Literature Casey Shoop will moderate Nick Estes' Our History is the Future: Standing Rock versus the Dakota Access Pipeline, and the Long Tradition of Indigenous Resistance for the fall term meeting.  In winter term, CHC Associate Dean of Undergraduate Studies Daphne Gallagher will facilitate a discussion of Robin Wall Kimmerer's Braiding Sweetgrass; a New York Times bestseller, and the University of Oregon's 2021-2022 Common Reading book. The first CHC Community Book Club meeting of winter term will be conducted via Zoom on Jan 23, 2022 04:00 PM, Pacific Time.
Register for Winter CHC Book Club
While Estes' text places protests of the Dakota Access Pipeline in the broader context of indigenous resistance and dispossession, Kimmerer offers indigenous and scientific knowledge as a medium through which to explore the relationship between humans and nature, and its potential for sustainability. Both authors use an environmental framework to convey indigenous understandings of land and resistance, a conversation the CHC facilitators are excited to bring to the community book club.
Questions about how to participate in the CHC Community Book Club can be directed to Elin England (eengland@uoregon.edu).