The CHC Curriculum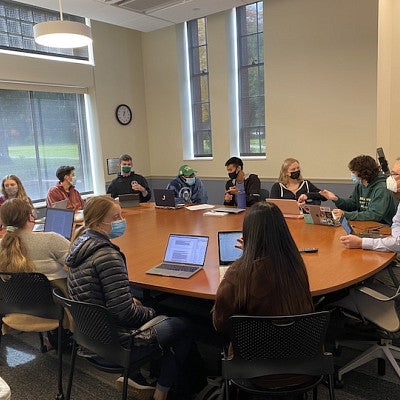 The CHC's liberal arts curriculum will help you develop core foundational skills: learning how to think, learning how to communicate, and learning how to learn. These skills will serve as the foundation for your four years in the CHC, as well as the lives you will lead after graduation. Our curriculum will introduce you to courses across traditional academic disciplines—history, literature, math, science, and many different languages. At the same time, the CHC's interdisciplinary courses will provoke you to think beyond those traditional boundaries by considering subjects from diverse perspectives. The skills you will acquire in critical thinking, collaboration, writing, and communication will help you become creative problem-solvers, responsive and responsible leaders, and informed citizens.
If you are on the pre-2020 curriculum, please review the requirements here.
Balance and Flexibility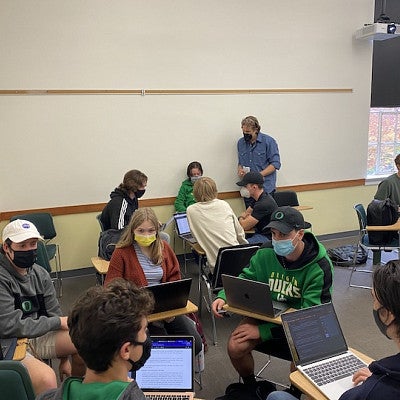 The CHC's small, 19-person (maximum) classes replace the university's core education requirements. The curriculum incorporates disciplinary balance, flexibility in scheduling, a first-year course that introduces students to the intellectual culture of liberal arts scholarship in the context of a lively seminar class, and strong support for the early stages of the thesis process.  Our curriculum allows students to determine when they take their CHC courses and how to balance those with their major and university requirements.
The Rule of Thirds 
The Clark Honors College curriculum replaces university core education requirements. Students take approximately 1/3 of their classes in the honors college, another 1/3 in their major, and the last 1/3 as university electives.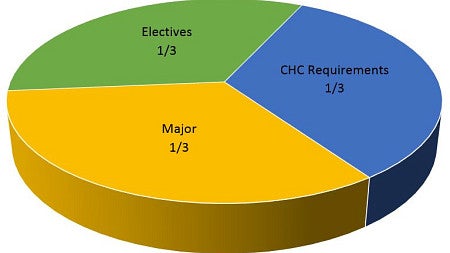 For additional information on Honors College academic requirements, please see the UO Course Catalog.
---
Required Courses
Two years or completion of second year, third-term proficiency, or demonstration of proficiency by examination.
One course in Quantitative Reasoning or Mathematics (Area of Inquiry >4 or >5)
HC 221H: Arts and Letters Inquiry
HC 231H: Social Science Inquiry
HC 241H: Scientific Inquiry
One UO Arts & Letters course (Area of Inquiry >1)
One UO Social Science course (Area of Inquiry >2)
One UO Science course (Area of Inquiry >3)
HC 301H: Research and Writing
HC 421H: Arts & Letters Colloquium
HC 431H: Social Science Colloquium
HC 441H: Science Colloquium
Two additional elective colloquia
New HC 277H: Thesis Orientation
HC 477H: Thesis Prospectus
Your Degree Guide - An Important Resource 
Your Degree Guide is found in DuckWeb and tracks your progress toward graduation. The guide monitors the university requirements, Clark Honors College requirements, and the requirements for your majors and minors, all in one place. 
The Degree Guide is a resource to assist you in course planning and degree tracking, but it is not an official guarantee of degree completion. You should always consult with your CHC and major advisors to discuss your progress and verify that you are satisfying the necessary requirements. 
Grades and Minimum Grade Point Average (GPA) 
Unless pass/no-pass is the only option available, you must take all required courses with an HC subject code for a grade and pass the course with a C-minus or above. Courses that do not have an HC subject code such as those that satisfy the UO Disciplinary Requirement (one class each from UO approved lists in the Arts and Letters, Social Science, and Science Areas of Inquiry), quantitative requirement, and second language requirement may be taken for a grade or taken P/NP. You must maintain at least a 3.0 cumulative GPA across all courses you take at the university. If your GPA slips below 3.0, you will be notified by the CHC to meet with your CHC advisor, who will work with you to develop a plan to get you back on track.