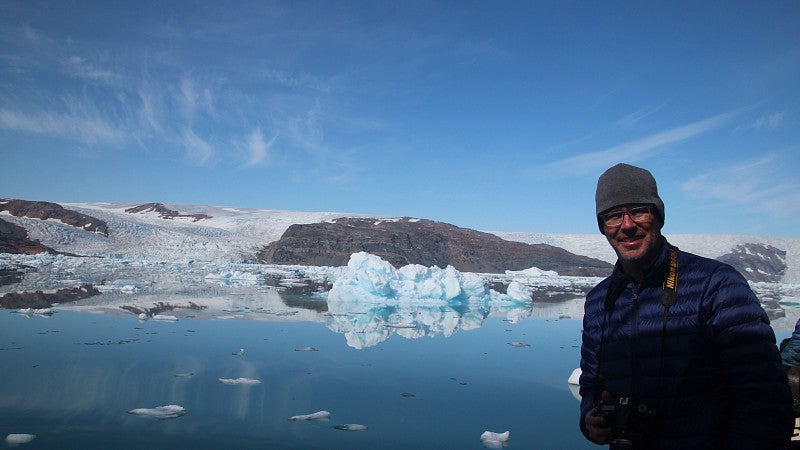 Mark Carey on a recent trip to Greenland to research glaciers.
Story by Claire Warner, CHC Communications 
Photos by Maddie Knight, CHC Communications
April 22, 2021
When she was just ten years old, Clark Honors College and marine biology major Jenna Travers moved to Juneau, Alaska, where she watched glaciers melt.
"Usually, you see these pictures in pamphlets about climate change and they show a picture of the glacier 50 years ago and they show it now and it's a stark contrast," Travers said. "But actually being there when it's melting and when it's retreating, I think is much different than seeing those two pictures."
Travers witnessed regular flooding in the area, causing water to rush through streams, wipe out salmon eggs and ruin summer harvests.
"I think being there and seeing it made me really interested, especially when I found out there was a glacier lab here."
Travers learned about the Glacier Lab at CHC Orientation when Casey Shoop, CHC instructor of literature, discussed his research with Mark Carey, the environmental studies program director and head of the Glacier Lab.
The Glacier Lab is a group of graduate students, CHC undergrads and postdocs who study the societal impacts of glaciers, icebergs and snow worldwide. Members of the lab come from diverse academic backgrounds, including environmental studies, anthropology, history and English.
"There are so many different ways that glaciers impact society," Travers said. "I chose to go the marine biology route because I have spent six years in Alaska and six years in Oregon and I have seen how important salmon are to the region."
Travers said salmon populations consist of different species that live in different regions, spawn at different times and face unique challenges. As part of Glacier Lab, she is currently working on a news article about how melting glaciers impact populations in Northern Alaska, Southeast Alaska and the Pacific Northwest differently, and implications for policy and fisheries management.
"Glacier retreat and climate change will overwhelmingly harm salmon populations in the long run, but the short-term effects vary," Travers said. "In Northern Alaska, glacier retreat actually currently helps salmon populations, and in the Pacific Northwest, glacier retreat is currently less impactful on salmon than dams are. Salmon populations will have to be managed differently depending on their location and life histories."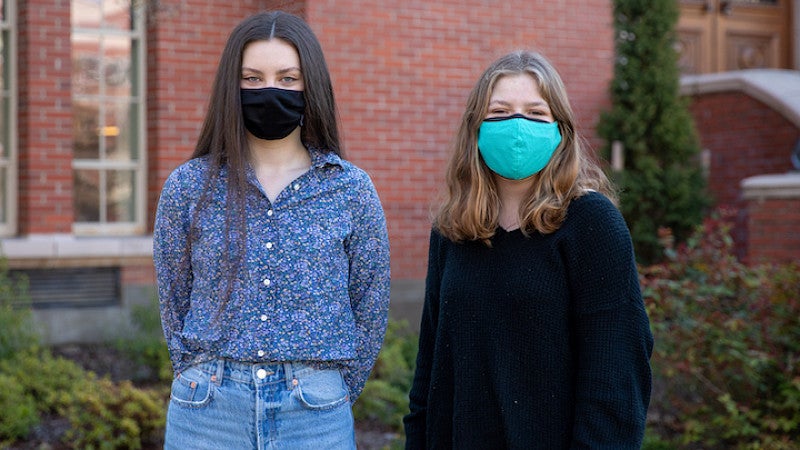 .
CHC students Jordan Barton and Jenna Travers from Glacier Lab
But salmon is only one topic being researched at the Glacier Lab. CHC students Jordan Barton and Samantha Flanzer researched glacier protection laws, the oil and gas industry and glacier tourism as research assistants in the summer of 2019. Working in coffee shops, libraries and the EMU, they gathered notes and citations to help prepare Carey for his trip to Greenland with Shoop and Dave Sutherland, professor of earth sciences and head of the Oceans and Ice Lab.
Through their summer experience, Barton and Flanzer learned how to organize, analyze and criticize research. They were both excited when Carey invited them to become official members of the Glacier Lab at the end of the summer.
"I just wanted to continue learning from him and becoming a better writer," Flanzer said.
Although Barton was also looking forward to joining the Glacier Lab, she didn't know what to expect. "I pictured a room like in CSI with a lit-up table and little samples of glacier," Barton said. "It was not that at all. It's a dozen people sitting around a table, helping each other's work improve and talking about what they're really interested in."
Before lab meetings, members read others' work and prepare feedback. Although Flanzer was intimidated and quiet when she first joined the Glacier Lab, she has become more confident over time and now contributes her ideas regularly.
"It's a harsh group of critics," she said. "We definitely always have good things to say, but Glacier Lab is not shy. Everybody's so good at constructive criticism, which is something else I've learned."
Now, Barton and Flanzer are finishing a project they started as Carey's summer research assistants. He had asked if they would be willing to help him write a chapter in a book about ice humanities, and while there was a lot of research and writing involved, the editing process has been long and strenuous.
"Publishing is not just this one and done kind of a model," Carey said. "Even though it's time-consuming, the long process of draft after draft, presenting it at a conference, getting peer reviews, and then revising and resubmitting a final product—that's where all the learning happens. And then there's the reality of producing a final product that ultimately has a lot of cooks in the kitchen, it is a lot of collaboration, it requires a lot of help. I think teaching these twin lessons of constant revision and team support are helpful to students, especially as they're going into a thesis."
Barton said the project was rewarding due to the collaboration and perseverance it required.
"It's overwhelming and I'm really proud," Flanzer said about the nearly-finished product. "It's not something I ever thought I would do before I graduate, especially with someone like Mark who is so respected within the environmental studies community."
Barton, Flanzer and Travers all appreciated the interdisciplinary nature of the Glacier Lab. For Barton, it helped her explore interests outside of her biology major.
"If I had my blinders on and I only wanted to get into a biology lab, I never would have been open to learning about something different," said Barton. "I never would have thought to learn about glaciers and society through the lens of environmental humanities."
Meanwhile, Flanzer said her work in the Glacier Lab has prepared her for research in law school and changed the way she thinks about environmental law.
"The Glacier Lab has definitely opened my eyes to thinking about how environmental law is much more than just about the ecosystem itself," Flanzer said. "It's about people and politics."
And finally, Travers asserted the importance of pursuing one's interest regardless of their academic background.
"Don't ever count yourself out just because you have a major that doesn't seem to fit for the lab or you don't have enough experience, because there's definitely a lab that will take you in," she added.