We welcome the diversity of viewpoints and experiences that international students bring to the Clark Honors College. We accept incoming first-year international students for enrollment in our four-year program fall term.
Application for enrollment for fall 2022 will be available in August. The final application deadline is January 15, 2022.
Learn more about how to apply as an international student to the University of Oregon. Make sure to complete the Clark Honors College portion of the application.
---
International Students Enrolled at Clark Honors College 2007 - 2021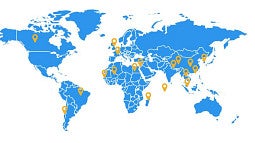 •  Brazil
•  Canada
•  Chile
•  China
•  Egypt
•  England
•  France
•  Hong Kong
•  Israel
•  Madagascar
•  Maldives
•  Mali
•  Nepal
•  Singapore
•  South Korea
•  Thailand
•  The Gambia
•  Tibet
---
Orientation
You're a long way from home. Orientation is all about helping you become familiar with campus and the Eugene community, meeting faculty and staff who can answer your questions, and connecting with other students. For students enrolling fall 2016, follow the below orientation schedule:
International Student Orientation is a fun and comprehensive orientation program where you will meet your International Student Advisor, complete immigration and health insurance requirements, and register for classes. All new international students are required to attend.
Clark Honors College New Student Orientation is where you meet your honors college faculty advisor, connect with your CHIP group, and learn about opportunities to get involved in the Clark Honors College.
Week of Welcome introduces all new students to the university community. Participate in activities and programs before classes begin so you can become familiar with the university's array of resources, meet new people, and make new friends.
Housing
Beginning in December, as soon as you are admitted to the UO, you can fill out your housing registration, make your initial housing payment, and sign your housing contract all online. As a Clark Honors College student, you are guaranteed a spot in the Global Scholars Hall alongside other honors college first-year students.
---
STUDENT PROFILE - IAGO BOJCZUK, Class of 2018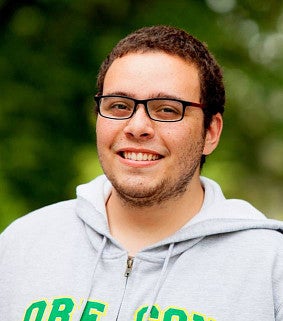 Hometown: Atibaia, São Paulo, Brazil
Iago Bojczuk of Brazil values diversity. He lives it. And it's one of the things he likes best about the University of Oregon.
"I can get to know people from all over the world. I have friends from Mongolia, from Tibet, from different African countries - Uganda, Ethiopia. This kind of diversity I wouldn't find easily in Brazil."
A journalism major fascinated with history, Iago wants to explore the links between globalization, education, and media. The honors college curriculum is pushing him. It's rigorous. And he loves that.
"The classes are way more challenging than general university classes. In the beginning it was kind of scary. After a while you get comfortable with the professors, who are really helpful. They really want to push you forward."
---
Scholarships
Shephard Family Scholarship
The Shephard Family Scholarship for International Students is available to incoming international students who have been accepted to the Clark Honors College. The amount of the award varies depending on the number of qualified applicants. Students with continuing enrollment in the honors college after their first year can reapply, however preference will be given to new students. No additional application is required. All admitted international students will be considered for the scholarship, which is awarded based on academic merit.
ICSP Scholarship
The International Cultural Service Program offers full-tuition scholarships to students who demonstrate financial need and exceptional merit. Selected students receive a tuition-waiver scholarship ranging from $7,500 - $30,000, and agree to complete 80 hours per year of cultural service. Cultural service can include speaking or giving demonstrations to schools or community groups about the heritage and culture of your country or participating in international events on campus. A separate application is due January 15.
Learn more about scholarships and financial aid for international students through the university.