CHC students in the debate and mock trial program step into real world with the skills that help them succeed in life.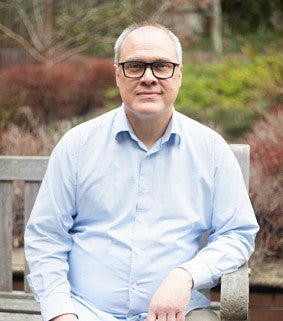 Trond Jacobsen spends a number of hours each week preparing the students who participate on the University of Oregon's Forensics team for competitions in debate and mock trial.
The program, which is part of the Clark Honors College, has more than 100 students involved. Some compete as part of the debate team, traveling along the West Coast and across the country to battle other colleges and universities. A larger segment of students participates on the mock trial side, acting as attorneys, witnesses and in other roles in scenes that depict courthouse battles.
The skills that students pick up, Jacobsen says, can carry through for them for a lifetime. "Participating in forensics is designed to help students develop the self-confidence that their voice counts," he says.
Forensics encompasses competitive advocacy and speech. On the debate side, Jacobsen says students develop critical analysis skills on specific topics, such as public policy or criminal justice reform. During a debate, you generally see teams of two students, with one arguing the affirmative of a topic and the other pitching the negative.
Mock trial is a simulation that mimics a real trial, with judges, witnesses and others playing courtroom roles in both civil and criminal cases. Teams of roughly 8-10 students work on a case. They go in not knowing if they will represent the plaintiff in a case or the defense, so it becomes necessary to understand both sides before each event.
The forensics program was developed in 1876 when UO was founded, and has seen great success and involvement throughout the years. The program competes in roughly 20 events each year. "We have one of the larger mock trial and debate programs," Jacobsen says. "Our competitors, in general, are other Pac-12 schools."
Jacobsen's involvement in forensics spans back decades. In high school, he competed in national events, chalking up an impressive record of performances on the debate side. As a junior, he won the Northwest Cross Examination Debate Association championships. At UO, he was a sociology major who earned more than two dozen first-place speaker awards.
One day while Jacobsen was taking a break from completing his information science dissertation, he stumbled across the UO forensics website and saw the director position was opening up. "My mentor who had been the previous director of forensics was stepping back from that role and this position that I have wanted to hold since I was 19," he recalls.
He took over the program as director in 2013 and has led the students to success in several competitions throughout the years. The highlight of his job? "It is seeing forensics help students unlock their full potential," he says. He likes seeing them become "scholars, leaders, and champions."
At the Honors College, Jacobsen teaches courses like "Oral Argument and Advocacy" and "Public Speaking" to get students interested in forensics. He has created a pipeline from his honors classes into the program, which helps make the team stronger.
When his students finish their studies at UO, Jacobsen says they have that confidence "to say 'I believe,' and have a right to share their opinions and know they will be heard."
—Story by Bella Oberlatz, Clark Honors College Communications
—Photo by Ilka Sankari, Clark Honors College Communications