How It Works »      Different Fields of Study »      Support & Resources »
---
The thesis project is designed to be a culmination of skills developed during your time in the honors college, of questions asked and answers sought. It is your opportunity to strut your stuff and contribute back to the pool of human knowledge that you have benefitted from during your time as a student. 
The thesis embodies the defining characteristics of a Clark Honors College education: 
Mental Discipline 
Independence of Mind and Judgment 
Capacity to Design and Execute a Complex Project 
Skills of Analysis, Synthesis, and Clear Writing 
The thesis is also the culmination of work in your major - a natural outgrowth from and expression of the ideas, problems, and approaches taught in that discipline. You will select a topic from within your major field, and work closely with your faculty mentor to creatively apply the methods you have learned, and present your topic in a clear and effective manner that is accessible to a diverse and non-specialist audience. 
---

Totally Worth It
An honors thesis is valuable not only in and of itself, but also because of how you will grow, personally and academically, throughout the process. There are also concrete ways that your thesis can continue to work for you down the road. Meet two CHC alumni for whom their thesis was just the beginning: 
---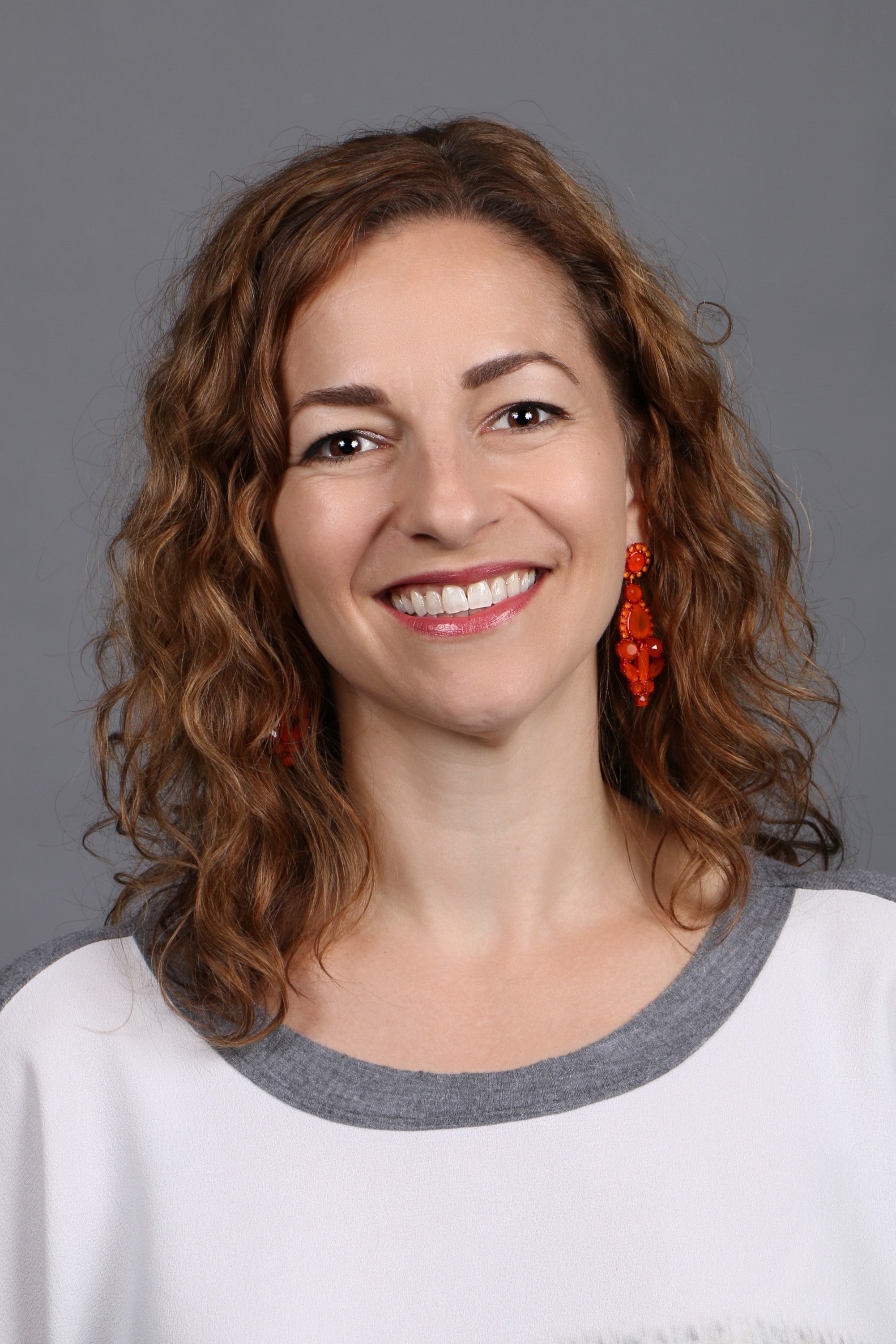 "Remember the lessons of your thesis and put it on your résumé. I kept my thesis on my résumé long after I graduated, and even after being advised not to by my Graduate School career counselor.
I did have to admit that the title—"The Ubiquitous Olive: Spain, the European Union, and Politics of Olive Oil"—really wasn't relevant to the jobs in international development that I was applying for. But the lesson of my thesis was that I completed a rigorous academic program that not only required an undergraduate thesis, but also required a thesis defense.
When I interviewed at the Gates Foundation back in 2009, my hiring manager walked into the interview and the first words out of his mouth were, "I come from the land of the Ubiquitous Olive," and I knew right then and there I had an in!" —Sheila Miller, BA '99
---
"I wanted to work on rhino arthritis for my thesis and, to the credit of my advisors, they did not dismiss it as naïve passion, but challenged me to explain why this was a good thesis topic. Two years of furious research, several trips to museums around the country, one Economist article, and two conference presentations later I presented my research to my committee and passed with distinction!
I'm now at the University of Chicago working on a PhD in Functional Anatomy and Evolutionary Neuroscience. This year my undergraduate work was published in PLOS One, an open access scientific journal, whose publication fee was partially funded by the honors college. The publication has also facilitated new networking opportunities and ideas for further research. There are always new pinnacles to reach, but I would have fallen long ago if not for the strong educational base I received from UO Paleontology and the Clark Honors College."
—Kelsey Stilson, BS '13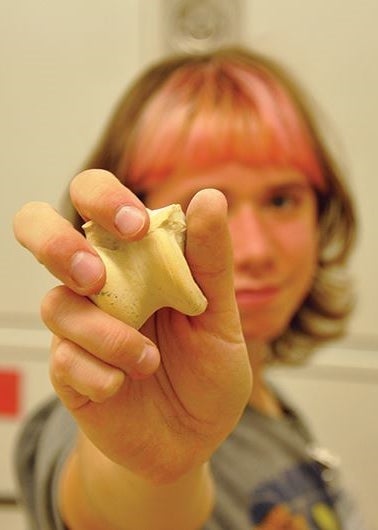 ---
How It Works
The Clark Honors College curriculum is designed to help you develop and grow the skills you will need to complete a successful thesis, beginning with the coursework that you took during your first and second years. While you may follow the timetable outlined below, it is never too early to begin thinking about topics you may like to pursue for your thesis, or to seek out professors who specialize in an area you are interested in. 
The best theses often begin as term papers or as lab experiments, and the best advising relationships usually begin in the classroom, in the science lab, or with a research assistantship with a professor. As you select and explore your major, actively look for questions and ideas that you would like to investigate further, and choose courses or research opportunities with professors who are expert in those topics. Additionally, much thesis research can be done during study abroad. If you intend to study abroad, think about how you may be able to tie your thesis topic into the framework of that experience. 
The CHC's Mentored Research and Learning Experience (MRLE) Award Program will enable you to apply for funding to conduct research with a UO professor. More information coming soon!
Your primary thesis advisor will be a faculty member from your major department or field of study. They will be with you from the beginning to the end of the thesis process, helping you to scope and outline your project, providing input and edits on multiple drafts, and presiding over your prospectus defense and final thesis defense. As an expert in the field, they will also be responsible for making sure that your work meets your chosen field's disciplinary standards. 
The best advising relationships begin in the classroom. Working with an advisor whom you've already taken a class with means beginning with a shared understanding of relevant questions and disciplinary standards, and a personal relationship that facilitates communication during the thesis process. Choosing a thesis advisor whom you have not previously studied with is allowable, but it can be more challenging to approach a potential faculty mentor if you haven't already encountered them in another capacity. 
Begin by speaking with several professors you trust and respect, and who likely have knowledge about the topic you are interested in. It's a good idea to set up an appointment ahead of time, and go in prepared to ask each professor for input on your idea, as well as particular readings or relevant courses they recommend you look into. If the professors have labs or research projects you are interested in joining as part of your thesis research, this is a great time to ask about how you can get involved (and remember that the CHC's Research Assistantship Scheme [link to Canvas] allows students to apply for funding to work as research assistants for UO faculty members). After you have "interviewed" a few potential advisors you should be ready to formally ask one of them to be your Primary Thesis Advisor. 
Sometimes it is appropriate for your primary thesis advisor to be from a closely allied department with expertise in a similar field of study to your major field. For example, a Human Physiology major may work with a faculty member from Biology. If you are considering working with a faculty member from outside your major department, make sure to check with your major department to be sure your thesis will still be eligible to fulfill any departmental requirements (e.g., departmental honors) to which you wish it to apply. 
In the case of cross-disciplinary work that connects your major field with a second field: You must be able to demonstrate a rigorous background (such as a minimum of two courses) in the relevant non-major discipline before enrolling in Thesis Prospectus, and you must select a thesis advisor from the disciplinary area where your thesis will be focused. For example, a math major who wants to write a play should have a background in the theatre (such as the completion of at least two theatre courses) and a Primary Thesis Advisor from their major (Math) and a Second Reader from the theatre department (or vice versa).  A history major who wants to write historical fiction should have background in creative writing (e.g. by completing at least two courses in creative writing) and a primary thesis advisor in history and a second reader from creative writing (or vice versa). 
You must have a Primary Thesis Advisor confirmed before beginning the Thesis Prospectus class. 
You should plan to take HC 477H: Thesis Prospectus at least two terms before you plan to defend your thesis. The term before you enroll in the Thesis Prospectus course,  you need to obtain pre-authorization from your Primary Thesis Advisor and the CHC in order to enroll in HC 477H: Thesis Prospectus the following term. 
Submit the online Thesis Prospectus Application form (which will be electronically signed by your Primary Thesis Advisor), along with a one-page outline of your thesis idea, and a brief bibliography to the Academic and Thesis Programs Manager by 5:00 p.m., Friday of Week 6 the term before you intend to register for HC 477H. 
 
No professor will sign off on your pre-registration form unless you have already established a working mentorship relationship with them as your Primary Thesis Advisor and have discussed the general shape of your intended thesis project with them. 
This required 2-credit course is pass/no-pass. Thesis prospectus classes in other departments cannot satisfy the CHC requirement. The course provides a framework for you to work with your Primary Thesis Advisor to develop a prospectus and timeline for thesis work throughout the upcoming year. Ideally, you should take Thesis Prospectus spring term of your third year. 
You will develop your own prospectus document during this course, which will serve as a roadmap after the course ends for you to continue work on the project. A thesis prospectus generally includes: 
Title Page signed by your Primary Thesis Advisor 
Abstract 
Background 
Purpose of Study 
Relevance 
Materials and Methods 
Literature Review 
Project Development and Research 
Timeline 
Bibliography 
During the Thesis Prospectus course you will be responsible for selecting a Second Reader for your thesis committee (if you haven't yet identified that person), as well as for inviting an Honors College core faculty member to serve as your CHC Representative. The CHC Representative is there to answer questions about the overall thesis process, time-management issues, deadlines, defense scheduling, and evaluation criteria. 
You can't write a thesis in your spare time.  As you work independently on your thesis, following the timeline you developed as part of your prospectus, stay in contact with your Primary Thesis Advisor. Although you are not required to do so, you may want to enroll in thesis (403 or other) credits through your major so that your thesis work becomes part of your weekly work schedule. The CHC allows a minimum of four credits of 403 Thesis credits (either taken in the CHC or another department, either P/N or for a letter grade) to substitute for one elective HC colloquium. This substitution will occur automatically on your CHC degree guide once you have completed a minimum of four 403 credits. (If you have taken any non-403 upper-division independent-study thesis-related credits, the CHC will need to vet those credits before this substitution can be made. Substitution requests can be made here.) 
If you encounter problems with your thesis, speak up right away. Time lost can never be regained. It is better to address problems early in the thesis process when there is still adequate time left to handle them, than to ignore potential issues until later on when they've likely become far more complicated. 
After you have selected your CHC Representative, you should formalize the selection of your Second Reader. Selected in consultation with your Primary Thesis Advisor, the Second Reader is responsible for reading your Thesis Defense Draft and attending your oral defense.  
The Second Reader should be an expert in a field directly or closely related to your thesis project, and can be a tenured, tenure-related, or non-tenure-related  UO faculty member, a post-doctoral or graduate employee, or a professional with a Bachelor's Degree in a relevant field. 
You can select your Second Reader as early as you like, but no later than the term before your scheduled thesis defense. Ideally, the Second Reader should be identified no later than the term that you take HC 477H. 
Usually held in the final term before graduation, this formal presentation identifies a thesis's most important parts – analysis, arguments, and conclusions – and "teaches" them to the audience. Meeting this challenge indicates true mastery of the project. The presentation of a Clark Honors College thesis is similar to the presentation of a conference paper. You will give a 20-minute presentation that summarizes the thesis and results, distilling the core concepts for an audience who hasn't read it, and engaging with the committee who has.  
Following the presentation, the Question and Answer period usually takes 20 to 30 minutes. You will field questions from your thesis committee and the audience. Note that a defense is public, and anyone may attend, including students preparing for their own defenses. CHC theses are evaluated on a graduate model, whereby the requirement is completed through a successful defense of the thesis. The committee may choose to require a limited set of revisions following the defense prior to final approval.  
After the successful completion of the thesis defense, students complete the final draft of their thesis document according to the formatting guidelines posted on the CHC's Canvas site. Please note that a Word template is available to use that is already formatted according to CHC guidelines.  
---
How To Approach the Project From Different Fields
A marine biology thesis is going to look different than an architecture thesis, or a music thesis. The thesis format is intentionally flexible to accommodate the specifics of your chosen field of study. The key is to choose a project that allows you to  conduct original research, and to produce an academic work that meets the standards of both your major field and the honors college. 
Humanities and Social Science
Thesis projects in the humanities and social sciences take the form of an extended exploration of a research question that is informed by focused inquiry into a topic, the review of relevant literature, and original analysis and argumentation. The contours of this type of thesis, as well as the methodological approaches employed, will vary according to the discipline. 
Science and Math
Thesis projects in math and in the natural and physical sciences generally fall into two categories: 
Theoretical: Theoretical theses are common in mathematics, and are also sometimes appropriate to physics, biology, computer sciences, and occasionally other sciences. This type of thesis should investigate and analyze some new problem or approach an existing problem in a novel way. Examples include proofs, a novel series of calculations, or mathematical and computer-based models of natural phenomena. It should not, however, be simply a review of the work of others; it's not a term paper or a book report, but a piece of original analysis that improves in some way on what was previously done. 
Empirical: Empirical theses are common in all scientific fields . This type of thesis is based on original research and data collection to address an original scientific question. The data collected can be experimental (collected in a controlled laboratory setting), historical, or literature-based surveys of data from the results of others' research. Meta-analyses, based on the results of other studies, are acceptable, but must be pursued with a novel question in mind. 
Performance and Portfolios
Performance and portfolio theses are common for students majoring in theater, music, creative writing, art, architecture, and in some journalism and business areas. These theses also provide a place for cross-disciplinary work, such as a math major preparing to write a play, or a history major preparing to write a novel. 
---
Examples of Exceptional Theses
Each year during Clark Honors College graduation ceremonies, we celebrate exceptional theses that were both well written and presented at the highest level in the oral defense. A selection of these are highlighted below. You can view an extensive collection of CHC theses through Scholar's Bank.
---
Support & Resources
Mentored Research Program (MRP) 
The CHC's Mentored Research Program allows students to apply for funding to work as research assistants for UO faculty members. Students are eligible to apply for up to approximately $1,000 of funding per academic year term (approximately $3,000 per academic year) to work with a professor on a research project (which may lay the groundwork for the student's thesis project). Additional information and application instructions can be found here.
Internship Funding Program (IFP) 
The CHC offers students the opportunity to apply for up to $5,000 to help fund their living expenses for low-paying or unpaid, non-credit-bearing internships. Additional information and application instructions can be found here.
Carol Carver "Pay It Forward" Thesis Award
The Carol Carver "Pay It Forward" Thesis Award supports undergraduate students enrolled in the Clark Honors College working on thesis research on any subject. Students must have a minimum 3.0 GPA and have demonstrated financial need as determined by the Office of Financial Aid and Scholarships. Award is non-renewable.
Additional Requirements: Applicants must submit a one-page description of their thesis project and a separate description of expenses related to the thesis project. Applicants must file a FAFSA/ORSAA with the UO Office of Financial Aid by February 1st in order to be considered. Additional information can be found here.
Frank Herbert Mingle Thesis Award
The Frank Herbert Mingle Thesis Award supports undergraduate students enrolled in the Clark Honors College who are engaged in thesis research on a subject within the humanities or social sciences, including disciplines such as Art; Art History; Cinema Studies; Classics; Creative Writing; Cultural Anthropology; History; Languages; Literature; Asian; African American; European; and Latin American Studies; Philosophy; Political Science; Religious Studies; Theater Studies; and Women and Gender Studies. The award may be used to defray costs such as travel, lodging, research expenses, copying, presentations, etc. connected with the CHC thesis. Students must have a minimum 3.5 GPA. Award is non-renewable.
Additional Requirements: Applicants must submit a one-page description of their thesis project and a separate description of expenses related to the thesis project. Additional information can be found here.
---
Research Help
Elizabeth Peterson is the Library Liaison for the Clark Honors College and the Humanities Librarian for the University of Oregon Libraries. 
 
Elizabeth is here as a research specialist to answer any questions regarding the library or your research projects, as well as to connect you with other research specialists and library services. 
Email: emp@uoregon.edu 
Phone: 541-346-3047 
---
Process Help
Miriam Alexis Jordan is the CHC Academic and Thesis Programs Manager. She holds a B.S. in Arts and Humanities, and a Masters in Arts Administration from the UO. Miriam provides administrative and technical support on benchmarks and protocols as you progress through the academic and thesis process toward graduation. She believes in the importance of a liberal arts education and is committed to your student success. When you are ready to begin the thesis process, Miriam is your guide. 
Email: mjordan@uoregon.edu
Phone: 541-346-2511