Whether you are one of the over 4,000 graduates of the Clark Honors College, or the parent of a current CHC student, we are so pleased that you are part of our community! We offer a growing number of opportunities to get involved in the Clark Honors College, open to CHC alumni, parents, and families alike. Please take a minute to let us know how best to reach you so that we can keep you in the loop about upcoming honors college events and share our quarterly e-newsletter with you.
Alumni
As an alumnus of the Clark Honors College, we want to support you in staying connected to the college and to your fellow alumni, and we want to encourage you to enrich the community through interacting with current CHC students.  What made a difference to you while you were in the CHC?  A faculty mentor? An internship? A study abroad experience that opened doors you didn't even know existed?  We invite you to share these experiences with current CHC students through informal talks, newsletter articles, and mentorship or internship opportunities.
Families
Family members are crucial to the academic and personal success of our students.
You have played a pivotal part in supporting your student to become a member of the Clark Honors College community. We invite you to become part of our community as well!




 
The CHC Post
The CHC Post is your source of information for
upcoming events
the latest activities in the honors college
networking opportunities
invitations to family events
tips for helping your student navigate life at the University of Oregon, and
updates on what other alumni are doing.
Previous Editions:
Sign up to stay connected!  Have a bit of news to share? Send us an email and we'll include it in the next newsletter.

CHC Reunion Book
The Clark Honors College is 60 years old! While an in-person celebration of our 60th anniversary will have to be delayed, we have been looking for innovative ways to reach out to our growing and far-flung alumni community. One opportunity for honors college alumni to celebrate this milestone anniversary is through our CHC Reunion Book, launched in April of 2021. An invitation to create a personal page in this digital book was sent to all alumni for whom we have a current email address. If you did not receive an invitation and would like to be included, please contact Elin England at eengland@uoregon.edu.
---
CHC Alumni News
---
---
Family Resources
Advising resources available to all CHC students, including CHC professional advisors, advising tips, opportunities and more.
Make sure your student knows that the information they need is easily accessible!  One Stop provides students with 24-hour access to help with registration and classes, advising, financial aid, housing, wellness and safety, campus life and much more.
Peer mentors are available to help first-year CHC students navigate the often unclear and confusing moments that arise during everyone's academic journey. 
"Diversity is being invited to the party. Inclusion is being asked to dance."  
- Verna Myers
The Clark Honors College has a unique commitment to ensuring that equity and inclusion are at the center of all the work we do.  
Learn about equity and inclusion at CHC
---
Contact Us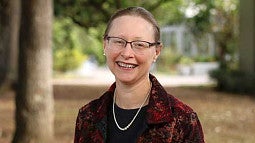 Elin England, Director, Alumni & Community Engagement
eengland@uoregon.edu | 541-346-2995