You got an introduction to the basic principles of research during the research section of the 200-level Arts & Letters and Social Science course series, and you know that you will need to conduct original research for your senior thesis. But getting involved in research as an undergraduate student can seem intimidating. 
Check out the resources listed below to help you get started.
---
Present Your Research or Get Published!
---
Research Opportunities with CHC Faculty
Research Happening at the University of Oregon
Research at the UO encompasses thousands of scholarly, scientific, and creative endeavors. Research, both basic and applied, is fundamental to the mission of the University and is essential to Oregon's economic and civic vitality. Learn more about research at the UO's research centers, institutes and colleges by exploring the links below.
Student-Oriented Research Programs
Also check out research opportunities outside of the UO.
---
STUDENT PROFILE - JACOB BIEKER, Class of 2017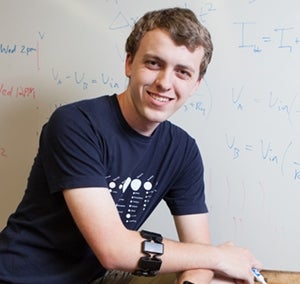 Jacob wrote a computer program that remotely opens and closes the dome over the UO's robotic telescope. At Pine Mountain Observatory. 130 miles from campus, in Bend. In his spare time. "Seeing it actually work was a really cool moment," he says.
Jacob's eyes are trained skyward, and he aspires to work for NASA. "I want to do computational astrophysics, the physics of stars and galaxies and the universe at large. I would be, like, modeling galaxies colliding or stars exploding."
---
Undergraduate Research Opportunity Program (UROP)
The Undergraduate Research Opportunity Program (UROP) provides services and resources in support of student engagement in faculty mentored undergraduate research and creative scholarship activities at the University of Oregon. UROP has resources and guides to help you get started.
Once you have a research topic in mind, you may want to apply for one of the following funding opportunities through UROP:
Center on Teaching & Learning (CTL) Research Fellowship
The CTL research fellowship allows full-time juniors and seniors in any major area of study the opportunity to work as Research Fellows throughout the University of Oregon. Admission to the program is competitive. Accepted students work as valued members of a research team and are granted a tuition waiver for the academic year.
Students from any major may apply if you met the following criteria:
3.50 minimum GPA
Enrolled full-time at junior or senior class standing
Intend to pursue graduate school