Do you dread writing assignments? Do you love them? Are you looking to improve your writing skills in a meaningful way that reaches audiences beyond the classroom? Do you want to create a portfolio of work that will help you get internship and jobs?  
If your answer to any of these questions is yes, you should consider taking a Calderwood Seminar in Public Writing. Calderwood Seminars are small-group, interdisciplinary courses that enable students to learn how to communicate academic knowledge to broader audiences and become familiar with different genres of public writing, including op-eds, features, profiles, and blog posts. 
Regardless of your writing skills, Calderwood Seminars provide students with wonderful opportunities to improve their writing and take it to the next level. 
What to Expect
Get detailed feedback on your work and learn how to give effective feedback. 
Learn to translate complex information effectively to a non-academic audience. 
Develop a voice that opens the door for your writing to make a difference in the world. 
These workshop-style courses will strengthen your writing, editing, and revision skills. Calderwoods are fast-paced, rigorous, and intensely rewarding. You'll see a difference in your writing almost immediately as you write with more authority on important topics. In a Calderwood Seminar, you'll learn quickly how central public writing is to success in life beyond college. And you'll gain skills that will establish you as a leader in future internships and jobs.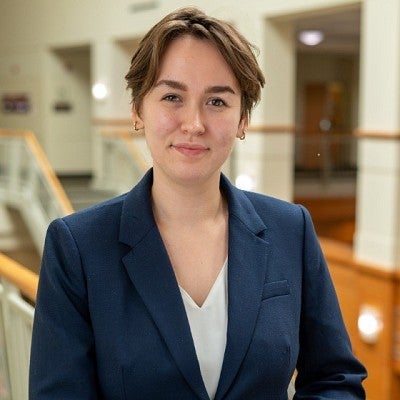 Embrace feedback from your peers
"Before I took a Calderwood, feedback on any paper seemed like torture. Now I look forward to receiving any feedback because I know my final piece of work is always something I can be proud of."
—Maya Ward, Current Clark Honors College 3+3 Law Program Student
Upcoming Calderwood Seminars
---
Improve your writing, draft by draft
"The Calderwood Seminars taught me that multiple drafts are not only important, but are absolutely necessary for well-developed writing."
—Ethan Scott, Clark Honors College Class of '23