As an extracurricular, Forensics aims to provide students with a forum and a framework to apply that which they have been learning in the classroom. Research skills, critical thinking, logic and empathy come together in applied practice, providing students the opportunity to cultivate and hone those skills that will serve them both personally and professionally throughout their lives.
Alumni and community members can play a critical role in helping us extend these opportunities to qualified and deserving students in the following ways: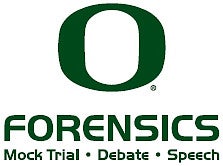 Scholarships
The teams we compete, both regionally and nationally, offer strong scholarship programs to recruit the best students. Each year, the top high school debaters from Oregon leave the state to accept these offers. Establishing a scholarship program at Oregon Forensics would position us competitively with our peer programs across the country.
In addition to recruiting top talent, scholarships would also allow us to provide support to students with financial need. During the season, forensics students maintain a travel and competition schedule comparable to that of our top athletic programs, and put in countless hours practicing and preparing prior to these events. For students who must work full or part-time jobs while going to school, the time commitment required to participate becomes prohibitive. Many fantastic high school debaters come up through the Urban Debate Leagues. Often the first students in their families to attend college, these debaters, from low-income families and often persons of color from outside Oregon, will find great success in collegiate debate, however at this time Oregon Forensics does not have the means to adequately support them.
Help us establish a scholarship program to remove barriers to participation for talented, qualified students.
Competition
Many of the component costs of competition – van rentals, hotels, plane tickets, fees, etc. – continue to increase every year. Our program has more than doubled in size over the past three years, and budget support we receive from the university is stretched to keep up. Additionally, changes in university policy mean that we can no longer make special requests to fund national championship tournaments that require qualification, requiring that we find another way to fund the $15,000 needed each year to enable us to participate.
Competition is an intrinsic part of the forensics program. Without it, our students would not get the benefits and experience that they should. Budget constraints associated with competition participation also means that we are faced with artificially limiting the size of the program, and unfortunately excluding many students that wish to participate. One way you can help is by making a contribution to the Forensic Director's Fund, which covers the costs of travel and tournaments.
Infrastructure
The recent incorporation of Oregon Forensics into the Clark Honors College was a big step in the right direction. The affiliation not only positions our students and their work in the context of high academic achievement, but the college also provides essential administrative support. To make our program the best that it can be however, we are in need of a few more "behind the scenes" infrastructure investments.
The single step most likely to ensure the permanence of the program at the university is the creation of an endowed chair for the Director of Forensics, so that we can recruit and retain the most qualified candidates to lead our team. In addition to computers, software, and digital audio and video equipment, we are also in need of a new squad room, which serves as our campus home where the team meets regularly to practice and prepare for competition.