We connect students with transformative opportunities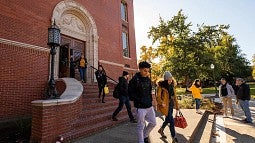 It's typical for a September Dean's message to talk about welcoming students back to campus. But I have to say that in the CHC, in the post-ish pandemic Zoom era, our students (past and present) are never far from our minds.
In late August, I got a text from the editor of Ms. Magazine. I have an unpaid side hustle interviewing and writing about women in science for Ms., typically in collaboration with students who have taken one of my Calderwood Seminars in Public Writing. "Was I interested," the editor texted, "in interviewing Dr. Kati Karikó"? (For non-women-in-science nerds, Dr. Karikó is a biochemist whose research on messenger RNA—mRNA--laid the groundwork for the COVID vaccines that have saved so many lives.)
"Was I?!?😍" I texted back within seconds. "And I have just the student to write this with."
Right away, I reached out to Micah Woods. Micah had just graduated in June, with a double major in Biology and Environmental science, and had written a brilliant honors thesis on how genetic determinism limits scientific vision. Micah (who uses they/them pronouns) was the perfect person to write this article with: a talented writer, they were also close by, with a post-baccalaureate position in Bill Cresko's Knight Campus lab.
Working on a tight deadline (familiar to students who have taken Calderwood Seminars), within days, we had researched and written interview questions and were ready to sit down via Zoom and talk to Dr. Karikó, an incredible powerhouse of a person whose fierce conviction in the potential of mRNA sustained her through much adversity.
You can read the final article on the Ms.Magazine website. I share it with you because it's an example of what students, faculty, and staff in the CHC do best: from the moment students set foot onto campus, we begin to collaborate with them; we put students in touch with opportunities that transform them; and those relationships endure long after graduation.
That said, I am looking forward to welcoming our new cohort of students later this month 😀.
Sincerely,
Carol Stabile
Acting Dean
Past Messages