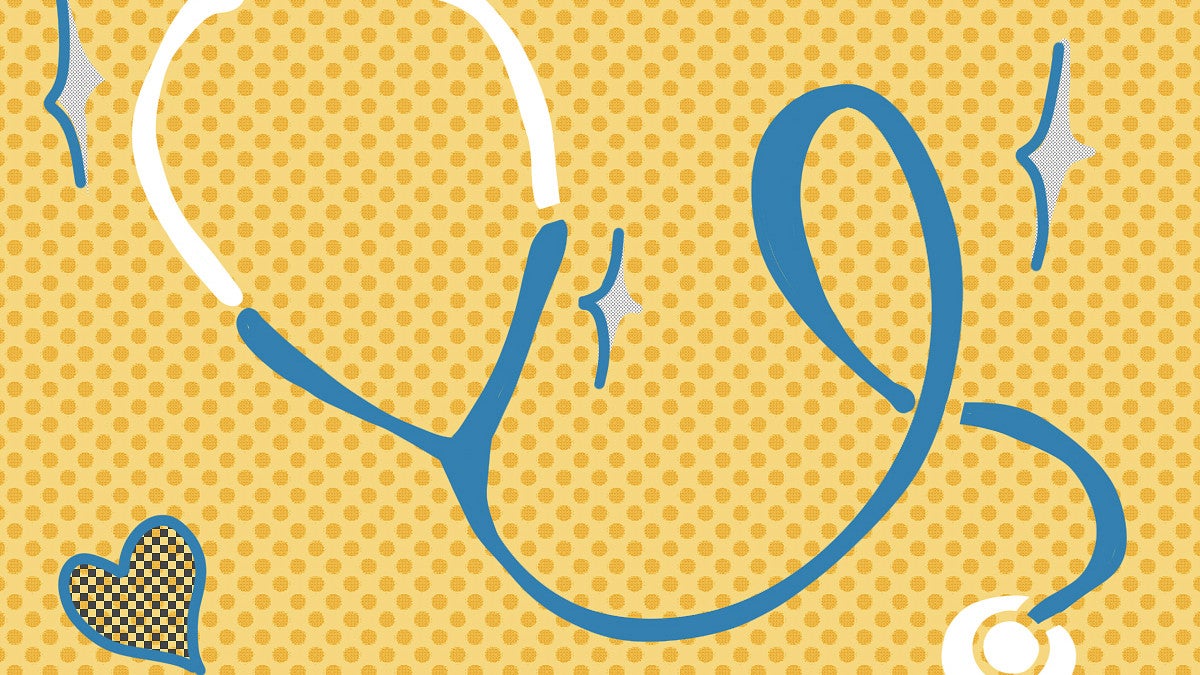 Illustration by Lauren Jin, CHC Communications
Story by Adrienne George, CHC Communications
It wasn't until CHC alumnus Dr. Loic Fabricant arrived at medial school that he understood how well prepared he was for the next step in his education.
"There was a real synergy for me in the science education and in the liberal arts education in Clark Honors College," Fabricant, now a surgeon at Northwest Surgical Specialists, said.
As one of the speakers on the panel of medical professionals hosted by CHC, Fabricant spoke about his experiences to the 40 students who attended.
The online panel, which was designed to connect the alumni with current students interested in the medical field, was held on October 30, and was moderated by Melissa Graboyes, professor of African and medical history, and Nelly Nouboussi, a 2020 biology graduate of the CHC.
All three panelists cited the combination of liberal arts and science as a cornerstone of their education leading up to their careers.
Dr. Gabriel Smith, the division chief of neurosurgery at UH St. John, added that it was the "building blocks" for the skills he needed most in medical school.
Dr. Edward Weaver, professor of otolaryngology at the University of Washington, said that the CHC allowed him to surround himself with smart, motivated students and taught him how to learn, a key skill in an ever-evolving field. When he attended Yale Medical School, he said, "I was prepared as anybody."
"Don't be intimidated to aim for the highest you can," Weaver advised. "You're equally well-prepared."
As important as studying was to their medical careers, all three doctors also advised students to enjoy their time rather than attempt to build a perfect medical school resume.
"Just enjoy yourself. Don't think on a Friday night you need to be holed up in the library studying. Your life only gets busier," Smith said, adding that after 6 pm, he returns home as a dad.
Fabricant spent his extra time as a member of the snowboarding team. "I think that was a good opportunity to learn leadership. [School] shouldn't be purely a burden, it should be fun," he adds. He also volunteered with hospice organizations around the city.
Weaver agrees.
"Find fun. Follow what you're interested in," Weaver says. "There's no formula there. Just be yourself, let your passion come across. Do things, but not for a [medical school] application, do them for yourself."
Elin England, manager of the CHC Alumni Outreach program and organizer of the event, saw the panel as a success. "I was pleased that we had so much interest from CHC students," she said. Through the upcoming academic year, England plans to organize one panel a term covering areas including law, public service, research and technology, and environmental science.
Panelist Bios: 
Loic Fabricant, M.D., F.A.C.S. (2003)
Surgeon at Northwest Surgical Specialists
Dr. Fabricant spent his childhood in Port Townsend, Washington, before moving to Eugene and graduating from South Eugene High School.  He is a UO, Clark Honors College and Oregon Health & Science University alumnus.  At OHSU, Dr. Fabricant completed general surgery residence and additional fellowship training in surgical critical care.  He now serves as an adjunct professor of surgery at OHSU and is a surgeon at Northwest Surgical Specialists.  He has conducted research in the areas of general surgery, trauma surgery, surgical critical care, blood product administration, coagulation and hemostasis.  He specializes in Trauma, Surgical Critical Care, and Emergency General Surgery.
Alia Mowery, M.D., M.C.R. (2015) (unable to attend panel on Oct. 30)
Resident Physician
Otolaryngology-Head & Neck Surgery at Johns Hopkins Medicine
Alia grew up in Eugene as one of four siblings, and was homeschooled until college. She entered the Clark Honors College intending to major in English, but shifted paths after developing an interest in human sciences, and ended up taking pre-medical classes and majoring in Psychology. After graduating from the UO in 2015, Alia attended Oregon Health & Science University for medical school, where she conducted epidemiologic research on risk factors for head and neck cancer and earned a Masters in Clinical Research as well as her MD. Now, Alia is in her first year of residency training in Otolaryngology - Head & Neck Surgery (more commonly known as ENT) at Johns Hopkins Hospital in Baltimore, Maryland. She intends to specialize in facial plastic and reconstructive surgery. In her spare time, Alia runs, hikes, goes on road trips to national parks, and does as many crossword puzzles as possible. 
Gabriel A. Smith, M.D. (2007)
Director, University Hospitals Spine Institute
Division Chief of Neurosurgery, UH St. John and Southwest General Medical CentersAssistant Professor of Neurological Surgery, Case Western Reserve University School of Medicine
Dr. Gabriel Smith is the current Director of the Spine Institute for the University Hospitals Health System affiliated with Case Western Reserve University School of Medicine, where he is an expert in the care of adult spinal disorders. Dr. Smith graduated from the Clark Honors College in 2007 with a degree in Biology.  He performed research in neurobiology with Professor John Postlethwait, and wrote his thesis on "The role of uxs1 in chondrocyte organization, morphogenesis, and signaling pathways during skeletogenesis." After graduation Dr. Smith attended Temple University School of Medicine and then studied Neurological Surgery at Case Western Reserve University in Cleveland, OH. He subsequently completed training in general neurosurgery with a supplemental fellowship in complex spine surgery at the Cleveland Clinic Foundation. He joined the faculty at Case Western Reserve University School of Medicine in 2018 as an Assistant Professor of Neurosurgery. Dr. Smith's wife is also a practicing physician in Cleveland, OH. He enjoys spending time with his family in his free hours.
Edward M. Weaver, MD, MPH (1988)
Professor of Otolaryngology—Head & Neck Surgery
University of Washington
Edward M. Weaver, MD, MPH is a professor of otolaryngology—head & neck surgery (ear, nose, & throat surgery) at the University of Washington.  He received a bachelor's degree in mathematics and chemistry from the University of Oregon Clark Honors College in 1988, a medical doctorate from Yale University, and a master's degree in public health from the University of Washington. His clinical and research programs focus on the treatment of obstructive sleep apnea.
Moderators: 
Professor Melissa Graboyes
Assistant Professor of African & Medical History
Melissa Graboyes is a professor of African and medical history at the Clark Honors College.  She uses her research and expertise to examine the ethics and effectiveness of global health initiatives. Her current work highlights the history of failed attempts to eradicate malaria in Africa and Zanzibar.
Nelly Nouboussi
CHC 2020 – Biology
Nelly Nouboussi is currently in her first year at OHSU.  While at the Clark Honors College, Nelly was a research assistant with CHC professor and medical historian Melissa Graboyes, and worked in Professor Matt Smear's neuroscience lab, where she studied the olfactory systems of mice. Nelly was a recipient of an Undergraduate Research Award as well as numerous other UO and CHC scholarships, and is now the recipient of a full scholarship at OHSU. After medical school, she hopes to specialize in general surgery and infectious diseases.