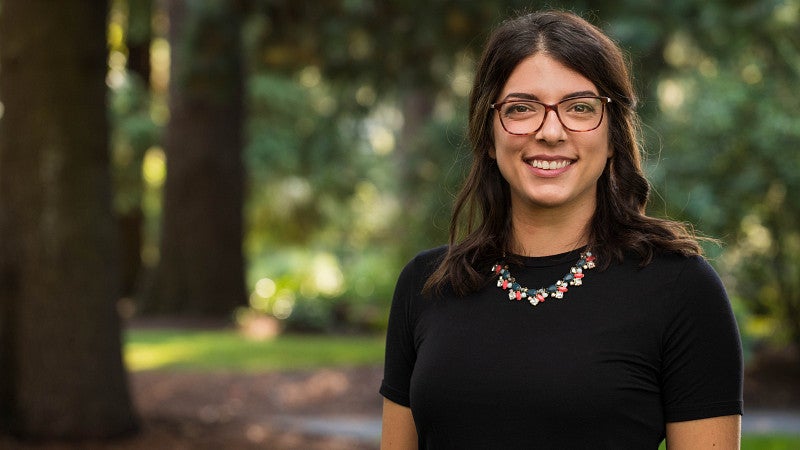 Dr. Angela Rovak
Story by Claire Warner, CHC Communications
Photo by Sarah Northrop, CHC Communications
When First-Year CHC Advisor Angela Rovak applied to college in 2005, she had no idea her FAFSA score meant that nearly all of her tuition would be paid for by federal financial aid. That was because she had no idea what a FAFSA score was. She was a first-generation college student navigating the university terrain for the first time, and alone. She had no one to explain the things that most incoming college students already have knowledge of. 
So she did what most people do when they blaze a trail for the first time; she asked questions. 
"I have this memory of asking a math teacher I was close with in high school if they could help explain to me my FAFSA score," she said. "I had no idea what it meant, my mother had no idea what it meant, so I'm thinking, 'it's a number, maybe my math teacher will know.'"
In her sophomore year of high school, Rovak's single-parent, working-class family suffered increasing financial hardship. Their home in Lafayette, Colorado went into foreclosure, and she got her first after-school job to help pay the bills.
"Because we were in such a financial state, going to the local school where I got in-state tuition was really important," she added.
_
"Now my whole job is trying to be that person. I know what all of this is and now I try to give it to (first-generation) people or reveal it to them, and that's really satisfying." —Dr. Angela Rovak, CHC's First-Year Advisor
—
Rovak knew she wanted to pursue higher education, but she didn't know anyone who had gone to college and was unsure of the path to get there. Luckily, with the help of her math teacher, guidance counselor and her high school boyfriend's father, she was able to complete an application to the University of Colorado, Boulder.
Rovak considered several options when choosing a major. While she earned high grades in her math and science courses, her love of reading never faltered.
Growing up, Rovak loved fantasy books full of dragons, magic and supernatural adventures. She described reading as her "sanctuary," turning pages at the dining table, under her sister's bed and while laying on the backyard trampoline.
"As I got older, I'd stay up later and later to get through my books, enjoying the quiet of the house at nighttime," she said. "My love for reading was often competing for my equal love of video games, though."'
She planned to major in English and biology, but upon taking her first chemistry class, Rovak decided that "chemistry is my least favorite of the sciences," not unlike many undergraduate students, she noted. She dropped the biology major, but her continued interest in science and genetics led her to enroll in a biological anthropology class. She graduated with degrees in English and anthropology in 2010.
While some consider an English degree to be general, Rovak said that, unlike many first-generation students, she did not feel pressured to pursue a "productive" career with job security.
"My mother was overwhelmingly supportive of whatever I wanted to do," she said. "There never was any talk of 'What are you going to do with this?'"
That worked well for Rovak, because she wouldn't have had an answer. All she knew was she "desperately did not want to be a teacher."
Although her mother acted as a personal cheerleader, she had never been to college and could not assist Rovak through her undergraduate education. Instead, Rovak met regularly with an advisor dedicated to supporting first-generation students.
"She was that kind of person who anticipated the questions that you didn't even know you should be asking," Rovak said. "Like many advisors, she was more like a counselor who listened to my worries and validated my experience. That alone was worth so much to me then, and now."
Rovak herself would later become an advisor for first-year students at the CHC. Although this wasn't her initial plan, when the opportunity came up, "I started to think about what I could do in this role," she said. "I think about my advisor and I think about how useful and impactful she was for me just to keep me on track and to know I was on her radar."
But her time in school wasn't always smooth-sailing. In her junior year, Rovak flew home early from a vacation in California to support her sister, who was having financial troubles. She got a job at a pizza parlor, working 7 p.m. to 3 a.m. shifts and taking home boxes of leftover pizzas.
"We ate pizza for basically every meal for a couple of months while we got back on track," she said. "I did everything I could to support myself in my undergrad and was still dirt broke by the time I graduated. I didn't know what I wanted to do."
Rovak worked at a finance firm for two years and by the time she moved back to Boulder to start a master's program in English, she had saved enough money to furnish a small apartment. But she still needed work, so she began cashiering at a Natural Grocers and, although she swore she would never teach, the tuition reduction was enough to get her to TA for 'Baseball in American Literature.'
"I liked watching baseball but I knew nothing about it," she said. "There were students in my class that knew more about some of the subject material than I did. We're in a learning environment together and I have something to offer and my students also have something to offer. That was really great."
Her positive teaching experience convinced her to pursue a doctorate degree. She began working in the graduate admissions office so she could afford to submit grad school applications.
"I think I applied for ten or eleven Ph.D. programs and it cost me $1,200 that I didn't have."
One of those applications led her to the University of Oregon, where she completed her Ph.D. in English. One of the first classes she took at UO was 'The Contemporary Black Novel' with Associate Professor Courtney Thorsson.
"That was another moment when things clicked for me," Rovak said. "I thought, 'This is the most important literature that I could work on.'"
Rovak completed her dissertation on the presence of reproductive justice theory in Black women's literature and has been studying poetry and fiction by Black authors ever since. When asked about her favorite piece of Black women's literature, Rovak rattled off six titles and provided context for each.
"It's just a marvel of a text," she said about Ntozake Shange's Sassafrass, Cypress & Indigo. "It's kind of a multigenre book. There's poetry, there are recipes, and you can actually cook some of the food out of it if you want. It's one that will stick with me forever."
While she clearly loves her work, many have questioned her intentions in the field.
"You have to constantly look inward to ensure that you're not doing harm by just the basis of your own position of privilege—that you're never trying to speak for the communities you're researching but rather find avenues to emphasize and reveal what's already happening in the text," she said. "I still believe that Black women's literature is the most important of our contemporary era and deserves the research and attention of scholars everywhere."
Reflecting on her own college experience, Rovak noted that while some students have family members to guide them through the bureaucracy of higher education, many first-generation students lack these support structures.
"Now my whole job is trying to be that person," she said. "I know what all of this is and now I try to give it to people or reveal it to them, and that's really satisfying."