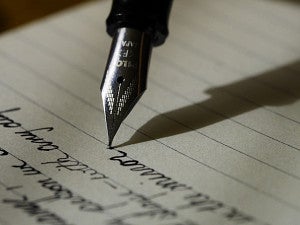 Beginning next winter, the Clark Honors College will be one of four public honors colleges in the nation to offer the Calderwood Seminars in Public Writing.
The small-group courses enable students to learn how to communicate academic knowledge to broader audiences, and become familiar with different genres of public writing, including op-eds, features, profiles, and blog posts. 
Developed in 1984 by David Lindauer, a professor of economics at Wellesley College, the Calderwood Seminars are adaptable across all disciplines. First offered at Wellesley, the program was extended to several selective private liberal arts colleges, including Amherst, Smith, and Wesleyan.
When Lindauer created the Calderwood Seminars, he conceived of them not as courses to help students improve their writing, but rather as an avenue of translation, taking what his students had learned about economics and then presenting it to an audience without that specialized knowledge. 
"The primary motivation was to get senior majors to think like economists and to use writing as a means for students to take stock of what they had learned as economics majors," he said. "Today, I recognize the independent importance of public writing as a skill that students should have as they leave our campuses."
In a time where we hear the expression "fake news" on a regular basis, he emphasized, "we should be empowering our graduates to contribute to public discourse in a meaningful and responsible way." 
In 2012, an opportunity arose for donor support to expand the pedagogy he employed in economics to other subjects and disciplines, and he suspected that the approach would be easily adaptable. His hunch proved correct: during the past seven years, 24 Wellesley faculty have taught Calderwood Seminars, engaging over 500 students. Most of these faculty added their Calderwood Seminars to their teaching portfolios and offer them on a regular basis. A year ago, the program expanded to other campuses, and will arrive in Winter 2019 at the CHC.
Dean Gabe Paquette sees the establishment of the Calderwood Seminars as demonstrating the college's commitment to experimentation with cutting edge approaches to teaching and learning.
"In these seminars, students learn to translate complex, specialized knowledge learned in the classroom to other settings. They also discover the power and applicability of what they're learning at the UO to the world beyond our campus," he said.
The Calderwood Seminars are structured in a way that students gain experience editing the work of others and learn how to give and receive criticism. Additionally, students will gain skills that will be essential in their future careers and internships to communicate with broad non-academic audiences. 
"The seminars empower the knowledge students gained from earlier courses and help students identify their 'voice' in their major field of study," Lindauer explained. "In terms of writing, these seminars give students the opportunity to write for an audience other than their professors and to demonstrate command over their subject by writing for the public."
Lindauer delivered a presentation for CHC faculty and staff at UO last fall and Associate Dean Rebecca Lindner and Dean Paquette worked together to produce the grant proposal that brought the Calderwood Seminars to CHC. They are eager to launch the program with seven seminars across a variety of disciplines later this year, with 11 more to follow in 2020-21 and 2021-22. 
"This program was a natural fit for CHC because it enhances our curriculum's engagement with the public dimension of scholarship, which is a key objective for liberal arts education," said Lindner. "These seminars make it possible for students to contribute to public debate while strengthening their ability to communicate complex knowledge to non-specialist audiences. These are increasingly crucial skills."
Nicole Dudukovic is one of the first CHC professors who will teach a Calderwood Seminar in the Winter 2019 term, and is excited for the opportunity for both her and her students. 
"I'm thrilled to be teaching a Calderwood seminar!" she said about her course, "Neuroscience Journalism." "Writing for a broad audience is an important skill for a variety of careers, but it is a different skill from the academic writing that students do in most college classes. The Calderwood Seminars offer students the invaluable opportunity to hone their public writing skills and to work collaboratively with their peers. We are very fortunate to be able to offer this unique experience to CHC students!"  
Over the next three academic years, the CHC will offer 18 Calderwood Seminars including subjects centering on Supreme Court law to planetary science, from social justice to disability studies, and from public science to civil war history.
"Chasing Planets" is one of the seven seminars scheduled for next year, and will be taught by Professor Carol Paty.
"As a class we will work together to develop each student's narrative voice for communicating meaningful science to a broad audience," she said. "We will also strive to foster a sense of understanding related to public perception of science through science fiction, and how messaging for public consumption is linked to 'popular' representation."
Exploring new ways to write aside from research papers and essays is what has history professor Tim Williams looking forward to teaching "A House Divided: The U.S. in the 1860s and Today."
"The Calderwood Seminar is a unique opportunity for students to think about writing in a totally new way," he explained. "I emphasize clear, concise writing in all of my classes, but Calderwood allows us to break the mold of academic writing and think about the public uses of the skills we hone in college. I am excited to be liberated from the academic essay (for a while at least) and empower students to explore various genres of public writing!"
According to Lindauer, the CHC is part of the final grant that will help finance Calderwood Seminars for the next three years. With a critical mass of so many institutions and participating faculty, he hopes that word of the seminars' success will spread and other colleges and universities will want to adopt public writing programs of their own. 
Dean Paquette views the Calderwood Seminars as an opportunity to raise the CHC's profile and to provide students with a learning opportunity previously available only to students at private colleges and universities. He sees the match of the college and the seminars as a perfect fit. 
"CHC students are among the highest achieving students in the nation," Paquette added. "The Calderwood grant enables us furnish them with a special academic program in which to cultivate and apply their formidable talents. We are truly fortunate to bring the Calderwood Seminars to the University of Oregon."
—Clark Honors College
See aditional coverage from The Boston Globe.