The CHC 2023 Graduation Celebration will be held on
Tuesday, June 20th, 2:00 p.m. to 4:00 p.m.
in Chapman Hall and Tykeson Lawn. 
The UO Main Commencement will be held on
Tuesday, June 20, 2023 at Autzen Stadium.
More information about the general UO commencement activities may be found at the UO commencement page.
We will be recognizing the class of 2023 with an open-house, drop-in style reception located in Chapman Hall and on the adjacent Tykeson Lawn. Grads will be able to pick up their CHC Certificate of Completion from the Dean. There will be thesis displays to peruse, live music, formal and informal photo opportunities, tasty treats, and much more. The faculty are looking forward to connecting with students and their families, and look forward to celebrating the many achievements of the class of 2023 with you!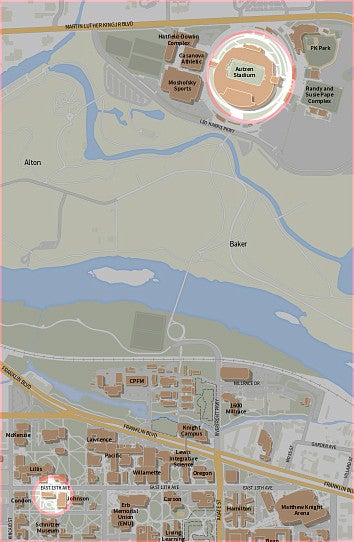 June 20 will be an extremely busy day on campus. Please be aware that there will be no public parking on the UO campus other than those vehicles with designated ADA placards/plates. Parking for graduates and their families will be at Autzen Stadium. Following the main UO commencement ceremony, free shuttle busses will run continuously between Autzen stadium and campus. Guests who plan to attend the main ceremony and need ADA parking accommodations should utilize the ADA parking at the stadium. Shuttles will not be running from the main UO campus to Autzen Stadium prior to the main ceremony. Complete parking and transportation information, including the shuttle map, can be found in the Parking and Transportation section of the UO Commencement webpage.
Students are responsible for applying, registering for applicable activities, obtaining tickets needed, et cetera. 
Key Dates:
April 10-12, 2023:  UO Duck Store Grad Fair: Order regalia, honors cords, and a CHC stole.
Late April: Last day to apply for a Spring 2023 undergraduate degree on DuckWeb
May 1: Deadline to RSVP for Graduation Celebration 2023 and submit information for the 2023 Program.  Students planning to participate in the CHC 2023 Graduation Celebration need to complete the 2023 Graduation Celebration Participant survey by May 1st.  As part of the survey, you will be asked to upload a 300 dpi or high resolution image of yourself (head shot preferred). Select the image you want to upload and go to the CHC 2023 Graduation Celebration page on Canvas.
 

☞

Students who do not complete the 2023 Graduation Celebration Program survey by May 1st will not be included in the CHC Celebration Program Book.  
June 20: UO Main Commencement.  For more information visit the UO commencement page.
June 20:  CHC Graduation Celebration
If you have questions about the 2023 CHC Graduation Celebration, direct them to the CHC Reception Desk at honors@uoregon.edu or 541-346-5437.
Photo gallery from last year's commencement celebration.
Other UO Graduation & Commencement Events