Alum David Adams takes the resilience he learned at CHC and brings it to medical school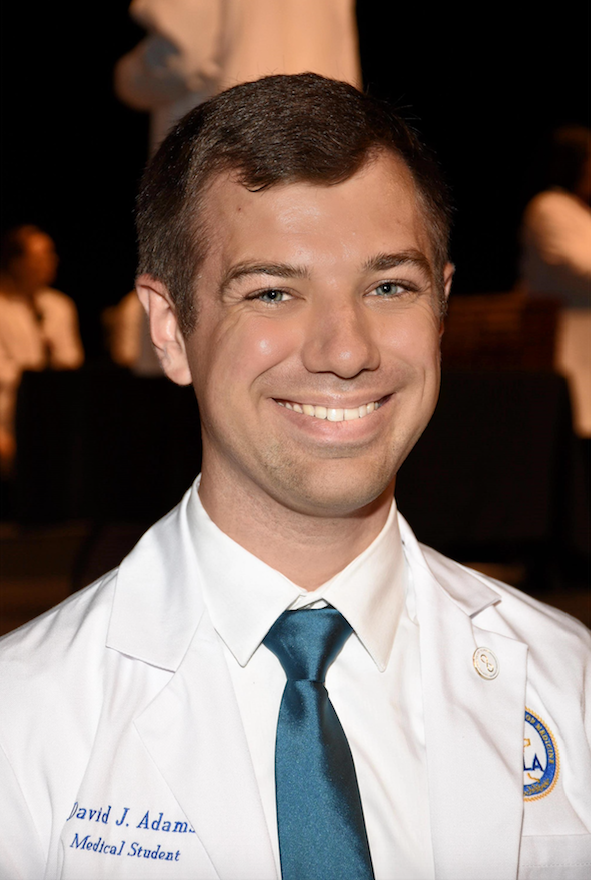 By Laurie Galbraith, CHC Communications
David Adams often feels like an imposter.
"Imposter syndrome is real — something I experience regularly. If you start to make comparisons to others, it can make you feel worse about yourself. For me personally, I really work hard to take a step back and remember that the imposter syndrome while real in its power on you, is in itself a fallacy," says Adams.
Not long ago, David Adams BS 16' was a CHC undeclared freshman, unclear what field he would he would pursue. Ten years later, owing to tenacity, discovering his passion and creating his own major, he is now at UCLA studying medicine.
Associate Dean for Faculty & Associate Professor of Earth Sciences, Samantha Hopkins, says she observed Adams' determination consistently throughout his time at CHC.
"It was clear that he didn't do anything halfway, and that he applied all of his considerable intelligence and motivation to all the tasks he took on. He took his commitments really seriously, and many of our conversations were about how to put it all together, how to get all the things done that he wanted to do," says Hopkins.
David Adams didn't always know he would go into medicine. While it always held his interest, he initially started out undeclared at the Clark Honors College. Then, the appeal of constitutional law pushed him toward political science.
But it wasn't until the end of his freshman year that he says he realized neuroscience was his passion.
"I ended up kind of being brought back into the sciences because I realized I was so fascinated with the neurosciences," says Adams.
The University of Oregon does not offer a neuroscience-specific major. So, Adams curated his own, putting together biology and psychology classes with a neuroscience focus. This proved to be a shrewd decision.
The following fall, Adams received an email from his previous bio-psychology professor, Dr. Paul Dassonville, who said he had lab openings and would Adams be interested in working on his cognitive visual neuroscience research. Adams says this opportunity formed the outlook of his future considerably.
"He really changed my undergraduate experience. Absolutely, 100% shaped it," said Adams.
Dr. Dassonville says Adams' passion for science was clear for the near two-and-a-half years they spent on lab research.
"David was one of the most dedicated students I've ever had in the lab; the thesis he wrote up was phenomenal. I had very few comments — it was his product," says Dassonville.
Getting into medical school can be just as stressful as the program itself — albeit a shorter process. The application process can take close to a year and a half, which encompasses first and second interviews, which often require significant travel. Similar to a job search, an interview request doesn't guarantee an offer; the field is competitive and admission rates are low. He says the memory is still fresh.
"The process is long, daunting and at times, emotionally taxing," says Adams.
Adams admits that being told no repeatedly can be incredibly discouraging, especially while an applicant is trying to stay confident and maintain momentum, and that goes for medical school applications and otherwise.
"It's an act of resilience to learn how to go okay, that door is closing, but I'm going to kind of follow this other opportunity down the path," says Adams.
Resilience is a strength Adams cultivated while at the CHC. With the help of mentors who guided and encouraged him along the way, he learned important skills and approaches that he still relies on to navigate the rigors of medical school.
Assistant Dean of Advising & Strategic Partnerships, Elizabeth Raisanen, came to the CHC during Adams' senior year. Adams recounts that Raisanen was instrumental in supporting him, especially through the medical school admissions process. She says Adams was one of the most exceptional students she'd ever met.
"As I got to know more about his academic work, I soon discovered that David is the quintessential honors college student whose investment in a wide-ranging liberal arts education has prepared him well for a career in medicine," says Raisanen.
Adams has advice for incoming and current CHC students that might sound counterintuitive, coming from someone who wants to help lessen people's pain. He says often, high-achieving students strive for order and control, but life just isn't like that.
"Be comfortable with uncertainty and being uncomfortable," encourages Adams.
This wisdom is inspired by an idea from Keats, shared with him by Elizabeth Raisanen while at CHC. This concept, called "negative capability" is "when man is capable of being in uncertainties, Mysteries, doubts, without any irritable reaching after fact and reason." 
This mental space is where, Adams says, "magical things happen."
Adams now attends the David Geffen School of Medicine at UCLA, where he'll graduate in 2022. From there, he'll choose his area of focus during residency training, which introduces new physicians to specialties such as internal medicine, family medicine, pediatrics, OB-GYN, surgery and others. Right now, Adams says he's set on neurology and psychiatry, but leaving room to change his mind.
"By the time you get to clinical rotations, it's hard to really know what medicine looks like in all the specialties because you haven't seen it," explains Adams. "So that's the opportunity we get in our third year, to explore and dabble a little bit."