Major: Chemistry
Ph.D. Biochemistry
Senior Investigator in the Laboratory of Gene Regulation and Development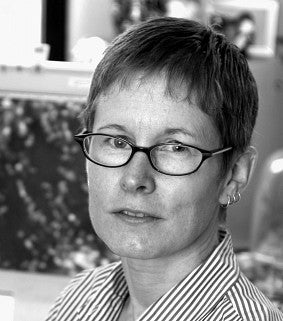 In the spring issue of Scholar, we were proud to announce that honors college student Alletta Brenner had won the Marshall Scholarship—the first student in UO history to do so. However we recently learned that, much to our delight, honors college alumna Mary Dasso actually was the first UO student to win the prestigious award.
Dasso graduated summa cum laude from the honors college in 1984 with a major in chemistry and a minor in math. The Marshall award provided for three years of her four years at the University of Cambridge, where Dasso earned a doctorate in biochemistry from King's College. She then received a Damon Runyon-Walter Winchell Cancer Fund Fellowship for postdoctoral work at UC San Diego. In 1992 Dasso became a senior staff fellow at the National Institutes of Health (NIH), and is now head of the section on cell cycle regulation at NIH's National Institute of Child Health and Human Development.
According to their website, the objective of the section Dasso heads is to "discover the mechanism by which cells transmit and interpret signals that coordinate nuclear activities with each other and with the cell cycle."
"It's a broad field that we're in, and we're trying to focus on a particular part. The overall goal is to discover fundamental biological mechanisms that control how cells divide and to understand what underlies the function of a normal cell," Dasso said.
As a tenured principal investigator, Dasso is pleased to report that the journey the Marshall Scholarship helped finance has led to interesting, rewarding work.
"I think what excites me most about what I'm doing is that I get to come to work every day and figure out something completely new. . . . The biggest thing is being able to learn and work with fun, smart people."
Fall 2006
---
Mary graduated from the Clark Honors College in 1984 with a bachelor's in chemistry. She was a member of Phi Beta Kappa and named one of the Oregon Six - an honor given to the six most outstanding graduating students each year. She wrote her honors college thesis on Studies on Bacteriophage T4 DNA Polymerase.
Mary was the first University of Oregon student to be awarded the prestigious Marshall Scholarship. As a Marshall Scholar, she studied biochemistry at the University of Cambridge in the laboratory of Richard Jackson FRS, and Nobel laureate Tim Hunt. After receiving her Ph.D. in 1988, she was a Damon Runyon Cancer Research Foundation Postdoctoral Fellow in the laboratory of John Newport at UC San Diego, and a senior staff fellow and a tenure-track investigator in the National Institute of Child Health and Human Development (NICHD).
Currently a Senior Investigator at NICHD, part of the National Institutes of Health in Bethesda, Maryland, Mary's group seeks to understand how individual cells divide to produce two cells with identical and undamaged sets of chromosomes. In cancers, this process often goes wrong, leading to cells with damaged or unequal numbers of chromosomes. So far, they've discovered that a protein named Ran plays a critical role in partitioning chromosomes to daughter cells. The aim of their ongoing work is to decipher Ran's role at a molecular level, and to apply this knowledge towards a better understanding and treatment of human disease.
Mary was celebrated with a prestigious Alumni Award at the 50th Anniversary Celebration Gala of the Clark Honors College.
February 19, 2010