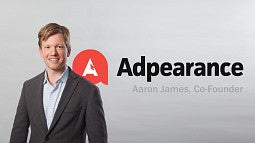 By Derek Maiolo
Building a business is no simple feat. Building one of Oregon's most successful businesses poses an even greater challenge. It requires a highly motivated, intelligent staff who know how to think critically and creatively.
For Adpearance, a digital marketing and sales company ranked one of the fastest-growing private companies by the Portland Business Journal, the brains behind the operation are more than 150 in-house employees who adoringly call themselves "The Nerdherd."
Clark Honors College alumnus Aaron James '98, one of the company's lead brains, co-founded Adpearance when he was only 33. A history major in his undergraduate years, this is a career path he never could have expected.
After graduation, James decided to pursue politics, studying law at the Knight Law School then working for Oregon Senator Ron Wyden. While his job didn't include many marketing tasks, James' political track record has contributed to his current career in innumerable ways. "All those experiences come into play now," he says.
---
Putting Brains in Business
Adpearance has grown beyond James' dreams in the decade since its founding. In 2016 the company was named one of the state's best to work for by Oregon Business magazine.
Major automotive companies like Kia and Volkswagen have benefited from their digital advertising services and proprietary sales optimization technology. "What we do really well is create digital solutions that help companies sell more," James says.
To do this, James and his team developed software technology that improves every step of the buying process, from researching online to browsing websites, catering to each person's unique wants and needs as evinced by his or her online searches. "The key is creating that really tight connection," James says.
Owing to the company's success is a devotion to innovative thinking that draws from the various skillsets of a diverse workforce, whose college majors range from business to biology. Sound familiar?
The Clark Honors College has played a big role in Adpearance's accomplishments. Not only have the lessons James learned while here guided the businesses' core values, but the honors college is also the alma mater of many of his employees as well.
James was practicing business law when he founded the company with a previous client of his, David Steinberg, whom he had met during his time at UO. Steinberg had already started a software company of his own a few years prior.
With limited experience in marketing, the two set out to build a company that changed the way businesses advertised and sold products online.
---
The Most Exciting Thing I've Ever Done
At first Adpearance was a way for James to use his business skills that had stagnated during his political work. While he enjoyed his brief law career, starting a company had always been a dream of his.
"Building Adpearance is definitely the most exciting and challenging thing I've ever done," James says. So in 2009, James and Steinberg hired their first employee and set up shop in the basement of an apartment building on 16th and Belmont Street in East Portland.
Since then, the two have set Adpearance apart from other marketing firms by developing software, called Four Eyes®, that dynamically tracks how online users interact with their clients' websites. This information helps them implement improvements that address the full spectrum of online marketing, from website navigation to social media improvements.
"Instead of specializing, we wanted to be able to optimize the entire online experience," James says. This holistic approach proved its worth by boosting their clients' sales and in turn growing the company.
As Adpearance gained traction and more clients, James left his legal job to devote his full attention to the company. While it has changed and grown in ways that James could never have expected, he says that one thing has remained the same: hiring only the best and brightest applicants.
"It's that intellectual capacity that drives a lot of our innovation," he says.
When it comes to hiring new herd members, James says that having technical experience in computer programming gives a competitive edge, but is by no means a requirement.
"We really just want to make sure that you know how to think critically and write well," he says.
These are skills that must be cultivated, not simply taught, over time, and is why the Clark Honors College spends so much energy in encouraging analysis, discussions and intensive writing and reading among students. Technical skills, James says, can be picked up on the job.
---
Work Hard, Play Hard
In the office, James and Steinberg try to keep things light. Employees throw each other awkward birthday parties — "A couple of years ago they all broke into a synchronized dance of 'Thriller' for my birthday," James says.
When they aren't grooving to Michael Jackson classics, Adpearance staff are working together on ways to address businesses' trickiest problems, something that James compares to solving a puzzle.
The constant challenge to think in new ways and always innovate is what James loves most about his job. "I never wake up and say 'Ugh, I have to go to work today."
As advice for graduating students entering the workforce, James emphasizes that landing a dream job can take time. Don't be discouraged. Especially right after graduation he says, "It's more about the skills you're developing than getting a certain salary level."
James' own life is a testament that most people's career paths will wind more than a country road. As an undergraduate history major particularly interested in the Civil Rights era, James studied abroad in Cambodia in 1997.
"The Clark Honors College has played a big role in Adpearance's accomplishments."
During his visit, Cambodia's second prime minister, Hun Sen, launched a coup against the country's loyalist party.
For two days, the country's capital, Phnom Penh, erupted into a war zone with tanks and troops on the streets. While the trip did not lead to a job in civil rights or diplomacy, and is obviously far from the work James now does, "it's those experiences that really set you up for even better opportunities down the road," he says.
With this in mind, he emphasizes, "Travel as much and as often as you can." Particularly in an increasingly interconnected global society, job applicants with a broad worldview and a well-worn passport will have a competitive edge. Former First Lady Michelle Obama went so far as to call studying abroad "a vital part of America's foreign policy" during a speech to American and Chinese students in Beijing.
Students can get a head-start as global scholars through study abroad. From "Intensive Swahili in Zanzibar" to an exchange program with the National University of Singapore, the honors college offers several programs designed specifically for its students.
In the future, James wants to work more closely with the honors college to recruit graduates into the Nerdherd. A full list of job openings at Adpearance is on the company's website. For students or recent graduates sending applications, James advises that they brag about their academic accomplishments, especially their GPA. "Those things can tell me how smart you are and how hard you work, so make sure to emphasize them."
Those academic skills go hand in hand with the ability to think critically and work in a team. After all, it takes a herd to raise a business.
---
Another Nerd Joins the Herd: Dennis O'Connell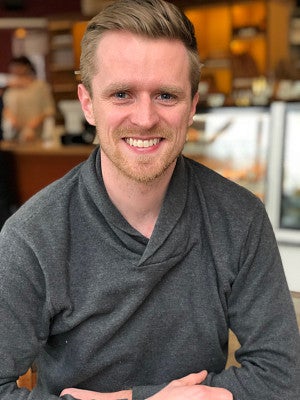 Position: Data Science Director
Undergraduate Major: Business Administration, Class of 2012
His day-to-day:
• Acting as a cross-functional team member across sales, marketing and product developement
• Creating and sharing data visualizations to influence decision-making and provide customer value
"The Clark Honors College catapulted me into the tech career of my dreams. By trusting the liberal arts curriculum and faculty in the CHC, when it came time to write my thesis, I was ready. Innovation in tech is actually a lot like that, requiring optimism, perseverance and hard work for each consecutive product release you are a part of. My team (and userbase) at Adpearance comes from all different backgrounds, so my day to day communications are much more analogous to an honors college seminar than a lecture you would find in most other departments at the UO."