EJI fellow to give lecture on Black cinema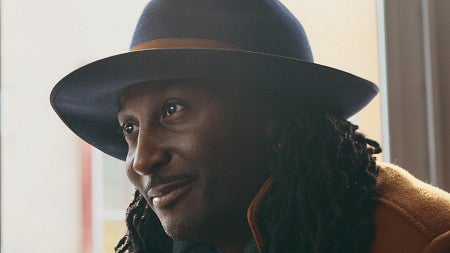 Don't miss the upcoming lecture – "Strangers in the Village: The Cultural Politics and Poetics of Black-American Cinema" – by the Clark Honors College's Equity, Justice and Inclusion visiting fellow Dr. Artel Great.  
The event will be held from 2 p.m. to 3 p.m. in the EMU Redwood Room on Friday, Feb. 24. Great will talk about African Americans and the film industry. He is an Independent Spirit Award-nominated filmmaker and a scholar of Black cinema and media culture who is teaching at the Honors College this term. 
As an Honors College fellow, Great's course actively explores the hidden histories of Black cinema in the United States. Since the very beginning of motion pictures, the film industry has generated a catalog of tropes, caricatures, and grotesque depictions that have relegated Black bodies to the margins of the film frame. 
Despite these constraints, Black filmmakers have managed to forge major innovations in the cinematic arts for nearly 127-years. His course analyzes a range of feature films, both documentary and narrative, that highlight the intellectual history, aesthetic practices, and cultural politics of Black-American cinema, examining how these films have managed to forecast, initiate, and visualize social change in a wide variety of contexts. 
Great is the George and Judy Marcus endowed chair in African-American Cinema Studies and assistant professor of Critical Studies at San Francisco State University. His appearance is co-sponsored by CHC and the Division of Equity and Inclusion. 
CHC to hold inaugural Three-Minute Thesis competition  
If you're a CHC student who is completing a thesis project in Winter or Spring 2023, you have a chance to earn money for your project. 
The Honors College is sponsoring the inaugural Three-Minute Thesis competition. Three Minute Thesis (3MT®) is an academic research communication competition developed by The University of Queensland in Australia. 
The competition gives students three minutes—and one slide—to present their research project. This helps students learn to explain their thesis project concisely in language accessible to an audience of non-specialists. Each year, the University of Oregon Graduate School holds a Three-Minute Thesis competition. Now, CHC will hold a competition for undergraduates. 
Prizes are:$500 for first place; $250 for second place; $125 for third place; and $75 for the People's Choice award, decided by votes from the audience. 
The number of submissions will determine whether preliminary rounds will be held on April 4 and 5. Competition finals will take place on the evening of April 20, 2023. Competitors can expect to receive feedback from the judges after the event. 
To participate, please submit a title and a 150-word abstract describing your thesis project by Friday, March 24, 2023 to Miriam Jordan (mjordan@uoregon.edu). Question? Email Christy McElroy at mcelroyc@uoregon.edu. 
Honors College scholarship applications due on March 1 
CHC scholarship applications are due at 5 p.m. on March 1. Students can fill out applications now on the CHC Canvas site as part of the process. A full list of scholarships and awards can be found here. Do yourself a favor and don't wait until the last minute. 
Earn up to $4,000 for summer undergraduate research 
The Summer Undergraduate Research Fellowship, known as SURF, will be awarded to up to five students every academic year for conducting summer research under the supervision of a University of Oregon faculty mentor. Students can receive up to $4,000 each for working under the guidance of either a tenure track faculty member or career faculty member. Each student must conduct a minimum of eight weeks of full-time research to be eligible for the stipends. Applications are due April 12, 2023. A faculty recommendation letter is required. Applicants can send this Qualtrics survey link to faculty for a recommendation, and the SURF application form must be completed by the deadline. 
First Year Research Engagement fellowship applicants sought  
The Center for Undergraduate Research and Engagement will award five students with $4,000 stipends for summer research projects. The center launched the First Year Research Engagement, known as FYRE, in 2020, as a way to honor students who conduct mentored research with UO faculty members. 
Students will receive the stipend and faculty mentors get $1,000. All research must full time and last eight to 10 weeks. Officials at the center invites students who are looking to connect with a prospective faculty mentor to meet with the URDS team for guidance, resources and support in filling out the application. 
CHC in the news and about town 
Eugene Weekly: Features new exhibit at the University of Oregon Museum of Natural and Cultural History, inspired by CHC affiliate Judith Raiskin, associate professor of women's, gender and sexuality studies. 
The Atlantic: Hannah Cutting-Jones, CHC instructor and UO's director of Food Studies, appears in a story about the future of outdoor dining. 
Tsunami Books: Barbara Mossberg, CHC professor of practice in literature, will read from her new book, Here for the Present: A Grammar of Happiness in the Present Imperfect, Live from the Poet's Perch.