The CHC Thesis Project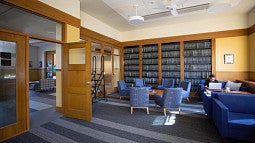 Since the very beginnings of the Clark Honors College, the thesis has provided students with the opportunity to apply the critical thinking and communication skills that they gain in the CHC in an exploration of the ideas, problems, and practices in their field of study. Reflecting the needs of today's students, the CHC thesis allows students from all majors to adapt knowledge and skills to a project that aligns with their professional goals and helps prepare them for a wide range of careers in industry, government, non-profit, academia, research, and other undertakings.
"The thesis project," we tell our students, "lets you take control of your education, bringing knowledge from your majors and minors together with the skills provided by your CHC liberal arts education to create a thesis that's uniquely yours." For a student majoring in landscape architecture, this might mean researching and designing a plan for urban green spaces meant to support mental health. For a student majoring in biochemistry, this might entail a thesis project grounded in lab work that is oriented toward graduate school or industry. For a student in business, this could take the shape of designing a board game and then working with an advisor to create a marketing plan to sell it. Students in journalism or creative writing often compile portfolios of original writing.
We've been working hard to communicate the value of the thesis project, enabling students to talk about the transferrable skills acquired in writing and defending the thesis, and helping them better understand how the thesis will serve them in their future. I invite you to visit the new Thesis Guide on our website, which contains detailed information about the process, including examples of innovative theses.
Last week, a second-year student stopped by my office with a whole list of ideas for her thesis project, bursting with excitement about how she could develop her ideas over the next few years in ways that pointed to life after college. We want every student in the CHC to feel that excitement and sense of possibility!
All the best,
Carol Stabile
Acting Dean