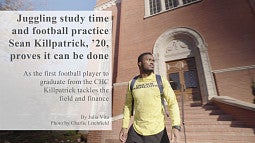 The energy inside Autzen Stadium was what most impressed Clark Honors College senior Sean Killpatrick on his first visit to the University of Oregon in 2015. 
The week before the college football national championship game that year, UO had offered him a preferred walk-on spot after Killpatrick submitted his high-school game footage to get himself on the coaches' radar. When he came to visit, what he experienced blew him away.
"The fans are so loud when there is a big play made by the offense or the defense," said the senior from Pearland, Texas, who's now a safety (No. 31) for the Ducks. "The fans are always into the game, no matter what is going on."
Enamored of the school's spirit, Killpatrick saw the football program as his new home and didn't think of much else when he committed to Oregon. But he was approached by the dean of  CHC, who encouraged him and two other players to transfer into the college. All three did, but only Killpatrick stayed the course. 
Despite up to five hours of football practice a day, he has balanced his role as a player with his role as a student through tight scheduling and a commitment to hard work. During his time in the honors college, Killpatrick has most noticed the growth in his writing skills and his ability to learn from his peers.          
"Clark Honors College has definitely enhanced my writing abilities due to the papers we have to write," Killpatrick said. 
Because of the commitment Ducks football requires, Killpatrick is honest about the times he thought about leaving the honors college. He reminded himself of the many instances in which he learned something, not only from professors but also from peers. It's difficult for him to pinpoint which instance stood out the most. 
His free time is thin, if not nonexistent, due to practice, games, and traveling, but after four years at CHC, he has developed a strategy to become the best player and take his education seriously. During the fall when football is at a fever pitch, Killpatrick backs off from taking his usual course load to ensure he has time for both. 
He also has found overlap between football and his major, accounting. 
"Accounting is a numbers thing, and football is also a lot of numbers, so they both require the fundamentals of how numbers work," said Killpatrick, who used that connection to develop his thesis, which looks at how sports franchises are taxed. 
This year, Killpatrick will be the first football player to graduate from CHC, and wants to be an example for other athletes because of the community he has found at the honors college and what he's learned from his peers.
"Collaborating with great minds within the Clark Honors College and just picking fellow student's brains to see what their ideas are has been extremely helpful,"  he said.