In fall of 2020, on the heels of 100 days of protests around the country and against police violence in Portland, Oregon following the murder of George Floyd in Minnesota, Clark Honors College began to think about how to provide courses that would help CHC students deepen their engagement with the histories and contemporary manifestations of anti-Black racism. Could CHC take advantage of our experiences during the pandemic which showed remote education can be effective and indeed transformative, especially in the small, discussion-based courses offered by the CHC? Just as importantly, could CHC provide meaningful experiences and support to those faculty who might serve as fellows? And would the new position attract additional donor gifts that might make allow this fellowship to continue to address social justice-related themes in the future?
The CHC Visiting Fellowship in Equity, Justice, and Inclusion — the first such fellowship in the U.S. — grew out of these conversations. The theme for this inaugural cycle was Black experiences in the United States (if the pilot becomes sustainable, CHC faculty will determine additional themes for two-year cycles). Fellows will teach remote, upper-level colloquia in their area of specialization and facilitate a one-session interdisciplinary CHC seminar for CHC faculty and staff to deepen understandings of the topics beyond student experiences in classrooms. In June 2021, the Visiting Fellow in EJI academic pool position appeared on the UO careers website, encouraging applications from those interested at UO and beyond from all disciplines to teach courses ranging from health disparities and environmental justice to histories of race and anti-Black racism, as well as courses exploring literature, media, digital culture and identity. We advertised primarily through listserves and word of mouth.
And then we waited.
When the search committee met in August, they encountered a wonderful problem: Not only had the applicant pool exceeded their expectations for this unprecedented award, but the applicants were such a diverse and exciting group of candidates that the search committee agreed to offer the fellowship to three exceptional candidates, recognizing that all would bring unique strengths to the classes they will lead in CHC next year.
---

Professor George Barganier's work centers the knowledge and critical thinking produced by Black people at the farthest margins of subalternity. In doing so, his aim is to unveil a radical political project for envisaging more humane forms of social life. His current project, Fanon's Children: Panthers, Crips, Bloods and the Black Radical Tradition (under contract, Temple University Press) takes up these tasks through an examination of the everyday efforts of the Crips and Bloods to create a personhood in the face of the violent production of race in Los Angeles. Through this work he seeks to offer a resolution to the Afropessimist dilemma that any affirmation of Blackness simultaneously affirms the dehumanization that configures Black subjectivity itself. Located within the bounds of Blackness, he argues, Black radicalism enunciates a self-affirming, productive alternative to the Afropessimist impasse and thus offers the potential to transcend the problems of coloniality.
Dr. Barganier is joining Clark Honors College as a Visiting Fellow in Equity, Justice, and Inclusion from San Francisco State University where he is currently an associate professor in the Department of Criminal Justice Studies. He has served as an assistant professor in the Department of African and African Diaspora Studies at the University of Wisconsin-Milwaukee, a Visiting Associate Professor of Black Educational & Leadership Traditions at the University of Pittsburgh and is an affiliate faculty member of the Black Europe Summer School at the International Institute for Research and Education in Amsterdam. Dr. Barganier received his PhD from University of California, Berkeley; his master's degree at the University of Minnesota and a Bachelor of Science degree at Grambling State University.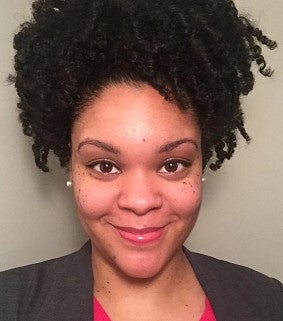 Visiting Fellow in Equity, Justice, and Inclusion Dr. Erin Bradley (Linda Lentz Hubert Assistant Professor of Public Health, Agnes Scott College, Atlanta) will teach "Health Equity: Social Justice in Health" in Spring 2022 that analyzes social determinants of health and equity that create and sustain health disparities affecting Black populations in the U.S.
Dr. Bradley brings a wealth of expertise and experience to this course. As a public health researcher and Linda Lentz Hubert Assistant Professor of Public Health at Agnes Scott College in metropolitan Atlanta, Dr. Bradley is a behavioral scientist by training but most of her work aligns with social epidemiology. She earned a BA in Psychology from Spelman College and an MPH and PhD in Behavioral Sciences and Health Education from Emory University's Rollins School of Public Health. Dr. Bradley also spent three years in the CDC Division of HIV/AIDS Prevention's Office of Health Equity as a postdoctoral research fellow.
Dr. Bradley has a passion for teaching and research and has created synergy between the two during her time at Spelman College, Emory University, and Agnes Scott College. Prior to joining the public health faculty at Agnes Scott in 2019, Dr. Bradley taught and mentored undergraduate and graduate students in research, integrating knowledge and skills gained from nearly 15 years of involvement in NIH or CDC-funded research studies.
Her teaching and research examine social determinants of health as they relate to health equity with the primary aim to develop and evaluate culturally appropriate, multilevel interventions that address social and structural factors that create and/or sustain health disparities. Dr. Bradley's research areas include HIV/STI prevention, perinatal health, healthcare engagement, and safe and affordable housing. Her current research examines the health effects of involuntary residential displacement (gentrification). Her work has been shared with many audiences as an invited speaker, conference presenter, and author, publishing 22 peer-reviewed manuscripts (16 first or second author) stemming from her work in journals such as Health Equity, Journal of Women's Health, Journal of Racial & Ethnic Health Disparities, and MMWR.
Dr. Bradley excels at teaching at all levels. At Agnes Scott College, she earned a reputation for making statistics exciting for students: once a class students dreaded, they now say it's their most exciting course. Drawing on her own research on Black women and HIV, as well as her work with the CDC on epidemiological modeling, Dr. Bradley models her commitment to race, social justice, and public science in her own communication practices as well as those she teaches her students. When Agnes Scott College pivoted to remote learning, Dr. Bradley was in the middle of teaching a course that included a faculty-led travel component — students were going to travel to Ecuador. Because of her embrace of online teaching and her excellence at it, Dr. Bradley received the Faith Chao '61 Faculty Excellence Award for her Spring 2020 course and was nominated for the Vulcan Teaching Award for her 2021 course.
---

Dr. Marc Arsell Robinson (assistant professor, History, California State University, San Bernardino), will teach "Black Panthers in the Pacific Northwest" in Fall 2022. Dr. Robinson specializes in aras of U.S. and African American History.
Dr. Robinson's research focuses on black student activism, the Civil Rights Movement, and the Black Power Movement in the Pacific Northwest. Robinson's forthcoming monograph, Evergreen Ungawa: The Black Student Union of Seattle, the University of Washington, and Washington State University, 1968 to 1970, will be published as part of the Black Power Series of New York University Press (expected Fall 2022). The text re-positions debates about the Civil Rights movements, placing the Pacific Northwest within that framework. His previous publications include "The Black Campus Movement in the Evergreen State: The Black Student Union at the University of Washington and Washington State University, 1967-1969," in the Pacific Northwest Quarterly 103:2 (Spring 2012): pp. 55-66, and "Black Student Unions to the Gang of Four: Interracial Alliances and Community Organizing from San Francisco to Seattle," in California History, Vol. 98, No. 2 (Summer 2021), pp. 24–49. He has contributed numerous essays and book reviews in platforms such as Blackpast.org, The Western Journal of Black Studies, Reference Services Review, The Journal of Black Studies, The Journal of African American History, and Race in American Television: Voices and Visions That Shaped a Nation.  Robinson earned his doctorate in American Studies from Washington State University in 2012, and a bachelor's in history from the University of Washington in 2004.  Before CSUSB, he was Visiting Assistant Professor of History and Ethnic Studies at Whitworth University from 2016 to 2018, where he was bestowed with the 2017 Provost's Junior Faculty Award for outstanding teaching and service. His media appearances include NBC Palm Springs, Empire KVCR, Byrdie, and The I.E. Voice.  Robinson was born and raised in Seattle, WA.
Dr. Robinson has been one of his university's innovators in remote learning on campus.