CHC students shine in Sons of the Prophet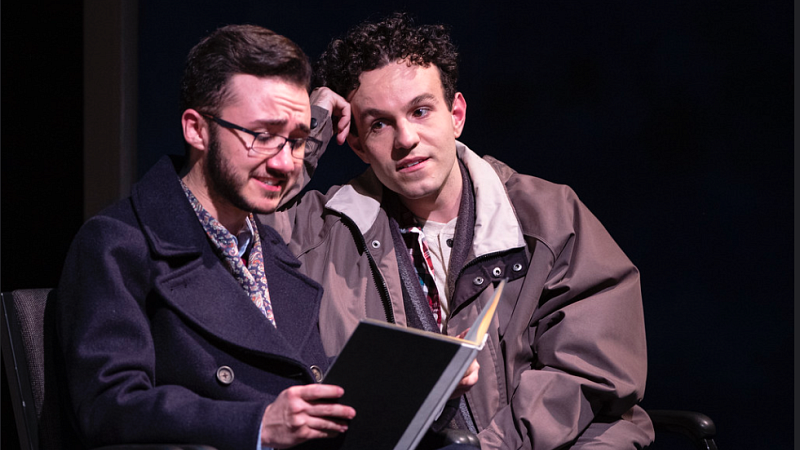 Jude Stone and Alex Mentzel in Sons of the Prophet. 
by Ashley Lorraine Wiesner, Clark Honors College Communications
The first image is a silhouette of a deer, followed by a flash of lights, then the sound of tearing, grinding metal. 
It's a jarring contrast to the opening scene, as the lights come up to reveal Joseph, played by Alex Mentzel, stretching in a modest office space. His body moves with the ease of an athlete, yet discomfort comes across his face. The peaceful scene is interrupted by Gloria, Joseph's boss, rushing in. Joseph and Gloria fall into relatable banter, topics range from the Middle East to high school football to Joseph's brother's disability.
With this scene, the tone for Sons of the Prophet is set. The play showcases the ups and downs of family relationships, death and love with a dynamic cast and unparalleled level of wit. Sons of the Prophet manages to look at life both honestly and optimistically. 
"Life can be a cruel mixture of joy and hardship but there's something very profound about being a part of a story, where the laughter opens both the performers, and the audience, up to seeing these characters carry human suffering in different ways," Mentzel said.
Mentzel is one of four Clark Honors College students involved in the production of Sons of the Prophet. Jack Ford plays the role of Charles and Jude Stone plays the role of Timothy.  Jessica Jaszewski made her University of Oregon directing debut as the production's assistant director.  
Associate Professor of Theatre Arts and the play's director Michael Malek Najjar said CHC students are able to push themselves in productions because of the core beliefs CHC instills in them. He describes them as industrious, creative and disciplined.
"[They go] beyond their imagined limitations so they can achieve greatness," said Najjar.
Jaszewski directed alongside Najjar for this play, a change of pace from her typical spot on the stage. Jaszewski is a theater arts major and has appeared in productions such as Avenue Q and Mother Courage and Her Children. Up for a challenge, she decided to try her hand at directing. 
Directing her peers was intimidating at first, she said, but a collaborative process quickly revealed itself. 
"It was actually very enjoyable working together with the actors and figuring out what they felt worked for their characters and discussing motivations behind scenes and moments," Jaszewski said. 
Through the course of the production, Jaszewski became a natural at directing. She has an ear, and eye, for comedy according to cast and crew.
"She has that unusual ability to enact and manifest an overarching directorial vision," Mentzel said.
Mentzel is no stranger to acting. He has been in several UO productions, appeared on Glee, and studied acting as part of a fellowship in Germany. Inspired by his immersive theater studies and time at CHC, Mentzel has undertaken writing and performing a play for his thesis. He said CHC has been integral to developing his craft as an actor.
Sons of the Prophet was a joint effort between the production team and actors. Najjar discovered the play and knew he had to direct it, wanting to speak to the people who strive—and fail—to reach their goals in life. Jaszewski brings a clear vision to the production and Mentzel delivers humanity to an emotionally challenging role.
The final scene again focuses on Joseph stretching, this time at a physical therapist's office. He is once again interrupted, this time by Mrs. McAndrew, one of his old school teachers. They reflect on life, grief and faith. As the conversation fades, a sense of calm overcomes Joseph for the first time. The lights fall as Joseph, and Mrs. McAndrew, stretch in unison to music—a comforting heartbeat like rhythm fills the room and reflecting the theme of the play.
"This show is all about finding peace in the chaos," Jaszewski says.
---
Opening Jan. 24 at the UO's Hope Theatre in the Miller Theatre Complex, "Sons of the Prophet" will also be performed Jan. 25 and 31, and Feb. 1, 7 and 8 at 7:30 p.m. and Feb. 2 at 2 p.m. Admission is free for UO students with ID, $10 for adults and $8 for seniors and non-UO students.