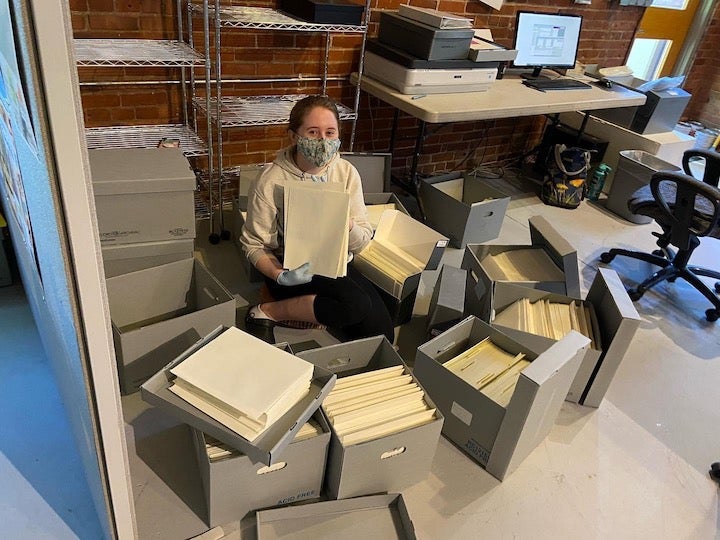 CHC sophomore Morning Glory Ritchie archives historic photos as a part of her internship at the Springfield History Museum. 
Story by Lauren Church, CHC Communications
Photos courtesy of Morning Glory Ritchie
While traveling, attending summer classes, or working short-term jobs after mid-June are the norm for most students, Clark Honors College junior Allen Donovan spent his break tying tiny, almost invisible knots of nylon thread while looking through a microscope in Dr. Damien Callahan's lab. With the steadiest of hands, he used these knots to anchor muscle fibers onto analyzation hardware to understand how their function becomes diminished with age.
Hailey O'Donnell's summer months were filled researching the publishing industry with forensic precision with her mentor, Dr. Barbara Mossberg. She scoured publishers, agents, and literary journals searching for avenues not only for her own work, but for the work of young writers who she hopes to promote one day.
Carmen Sanchez-Reddick devoted a large portion of her break to the ocean working with deep-sea equipment, sorting larvae with Dr. Craig Young of the Oregon Institute of Marine Biology. She remembers finding her very first larvae as a highlight of that time.
"I was super nervous about whether I would spot important larvae in samples that cost millions to obtain, but as I found more and more," she said, "I felt comfortable with my abilities to sort larvae."
The experiences of Allen, O'Donnell, and Sanchez-Reddick during the summer were possible due to two new experiential learning programs, the Mentored Research Program and the Internship Funding Program, both launched by CHC last year. In addition to examining deep-sea larvae with the Oregon Institute of Marine Biology and using ultrasound technology to gather data on muscles and tendons in the knee, the MRP and IFP also provided students opportunities to identify and brief murder cases with potentially wrongful convictions and catalog historic photographs for preservation by museum archives.
Assistant Dean of Advising and Strategic Partnerships Elizabeth Raisanen led the effort to create these opportunities. She felt that it was important not only to provide additional learning opportunities for students at CHC, but also to expand the college's platform for career readiness, something the MRP and IFP uniformly offer. With funding from alumni Dr. Ronald C. Fraback, David O'Kelley, and CHC alumni and friends, Raisanen and Interim Dean Carol Stabile helped make these programs become a reality.
"The more support we can provide for our students when it comes to job and graduate school applications, the stronger they will be as candidates," Stabile said.
While academic courses establish the foundation of students' careers, research projects also support students' ability to set and reach their professional goals. Students face competitive job markets and graduate programs after their time at the CHC, and unpaid internships are not always financially feasible for students.
"The Mentored Research Program and the Internship Funding Program will help to ensure that students don't have to pass up an excellent professional development opportunity for financial reasons," Raisanen said.
Mentored Research Program
The Mentored Research Program offers students the opportunity to partake in paid student-faculty research assistantships where they learn to work independently, manage deadlines, and develop valuable research skills. Any CHC student in good academic standing who is not receiving academic credit for their research project is welcome to apply.
In collaboration with their chosen UO faculty mentor, CHC students of any discipline may apply for research funding up to $1,000 each term. Students and their mentors can re-apply to renew their project's funding for up to three terms, though new mentorship applicants and research proposals are prioritized. Payments are administered to students monthly as a salary for their work.
Dr. Barbara Mossberg, a CHC professor of literature and creativity across disciplines, calls her mentorship with Hailey O'Donnell "a delight."
"The joy of this was getting to read Hailey's work and get to know this work in the context of her hopes and dreams, the story she is putting out into the world," she said.
The program was designed to let faculty and students develop their mentorship's structure. "I first asked Hailey to write me a letter about her hopes and dreams beyond college," Mossberg said. "Then I asked her to imagine what kind of work would prepare her in terms of experience and knowledge to play this role and contribute her gifts."
From there, Mossberg created a schedule for the projects O'Donnell would complete over the term including writing her own poems and manuscripts then learning the "ins and outs" of the process for getting them published.
"Dr. B. has really helped me feel empowered to share my work and ideas about publishing with the world," O'Donnell said. With her aspiration to support young writers' publication in a future career, she appreciates how much Mossberg taught her about publication processes for new creatives.
The MRP also allowed Donovan to stay in Eugene during the summer, making it convenient for him to become involved with more projects in Assistant Professor Damien Callahan's lab while also gaining a head start on his undergraduate thesis research. "With this program, you are able to develop a more rooted, but still professional, relationship with faculty who you may not have had the opportunity to meet," Donovan, a human physiology major, said.
Internship Funding Program
Morning Glory Ritchie had worked at countless part-time jobs that, although providing financial means, did nothing to further her interest in both her majors, art and art history. With the Internship Funding Program, she was able to secure an internship with the Springfield History Museum, where she has spent the better part of a year cataloging and archiving historical photographs from the museum's vast collection.
"My future goal is to be a curator myself after my academic career, but one lightbulb moment I had was how much curators and museums can influence the public," Ritchie said. "While local history museums can often celebrate the history of their community, it is important to acknowledge the dark history as well."

Morning Glory Ritchie preserves memories and history with the Springfield History Museum's vast collection of photographs during her internship through IFP. 
Though internships provide students with valuable experiences and important skills while allowing them to explore career paths, unpaid internships can place a financial strain on many. The CHC has developed the Internship Funding Program to support its students' participation in non-credit-bearing internships. The program enables students to take internship opportunities they otherwise may not be able to afford to participate in.
"Being a student and an intern can be very exhausting with concerns of finances while wanting to gain experience in your field," Ritchie added. "I have been able to block out additional time receiving hands-on experience in my area of interest instead of working part-time jobs that have little to do with my future goals. Due to this program, I don't have to work two jobs to pay for my internship travel and living expenses, I can focus more on my internship and learning; it is like a breath of fresh air."
Ritchie had such a good experience during the internship that she has remained at the museum, and is currently utlizing the museum's database as a platform to archive materials. With each photo that she documents, she learns more about history and the impact of other people's past experiences and understands the responsibility she had taken on. 
"When someone is experiencing an important moment, they might take a picture," she explains. "Even though many of the images I rehouse and reorganize for preservation  come from people who may be gone or deceased, it is up to me to keep their memories safe so their memories 
are not forgotten." 
Raimy Khalife-Hamdan, a double major in romance language and global studies, is focusing on migration, displacement, and refugees. Last summer, she became an archive intern at a non-profit organization, Their Story is Our Story.
"The purpose of this archive is to bring all refugee interviews together in one digital platform so that individuals from around the world can access them," Khalife-Hamdan said. "This internship has reminded me of the human lives undergirding the topics I study in my major, which reminds me why I am studying and why I seek a university diploma."
CHC junior Kyla Lauersdorf was an intern at the California Innocence Project (CIP) this summer which enabled her to gain valuable experience in a field she hopes to pursue post-graduation.
"Had I not received financial support from the Internship Funding Program, I would not have been able to pursue an internship with CIP — an organization I have admired since middle school," she said. "This program has empowered me to pursue work that matters dearly to me — work that will at once prepare me for my career and help me to make a difference in the world today."
CHC students and their mentors can apply now to fund this year's projects. Applications are accepted on a rolling basis, and early applicants will receive priority consideration. For more information about how to apply, see Mentored Research Program or Internship Funding Program. Financial awards will be distributed on a first-come, first-served basis. Applications received after a term's Week Eight will be placed in the following term's applicant pool. Any CHC student in good academic standing is invited to apply, though students with financial need as indicated on the FAFSA/ORSAA are prioritized. Students may apply for as much as $5,000 which can only be used to cover living expenses during their internship. Students will receive their funding after they've completed their internship experience.