We made it to campus!
Photos by Jasper Zhou, CHC Communications
Having never taken a class yet on the campus of UO, the Clark Honors College class of 2024 was welcomed by faculty and staff with a reception that celebrated the return on-location education. Eighty members of the of the co-hort came together to meet for the first time despite taking classes with each other for a full year. The event was marked with an address by Interim Dean Carol Stabile, remarks from Associate Deans Carol Paty, Elizabeth Raisanen, and Daphne Gallagher, and a welcome message from Dulce Castro, the newly appointed second-year advisor. 
We hope you have an amazing second year at CHC!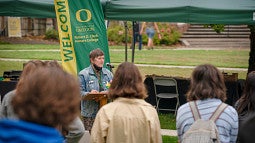 Interim Dean Carol Stabile addresses the collection of second-year CHC students.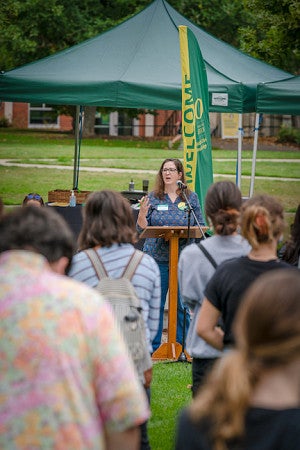 Associate Dean Daphne Gallagher welcomes the class of 2024 to campus.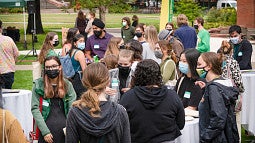 Students mingle and meet each other for the first time.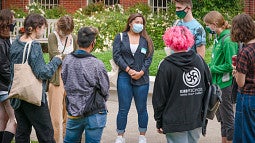 Class of 2024 at the Second-year Reception.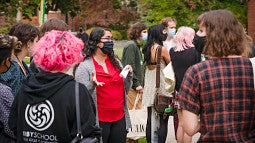 Second-year advisor Dulce Casto meets her advisees in person.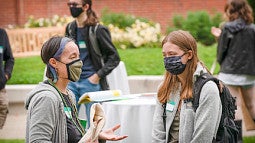 Professor Lisa Munger chats with a student.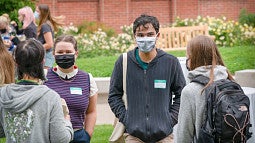 Students meet new friends.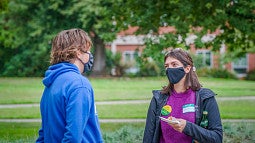 Advisor and Director of First-Year Experience Angela Rovak introduces herself to a CHC student.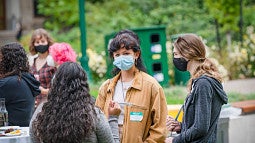 Students meet at the reception on September 23, 2021.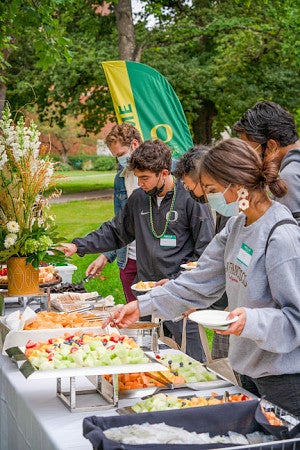 It's not a party until there are brownies.